2022 - The Cyber View from the Hill
13th April 2022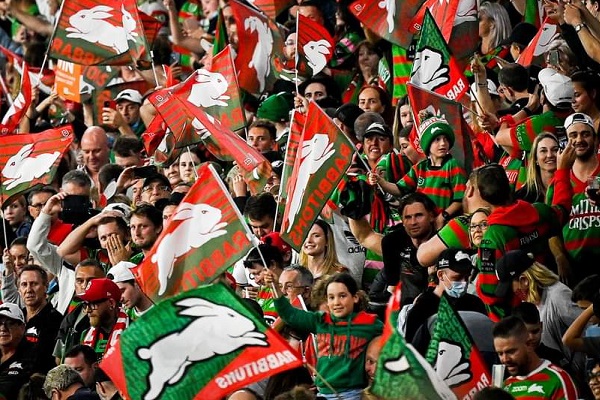 Strong controlled win
We played a Dragons team on the rebound and got off to a flyer, with Mitchell scoring one of tries of the season. But only 10 minutes later things went pear shapped when Mitchell left the field with hamstring injury which looks like keeping him out for 8 weeks. With Taaffe making his return the team had a 2021 finals look about it as they regained their rythem and controlled the match all the way till the end. It was so good to have a goalkicker back in the team. The progression of our young stars will now occur quicker than planned. Now for the annual Easter clash with the Dogs.
Graham laying the foundation
Campbell Graham had one of his best games of the year. Scoring a try and setting up and great try. He was dangerous every time we move the ball to the right. The way he is progressing I would not be surprised to see him call up into the rep teams this year.
Shaq Power
With a HIA and a few players getting low minutes, its was up to Shaq to step in and lead the way. That he did when he return to the field early in the second half to help lead a revival that almost got us a win But his 20 runs for 225m was outstanding and will have been noted by coaching staff. He is not far off a NRL call up.
U19 Boys finish on a high
This weekend saw our U19 boys bow out after missing the finals. The match was a opportunity for a number of fringe players to get a run. And they didnt let us down pulling of a late come from behind win to finish the season. Top point scorer for the season was Tyrone Munro with 34 points from 2 tries ad 13 goals. Top try scorer was second rower Thomas Fletcher with 5 tries.
U17 Boys season ends
As with U19 boys our U17 team also bowed out after missing the final, almost pulling off a late win. It was a tough year but lots of good signs. The top point and try scorer for the year was captain Daniel Wright with 40 points from 5 tries and 11 goals.
Welcome NRLW Full expansion
During the week Peter Vlandys has been quoted as saying he wants to get to full NRLW expansion in 5 years, with all games being played on NRL game days, with a immediate 4 team expansion in 2023. As a Rabbitoh fan we welcome this push as it will address the exclusion policy that current resides in some quarters of the NRL. Make it happen, Souths, Cronulla, West-Tigers are ready.
Rabbitohs TV - Weekly Segment
The boys recap Round 5
Round 5 - Stat Attack
Statistically it was a average game. Completions improved to 72% from 65% last week. Errors improved to 12 from 14 last week. We gave away 6 penalties and 4 6-again calls from 9 last week. Souths Effective 1st tackle improved to a average level of 32.0m from 42.5m last week. Our missed tackles dropped to a average level of 33 from 18 last week. Opposition offloads dropped to 12 from 11 last week.
Looking at our left side defence - Johnston-Milne-Walker-Arrow/Host (2-2-6-2) dropped to 12 from 3 missed tackles last week. On the right side Mansour-Graham-Ilias-Koloamatangi (2-3-4-6) dropped to 15 from 9 missed tackles last week. Ruck defence Tatola/Arrow/Moale-DCook-Burgess/Knight-Murray/Arrow (2-1-1-2) dropped to 6 from 5 missed tackles last week.
Our go forward improved to 1733m from 1421m last week. Cook, Host, Milne, Graham and Ilias made 10+m per run. Koloamatangi, Burgess, Host, Cook, Host, Milne, Graham, Mansour, Johnston and Taaffe made 100+m in the match. Defensively D.Cook was our best in the tackling raking up 47 tackles. Moale, Knight and Mitchell didn't miss a tackle.
News This Week
none
Round 6 Preview
Recent 2022 Form - South Sydney (9th)

Rd03  Syd Rstrs  StAu W 28-16
Rd04  Penrith    Penr L 12-26
Rd05  St Geo-Ill StAu W 24-12

Recent 2022 Form - Canterbury-Bankstown (15th)

Rd03  Manly      Brok L 12-13
Rd04  Melbourne  MRSt L  0-44
Rd05  Penrith    WSS  L 12-32

Recent South Sydney v Canterbury-Bankstown Results

2019 Rd06  StAu W 14-6  30,040 H.Perenera/T.Roby
2019 Rd22  StAu L  6-14 14,112 H.Perenara/B.Sharpe
2020 Rd08  WSS  W 26-10  3,858 P.Gough
2020 Rd19  StAu L 16-26  4,859 A.Klien
2021 Rd04  StAu W 38-0  23,340 G.Atkins
2021 Rd18  Robi W 32-24  2,979 B.Cummins