2022 - The Cyber View from the Hill
20th April 2022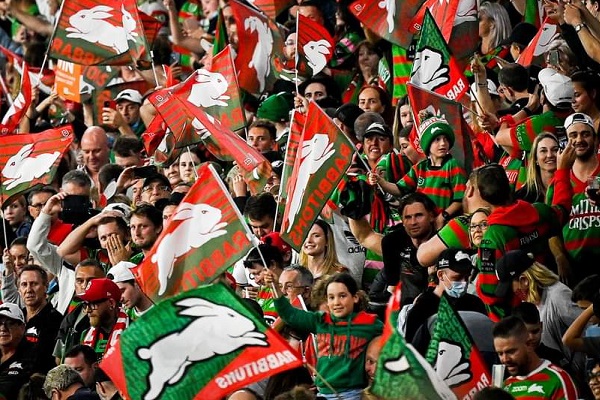 Dominate Win
For the first time in 2022 Souths moved into the Top 8. It took some time to dominate the game. But as soon as the referee clamped down on the illegal offside and ruck plays of the Dogs, Souths took control. The team ran through edges and secured a 3 tries leading into halftime and two after the break to take full control of the game. We need to stop the late tries, but it was a good display across the park by the team. Now for a ANZAC clash against the desperate Wests-Tigers.
Cookie Hattrick
Cookieeeee - was the chant as our beach sprinter tore holes in the defence. 2022 has seen a return to Cookie's running game and it is paying dividends. One try from the scrum and another long range try. But all three coming from his blistering speed off the mark. It was his first hattrick, and looking forward for many more tries to come.
Buddy Scores
It was 17 seasons 2004 Buddy Gordon broke into the senior grades with Souths, and on the weekend while playing a much reduced role in the team than in the early days, Buddy notched up another South Sydney try in our reserve grade rout of Newtown. He is mentoring the team and showing up some of the young players. Love you Buddy.
Women kick off their campaign
After a disrupted trial preperation our Women's NSWRL team will get their campaign underway this weekend. In a glimpse at the future look of NSWRL games days onto two matches are being played womens and mens. Good luck to the girls as we ready ourselves for a push for NRLW inclusion.
Ball Technology needs to be realtime
Seems the ball technology is proving to be accurately predicting forward passes and starting to pick up others which should have been ruled forward. It will be important for the dummy half passes to be correctly called. But to do this the technology must be used in "real-time" and cannot under go bunker review. What that means, is if the chip says the pass was forward the play should stop for a forward pass immediately, just like when a referee calls it. We will watch how this bit of technology gets implemented.
Rabbitohs TV - Weekly Segment
The boys recap Round 6
Round 6 - Stat Attack
Statistically it was a poor game. Completions were steady at 72% again this week. Errors dropped to 15 from 12 last week. We gave away 9 penalties and 2 6-again calls from 10 last week. Souths Effective 1st tackle dropped to a poor level of 36.7m from 32.0m last week. Our missed tackles improved to a good level of 25 from 33 last week. Opposition offloads improved to 9 from 12 last week.
Looking at our left side defence - Johnston-Milne/Tass-Walker-Arrow/Host (2-1-3-1) improved to 7 from 12 missed tackles last week. On the right side Mansour-Graham-Ilias-Koloamatangi (3-1-2-1) improved to 7 from 15 missed tackles last week. Ruck defence Tatola/Knight-DCook-Burgess/Arrow/Sele-Murray/Arrow (3-0-4-3) dropped to 10 from 6 missed tackles last week.
Our go forward dropped to 1703m from 1733m last week. Sele, Cook, Johnston and Tass made 10+m per run. Knight, Koloamatangi, Tatola, Murray, Arrow, Sele and Graham made 100+m in the match. Defensively D.Cook and Murray were our best in the tackling raking up 34 tackles. Cook, Sele, Host and Tass didn't miss a tackle.
News This Week
none
Round 7 Preview
Recent 2022 Form - South Sydney (8th)

Rd04  Penrith    Penr L 12-26
Rd05  St Geo-Ill StAu W 24-12
Rd06  Canterbury StAu W 36-16

Recent 2022 Form - Wests-Tigers (15th)

Rd04  Gold Coast Robi L  6-8
Rd05  Cronulla   Ende L  4-30
Rd06  Parramatta WSS  W 21-20 

Recent South Sydney v Wests-Tigers Results

2019 Rd11  StAu W 32-16 18,195 G.Sutton/L.Kennedy
2019 Rd15  WSS  L  9-14  9,807 A.Gee/G.Badger
2020 Rd09  WSS  W 18-10  4,864 B.Cummins
2020 Rd18  WSS  W 26-24  3,801 B.Cummins
2021 Rd06  StAu W 18-14 16,134 G.Sutton (GP)
2021 Rd16  Leic W 38-22      0 G.Atkins