2022 - The Cyber View from the Hill
27th April 2022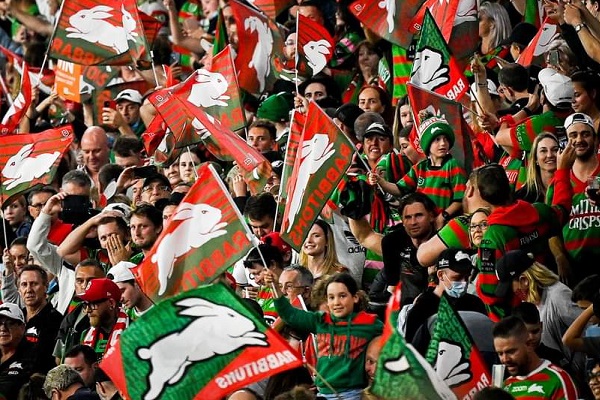 Costly Errors
The 2022 transition year continues to have its ups and downs. Against a desperate Tigers outfit, errors proved costly. We had three tries scored from the ensuing 6 tackles. During the 10 minute period when we had 12 men our completions rate was 100% and we scored two tries, so its important that we cut out our defensive errors from our game. Now off to the Central Coast to take on last years Top 4 team Manly, who sit just above us on the ladder.
Koloamatangi powerful display
Keaon is putting in some powerful displays out wide in the second row and reaping the rewards with a 3 tries so far. His ability to impact the defenses out wide is not going unnoticed by rep selectors after he was 18th man last year in Origin. Looking forward to seeing him cause havoc out wide. And to think he is still growing.
Hawkins takes control
It was a dominate display on the weekend as Souths retained the Kelly-Sattler Cup. The perosn leading the way was Dean Hawkins. He led the way taking control of the match setting up all 6 tries, either through his running game or well placed grubber kicks outwide. He lloks like he has shaken off a few early season injuries.
Peoples and Mitchell get a call up
With a second row injury crisis hit the club with Host, Cartwright, Chee-Kam and Lovett out, it was good to see two of standout reserve grade players gat a call up onto the extended bench. Trent Peoples has been one of the most consistant performers at second second row in reserve grade and had a good hit out in the Charity Shield. While Shaq Mitchell also gets his first call up into the main squad after some really good performances up the middle. Good to see these fringe players getting a chance.
Pincinelli takes charge
A familar surname Sharna Picinelli has joined Souths this year and has taken immediate charge of our womens team. She is a non-nonsense lock who has had some NRLW experiance. Now for her to help guide the team to the next level.
MRC Inconsistencies remain
A new judicary system, but we have the same MRC level inconsistances, where some games incidents get 5 weeks while others only 1. The only way to solve this issue is to introduce a overide option, otherwise the MRC remain unaccountable. We need to remove the subconcious bias that exists in making MRC rulings.
Rabbitohs TV - Weekly Segment
The boys recap Round 7 and preview the Manly game
Round 7 - Stat Attack
Statistically it was a another poor game. Completions dropped to 69% from 72% again last week. Errors dropped to 16 from 15 last week. We currently have the worst error rate of all NRL clubs. We gave away 6 penalties and 5 6-again calls from 11 last week. Souths Effective 1st tackle dropped to a poor level of 38.4m from 36.7m last week. Our missed tackles dropped to a average level of 33 from 25 last week. Opposition offloads improved to 8 from 9 last week.
Looking at our left side defence - Johnston-Milne-Walker-Arrow/Host (0-2-3-4) dropped to 9 from 7 missed tackles last week. On the right side Mansour-Graham-Ilias-Koloamatangi (1-1-3-4) dropped to 9 from 7 missed tackles last week. Ruck defence Tatola/Burgess-DCook-Sele/Arrow/Knight/Moale-Murray (5-1-3-4) dropped to 13 from 10 missed tackles last week.
Our go forward dropped to 1641m from 1703m last week. Tatola, Host, Johnston, Graham and Ilias made 10+m per run. Koloamatangi, Burgess, Murray, Tatola, Arrow, Knight, Graham, Mansour and Johnston made 100+m in the match. With Koloamatangi making 200+m. Defensively Murray was our best in the tackling raking up 66 tackles. Tatola and Johnston didn't miss a tackle.
News This Week
none
Round 8 Preview
Recent 2022 Form - South Sydney (8th)

Rd05  St Geo-Ill StAu W 24-12
Rd06  Canterbury StAu W 36-16
Rd07  Wests-Tig  WSS  L 22-23

Recent 2022 Form - Manly-Warringah (7th)

Rd05  Newcastle  NISC W 30-6  
Rd06  Gold Coast Brok W 26-18
Rd07  Cronulla   Ende L 22-34

Recent South Sydney v Manly-Warringah Results

2019 Rd04  Brok L 12-13 12,304 G.Aitkens/L.Kennedy
2019 Rd17  StAu W 21-20 13,434 G.Atkins/L.Kennedy
2019 MSF   StAu W 34-26 32,127 G.Sutton/A.Gee
2020 Rd15  StAu W 56-16  4,712 G.Sutton
2021 Rd02  Brok W 26-12  3,218 G.Sutton
2021 mPF   LngS W 36-16 26,294 A.Klien