2022 - The Cyber View from the Hill
4th May 2022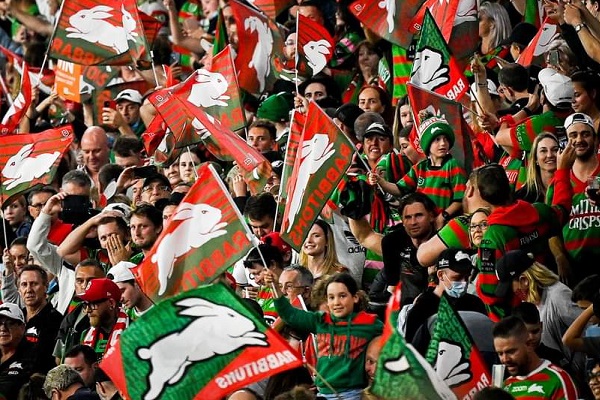 Tough game by the water
Well we have moved to 6th place on the ladder winning our 4th home game from 4. Manly lifted immediately after the send off and proved a handful all night at the picturesque ground by the water in Gosford. But our team lifted in each challenge and with tries either side of the break set ourselves up for victory. Improving our completion rate went a long way to our success this week. We now head to back to Stadium Australia for a welcome home clash with Adam Reynolds's new team the Broncos, who have improved in 2022 and sit just outside of the 8.
Cody steers us home
The game took a little while to settle, but it was Cody who stepped in in his 150th game to help steer the ship after halftime. He was rewarded with try and helped setup two other tries on the left side attack. He has had a quiet start to the year as our new spine works out how to play in their new combinations. Looking forward to this continious improvement.
Karapani strong game out wide
Karapani, now that he has cutout his his offload errors, is looking a much better player and showing us what he can do. He scored another try on the weekend and again ran strongly. He has been playing a mix of centre in U21s and wing in reserve grade. His improvements have not gone unoticed as he was added to the extended bench.
Munro solid senior debut
Tyrone Munro on the weekend stepped up from juniors into the 21s. While there were a few early errors everyone can see he will make a impact. He scored a try and with a number of strong runs, will see him stay. Looking forward to how he progresses.
Kilisimasi proves a handful
It didn't take long for Kilisimasi to be noticed on the field in her return match for the year. The strong running forward was a real handful while she was on the field and will be a vital member of team this year.
East SFS Car Park needed
It is great to see the new Sydney Football Stadium nearing completion, but one big issue continues to be parking. The addition of AFL and RL training fields to the old open parklands has reduced the old on the grass parking. And we also have new tennis courts where the old gold member parking area used to be. There will be very limited parking when the stadium opens in September. While the government says use public transport, but this is not really a option for families and regional supporters when games finish at 10pm on a weeknight. It can take 2.75h to get home via public transport compared to 1.25h by car The proposed underground parking area is yet to start contruction and is reported to be reduced capacity, but more importantly will be a gold member area, how much public parking is a question yet to be confirmed. We really need to transform the area to the east of the SFS in a multi-story car park with exits to Moore Park Rd to complement what is being proposed to-date.
Rabbitohs TV - Weekly Segment
The boys recap Round 8 game and preview Broncos game
Round 8 - Stat Attack
Statistically it was a average game. Completions improved to 80% from 69% again last week. Errors improved to 13 from 16 last week. We gave away 3 penalties and 2 6-again calls from 11 last week. Souths Effective 1st tackle improved to a average level of 34.2m from 38.4m last week. Our missed tackles improved to a average level of 32 from 33 last week. Opposition offloads improved to 4 from 8 last week.
Looking at our left side defence - Johnston-Tass-Walker-Arrow (2-1-0-3) improved to 6 from 9 missed tackles last week. On the right side Mansour-Graham-Ilias-Koloamatangi (3-5-5-2) dropped to 15 from 9 missed tackles last week. Ruck defence Tatola/Moale/SMitchell-DCook-Burgess/Havili-Murray (1-1-2-4) improved to 8 from 13 missed tackles last week.
Our go forward improved to 1827m from 1641m last week. Tatola, Burgess, Kolomatangi, Arrow, Havili, Moale, Johnston, Graham and Mansour made 10+m per run. Burgess, Arrow, Havili, Tatola, Murray, Graham, Mansour, Ilias amd Tass made 100+m in the match. Defensively Murray was our best in the tackling raking up 36 tackles. Havili, SMitchell and Walker didn't miss a tackle.
News This Week
none
Round 9 Preview
Recent 2022 Form - South Sydney (6th)

Rd06  Canterbury StAu W 36-16
Rd07  Wests-Tig  WSS  L 22-23
Rd08  Manly      Gosf W 40-22

Recent 2022 Form - Brisbane (9th)

Rd06  Penrith    Penr L 12-40
Rd07  Canterbury LngS W 34-14 
Rd08  Cronulla   LngS W 16-7  

Recent South Sydney v Brisbane Results

2019 Rd08  StAu W 38-6  13,463 G.Sutton/P.Gough
2019 Rd23  LngS W 22-20 33,225 B.Cummins/H.Perenera
2020 Rd02  LngS L 18-22      0 G.Atkins/P.Gough
2020 Rd13  StAu W 28-10  2,919 G.Atkins
2021 Rd05  StAu W 35-6   9,142 B.Cummins
2021 Rd15  LngS W 46-0  19,713 A.Gee
2022 Rd01  LngS L  4-11 32,002 A.Klien