2022 - The Cyber View from the Hill
25th May 2022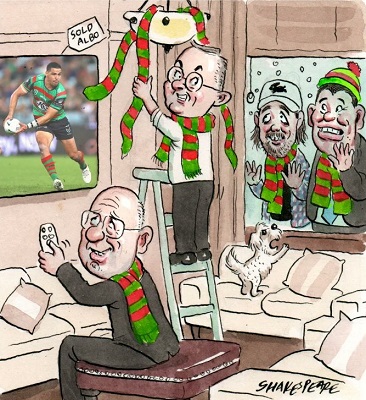 Forwards dominated
Souths forwards were dominated by the bigger Raiders pack as we let in 5 unanswered tries in scenes reminicant of last years game in Dubbo. Without Murry and Tatola after the first minute with the team still feeling the effects of the flu outbreak in the club, was plain to see. But we the way results landed we stayed in the Top 8 for another week. We return home for the indigenous round.
Johnston Equals Wearing
Alex Johnston continues to be a shining light in 2022. He scored another try making 6 tries from the last 6 games and 8 for the season. He has now equaled the great Benny Wearing record as the second greatest South Sydney premiership try scorer. Only two more to catch Nathan Merritt.
Thompson scores a double
Izaac Thompson again was in fine form. This week he scored 2 tries making it 6 tries from 2 games and 10 for the season. He could have easily had another 4. He has been rewarded for his try scoring efforts and been named on the extended bench this week.
Kaho another double
In a day for left wingers Kaho produced another double in U21s taking his tally to 6 tries from 7 games. His speed continues to be a key factor on the end of the backline.
Rabbitoh Prime Minister & Governer General
Congratulations to Anthony Albanese life member and former Group 14 and Rabbitohs board member in becoming the 31st Australian primie minister. Russell may have to move over now as Anthony becomes our #1 ticket holder. Then to top things off he went to Government House to be swarn in by David Hurley who in 2015 raised the Rabbitoh flag over Government House. Time to raise the Rabbitoh flag over Kiribili House on game days.
Rabbitohs TV - Weekly Segment
The boys recap Round 11 game
Round 11 - Stat Attack
Statistically it was a poor game. Completions dropped to 65% from 79% last week. Errors were dropped to 14 from 11 last week. We gave away 7 penalties and 2 6-again calls from 11 last week. Souths Effective 1st tackle dropped to a very poor level of 41.1m from 36.0m last week. Our missed tackles dropped to a horrendou level of 48 from 31 last week. Our worst all season. Opposition offloads dropped to 13 from 8 last week.
Looking at our left side defence - Johnston-Graham/Taaffe-Walker-Peoples (1-3-4-2) dropped to 10 from 6 missed tackles last week. On the right side Milne/Paulo-Paulo/Graham-Ilias-Koloamatangi (2-3-4-5) dropped to 14 from 6 missed tackles last week. Ruck defence Tatola/Knight/Sele-DCook-Burgess/Havili-Arrow/Sele (6-4-7-4) dropped to 21 from 15 missed tackles last week.
Our go forward dropped to 1436m from 1787m last week. Cook and Johnston made 10+m per run. Arrow, Burgess, Cook and Koloamatangi, Graham, Walker and Johnston made 100+m in the match. Defensively Cook was our best in the tackling raking up 44 tackles. Milne and Nikorima didn't miss a tackle.