2022 - The Cyber View from the Hill
1st Jun 2022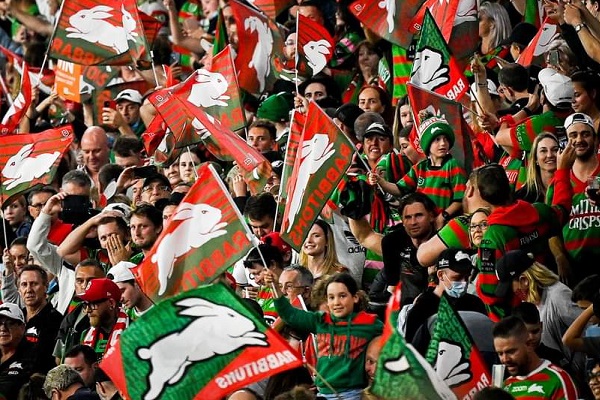 Back in The Winners Circle
It took the team 20 minutes to get going. But in the final 60 minutes of the game they won 44-6. The game was won on the back of a very strong forwards performance with the return of Nicholls and Murray. Then the backs then opened up the Tigers. The team showed great pride in the Indigenous jersey. So we stay in the 8 this week with 8 more wins to make the finals.
Johnston the Greatest
Commeth the man commeth the moment. Alex Johnston answered the call to score 2 tries by scoring 3 tries and not just edging closer to the record by smashing his way past it with a hattrick. Alex Johnston is now the greatest Rabbitoh premiership try scorer in our 115 year history. Congratulations Alex the Great. There are plenty more still to come as he will set a new record that will last for many years to come.
Lovett returns
It was good to see the return of second rower Ben Lovett on the weekend. His strong return in reserve grade will help overcome a crisis we have had in the second row in the first half of the season.
Bruines arrives
A young English backline player in the mold of Campbell Graham popped up in U20s last week. He has gone very well in UK grades and now looks to further his career here in Australia. I look forward to seeing how he progresses in the coming weeks.
Pearson joins
NSW Country half Rachel Pearson has joined the South Sydney womens team in a mid-year transfer. I look forward to seeing her guide our girls for the remainder of the season.
Remove the Round 10 restriction
One issue that has come up since the end of the Top 25 has been the need to ask the NRL to play a in form player outside of the Top 30 in the first half of the season. This is a ludicrus situation that has come up in the recent salary cap agreement. We should not need to wait till round 11 to bring a player into first grade, because they were not selected in the Top 29 by Mar 1. You cannot select a roster 2 years in advance or try to second guess injuries or players losing form or a player in career best form. We need a system that supports bringing up the next best player but remaining under the salary cap, first I would remove the Round 1 to 10 restrictions and let the club manage their situation without NRL involvement.
Rabbitohs TV - Weekly Segment
The boys recap Round 12 game
Round 12 - Stat Attack
Statistically it was a very good game. Completions improved to 80% from 65% last week. Errors were improved to 8 from 14 last week. We gave away 4 penalties and 1 6-again calls from 9 last week. Souths Effective 1st tackle improved to a very good level of 23.8m from 41.1m last week. The second half was our best half all season. Our missed tackles improved to a outstanding level of 16 from 48 last week. Our best all season. Opposition offloads improved to 8 from 13 last week.
Looking at our left side defence - Johnston-Graham-Walker-Arrow (1-1-1-0) improved to 3 from 10 missed tackles last week. On the right side Milne/Paulo-Paulo/Milne-Ilias-Koloamatangi (2-1-4-1) improved to 8 from 14 missed tackles last week. Ruck defence Nicholls/Havili/Mitchell-DCook-Burgess/Sele-Murray/Havili (0-0-3-0) improved to 3 from 21 missed tackles last week.
Our go forward improved to 2029m from 1436m last week. Our best all season. Nicholls, Burgess, Kolomatangi, Arrow, Sele, Havili, Mitchell, Johnston, Graham, Paulo, Milne and Taaffe made 10+m per run. Burgess, Havili, Murray, Koloamatangi, Sele, Nicholls, DCook, Arrow, Paulo, Graham, Johnston and Milne made 100+m in the match. With Burgess makimg 200+m. Defensively Cook was our best in the tackling raking up 40 tackles. Nicholls, Cook, Arrow, Murray, Havili and Shaq Mitchell didn't miss a tackle.