2022 - The Cyber View from the Hill
6th Jul 2022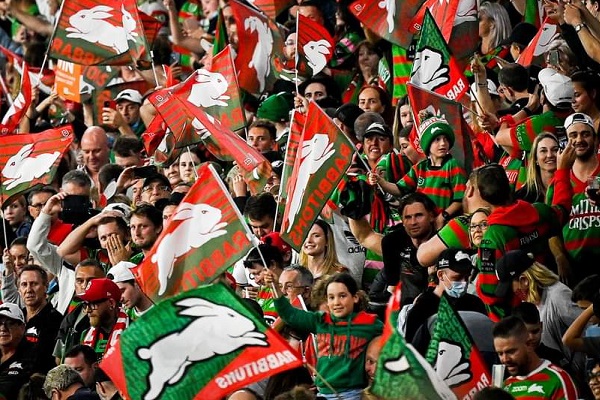 Mud Larks
The 2022 Rabbitoh's team really like playing in the heavy conditions. This was our 5th win in a row against Parramatta as we send a message that we now mean business. Our forwards put in a strong display against the big Parramatta pack with Tass looking like he may solve our left centre issue. Still a long way to go but that win put us back on track. Still 5 more wins to make the finals.
Arrow strong performance
Backing up from a SOO loss Jai Arrow he made amends by taking on the Parramatta pack, and scored a try off a great pass from Tass. Looking forward to more of this as we head into the finals.
Sele and Knight knee injuries
Two big injuries have instantly transformed our forward pack. Sele and Knight both went down with knee injuries, with Knight out for the season. We will need to find a replacement quickly.
Griffiths off the bench
Trent Griffiths is a unsung worker in our Flegg team. In a game where we were getting dominated he put in a big effort off the bench.
Girls bow out with a draw
Its been a tough season for the W-NSWRL team. With the ongoing uncertainity of our NRLW has made it difficult to attract players. But the final 3 weeks our girls finally started to find form. THe top try scorer was second rower Ellie Johnston with 3 tries. While our Top Points scorer was Akira Kelly with 16 points.
Sydney's big wet
This weekend saw one of the wetest games recorded for some time. The reserve grade match was played on a water soaked pitch with puddles everywhere. While 2020 and 2021 were covid years, 2022 has become the year of the EL Nina as the NRL tries to weave its way trhough one of the wetest periods in Sydney's history.
Rabbitohs TV - Weekly Segment
The boys recap Round 16 game
Round 16 - Stat Attack
Statistically it was a good game in the wet. Completions improved to 75% from 70% last week. Errors were dropped to 14 from 12 last week. We gave away 5 penalties and no 6-again calls from 10 last week. Souths Effective 1st tackle improved to a very good level of 22.7m from 32.2m last week. Our best all season. Our missed tackles improved to a outstanding level of 18 from 31 last week. Opposition offloads improved to 4 from 9 last week.
Looking at our left side defence - Johnston-Tass/Nikorima-Walker-Arrow (0-1-1-4) improved to 6 from 7 missed tackles last week. On the right side Paulo-Graham/Tass-Ilias-Koloamatangi (0-4-3-0) improved to 7 from 11 missed tackles last week. Ruck defence Tatola/Nicholls/Havili-DCook/Nikorima-Sele/Burgess-Murray/Tatola (1-0-2-2) improved to 5 from 10 missed tackles last week.
Our go forward improved to 1955m from 1642m last week. Tatola, Arrow, Havili, Cook, Sele, Johnston, Tass and Paulo made 10+m per run. Burgess, Koloamatangi, Tatola, Arrow, Johnston, Tass, Paulo and Mitchell made 100+m in the match. With Johnston making 200+m for the match. Defensively Cook and Murray was our best in the tackling raking up 49 tackles. Tatola, Cook, Sele, Kolomatangi, Nicholls, Nikorima, Johnston, Paulo and Mitchell didn't miss a tackle.
News This Week
Suluka-Fifita Returns for Remainder of 2022
Murray and Cook New South Wales SOO III Selections
Arrow Queensland SOO III Selection
Fletcher Australian Schoolboy Selection
Harris NSW Schoolgirl Selection
Round 17 Preview
Recent 2022 Form - South Sydney (7th)

Rd14  Gold Coast Robi W 30-16
Rd15  St Geo-Ill Woll L 12-32
Rd16  Parramatta StAu W 30-12

Recent 2022 Form - Newcastle (12th)

Rd14  Penrith    NISC L  6-42
Rd15  Canberra   Bruc L 18-20
Rd16  Gold Coast NISC W 38-12

Recent South Sydney v Newcastle Results

2019 Rd13  StAu L 12-20  8,253 G.Atkins/D.Munro
2020 Rd10  WSS  L 18-20  4,249 G.Atkins
2020 mPSF  StAu W 46-20 17,212 B.Cummins
2021 Rd14  StAu W 24-10 12,156 C.Butler