2022 - The Cyber View from the Hill
13th Jul 2022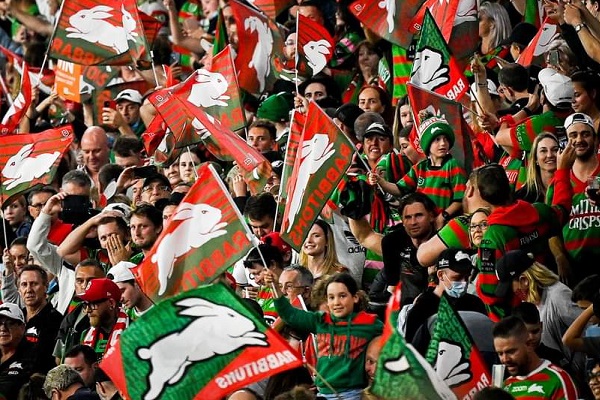 Backup squad does the job
No state of origin stars, injuries mounting, Souths went into this game without 7 regular first graders. But after a sluggish start, our second string team lead by Latrell Mitchell put on 5 unanswered tries to take control of the game. This was another important two points as we continue to get our season back on track and have a fight to stay in the Top 8. Still 4 more wins to make the finals.
Kennar hatrick on return
Richie Kennar made a long awaited return to first grade with Rabbitohs and he do with a bang. He ran in 3 tries filling in on Alex Johnston's wing to remind everyone he is still here if needed.
Mitchell & Mitchell show
Well big Shaq Mitchell was once again called up into first grade but it was a extra special moment as he join his brother Latrell for first time in a NRL game, and in his first game together since their junior playing days. Both put in big games which was a delight to see.
Rahme stepping up
Jaxson Rahme has been called up into the U21s team from our SG Ball squad and is looking to make every post a winner. He is a hard running ball playing forward. I look forward to seeing him progress.
U23s Layer needed
With the gap narrowing between reserve grade or NSW Cup and NRL, since the end of NYC U20s grade. What we have seen the gap between reserve grade and U21s has widdened, with it being more difficult for players to setup. We see many get injured too often. What we are going to need is a layer between U21s and reserve grade. This is where a U23 layer will be the best solution going forward allowing players to develop, especially forwards.
Rabbitohs TV - Weekly Segment
The boys recap Round 17 game
Round 17 - Stat Attack
Statistically it was a good game. Completions improved to 86% from 75% last week. Our best all year. Errors were improved to 6 from 14 last week. We gave away 9 penalties and 2 6-again calls from 5 last week. Souths Effective 1st tackle dropped to a poor level of 35.4m from 22.7m last week. Our missed tackles dropped to a average level of 33 from 18 last week. Opposition offloads dropped to 7 from 4 last week.
Looking at our left side defence - Kennar-Tass-Walker-Cartwright (1-1-3-2) dropped to 7 from 6 missed tackles last week. On the right side Paulo-Milne-Nikorima-Koloamatangi/CheeKam (2-0-2-3) was steady at 7 missed tackles again this week. Ruck defence Burgess/SMitchell-Havili-Moale/Suluka-Fifita-Tatola/Kolomatangi (11-2-2-4) dropped to 19 from 5 missed tackles last week.
Our go forward dropped to 1506m from 1955m last week. Tatola, Shaq Mitchell, Tass, Kennar, Walker and Nikorima made 10+m per run. Burgess, Tatola, Koloamatangi, Suluka-Fifita, Tass and Milne made 100+m in the match. With Burgess making 200+m for the match. Defensively Cartwright was our best in the tackling raking up 37 tackles. Latrell Mitchell and Ilias didn't miss a tackle.
News This Week
IRL announces RLWC2025 Qualifying Framework
Round 18 Preview
Recent 2022 Form - South Sydney (7th)

Rd15  St Geo-Ill Woll L 12-32
Rd16  Parramatta StAu W 30-12
Rd17  Newcastle  NISC W 40-28

Recent 2022 Form - Canterbury-Bankstown (14th)

Rd15  Wests-Tig  WSS  W 36-12  
Rd16  Cronulla   WSS  L  6-18
Rd17  BYE

Recent South Sydney v Canterbury-Bankstown Results

2019 Rd06  StAu W 14-6  30,040 H.Perenera/T.Roby
2019 Rd22  StAu L  6-14 14,112 H.Perenara/B.Sharpe
2020 Rd08  WSS  W 26-10  3,858 P.Gough
2020 Rd19  StAu L 16-26  4,859 A.Klien
2021 Rd04  StAu W 38-0  23,340 G.Atkins
2021 Rd18  Robi W 32-24  2,979 B.Cummins
2022 Rd06  StAu W 36-16 30,194 G.Sutton