2022 - The Cyber View from the Hill
24th August 2022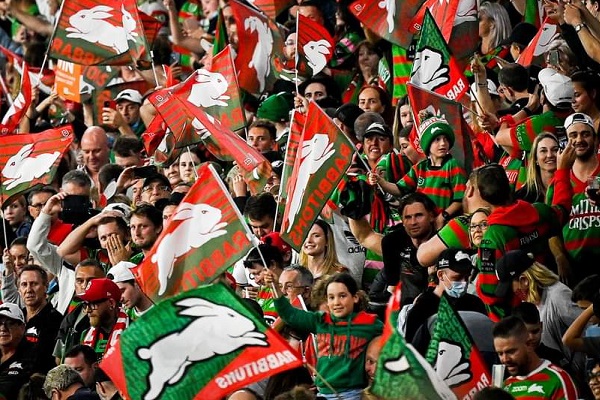 Cannot closeout a game
In a tight contest Souths put in a strong performance against the Minor Premiers to be leading with 5 minutes to go. But once again we were not able to close out a close game in 2022. This ended our Top 4 asperations. This is our 4th close loss in 2022 and is the difference between us being a Top 4 team and fighting for the Top 8 birth. Part of the issue is our error rate, as we once again gifted the opposition points and field position, which is not good enough to win games against the better teams. Still 1 more win to make the finals. Now we play 2nd place Cowboys at home, with 9th place Canberra breathing down our necks.
Johnston another double
Alex Johnston continues to dominate the try scorer list as he scored another double on the weekend, on the end of the slick left side backline. He has now scored 27 tries for the season and is a clear NRL try scoring leader.
Reserve Grade just miss out on the 5
In a game where we were never headed by the second place Penrith outfit, we allowed a late try for Penrith to snatch a draw in our final game for the season. But with steamlined Top 5 in 2022 the draw was enough to knock us out of the finals race. Our top try scorer for the year was Izaac Thompson with 20 who also ended the season as the top point scorer with 80 points.
Poor U21s season finally ends
After another good start our U21s once again got dominated in the second half of the game. Its been a similar story all year as the team finished the year with the wooden spoon. Top try scorer for the year was Carson Kaho with 9 tries and Tyrone Munro was our Top Point Scorer with 72 points.
WRL era needs to be recognised
As the new NRLW season kicks off, rugby league in Australia has forgotten about the early years of the WRL (Womens Rugby League). While there is a acknowledgement of the Jillaroos, NSW v Queensland state series has been ignored, as has all of the club games between 1992 and 2001 in a period dominated by the SL War, while the girls tried to gain recognition for their sport. South Sydney have a proud record in this period winning the 1996 and 1997 premierships and taking out the 1997 7s.
Rabbitohs TV - Weekly Segment
The boys recap Round 23 game
Round 23 - Stat Attack
Statistically it was a poor game. Completions dropped to 73% from 80% last week. Errors dropped to 13 from 11 last week. We gave away 5 penalties and 1 6-again calls from 5 last week. Souths Effective 1st tackle dropped to a distratous level of 46.7m from 22.6m last week. Our worst all season. Our missed tackles dropped at a average level of 30 from 15 last week. Opposition offloads improved to 12 from 20 last week.
Looking at our left side defence - Johnston-Tass-Walker-Arrow/Milne (1-3-5-2) dropped to 11 from 2 missed tackles last week. On the right side Paulo-Graham-Ilias-Koloamatangi (0-1-5-0) improved to 6 from 10 missed tackles last week. Ruck defence Tatola/Sele-DCook-Suluka-Fifita/Nicholls/Havili-Murray/Havili (3-2-2-3) was dropped to 10 from 3 missed tackles last week.
Our go forward dropped to 1486m from 2272m last week. Sele, Graham and Johnston made 10+m per run. Koloamatangi, Arrow, Graham, Johnston and Paulo made 100+m in the match. Defensively DCook was our best in the tackling raking up 58 tackles. Suluka-Fifita, Kolomatangi, Milne and Paulo didn't miss a tackle.