2022 - The Cyber View from the Hill
7th September 2022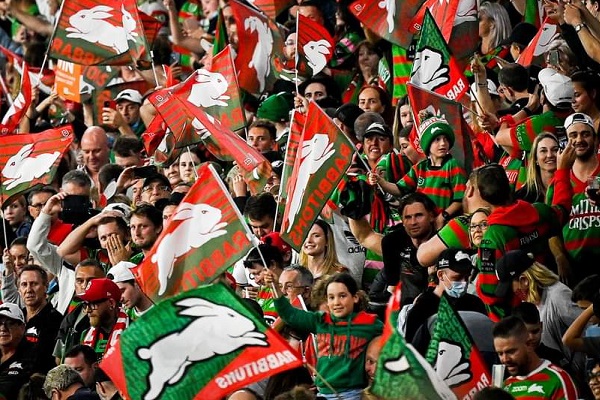 Practice Games are over
The practice games are now over, as finish the season in 7th spot. We rested a few players and the loss of Murray and Havili to HIA's impacted the team on the weekend. Letting the opposition race out to a 20 point lead was not a good way to prepare. But it was good to see the boys rally in the second half and reduce the margin so that we could retain the Ron Coote Cup for the 5th successive season. We are now back at the new stadium to play our arch rivals, in the first of there sudden death games to make the big dance.
Milne double
On the back of a contract extension ite was good to see Milne play very well on the end of our backline plays. He scored a cracker of a try with millimetres to spare and then finished off a good backline move for his second try.
Grossemy Euro Expedition
Louis Grossemy has decided to represent France, and got his first taste of International football in a U19 Euro championship. Over the weekend he has helped guide France into the final after scoring 2 tries in the semi-final.
Week 1 Finals Venues Should use Big Stadiums
With covid all but over at a public level, it was very surprising to the NRL stick to their changed policy of playing week 1 finals at surburban grounds. This was only put in place while STadium Australia and the SFS were under contruction. But with Homebush rebuild cancelled and SFS rebuild complete, we are stuck with this ludicrus situation in Sydney where finals are still being played a suburban grounds. Grounds like Leichhardt, Kogarah, Penrith and Brookvale all have capacity less than 20k with Shark Park only holding 11k at the moment. In the biggest weekend on the sporting calender we should not be locking out fans and we need to return back to decision where of playing week 1 finals at the bigger venues of Western Sydney Stadium, Stadium Australia or the new SFS.
Rabbitohs TV - Weekly Segment
The boys recap Round 25 game
Round 25 - Stat Attack
Statistically it was a poor game. Completions improved to 79% from 71% last week. Errors improved to 9 from 14 last week. We gave away 10 penalties and 1 6-again calls from 6 last week. Souths Effective 1st tackle dropped to a very poor level of 41.8m from 31.8m last week. Our missed tackles dropped to a good level of 26 from 20 last week. Opposition offloads were steady at 10 again this week.
Looking at our left side defence - Johnston-Tass-Walker-Arrow (0-0-4-4) dropped to 8 from 3 missed tackles last week. On the right side Milne-Paulo-Ilias-Koloamatangi (0-3-4-2) dropped to 9 from 8 missed tackles last week. Ruck defence Tatola/Sele-Mamouzelos/Nikorima-Burgess/Nicholls-Havili/Nicholls (4-1-2-1) was steady at 8 missed tackles this week.
Our go forward dropped to 1656m from 1696m last week. Burgess, Havili, Mamouzelos, Walker and Johnston made 10+m per run. Tatola, Burgess, Sele, Nicholls, Arrow, Paulo, Milne, Tass and Mitchell made 100+m in the match. Defensively Tatola was our best in the tackling raking up 43 tackles. Murray, Nikorima, TAss, Johnston and Milne didn't miss a tackle.
News This Week
2022 South Sydney Player Awards
Ilias 2024-25 Contract Extension
Preliminary Semi-Final Preview
Recent 2022 Form - South Sydney (7th)

Rd23  Penrith    StAu L 22-26
Rd24  Nth Qld    StAu W 20-10
Rd25  Syd Rstrs  SFS2 L 16-26

Recent 2022 Form - Sydney Roosters (6th)

Rd23  Wests-Tig  SCG  W 72-6  
Rd24  Melbourne  MRSt W 18-14 
Rd25  Souths     SFS2 W 26-16

Recent South Sydney v Sydney Roosters Results

2019 Rd01  SCG  W 26-16 24,527 G.Atkins/G.Badger
2019 Rd25  StAu W 16-10 20,093 A.Klien/C.Sutton
2019 MPSF  SCG  L  6-30 30,370 G.Sutton/A.Gee
2020 Rd03  WSS  L 12-28      0 A.Klein
2020 Rd20  StAu W 60-8   7.985 G.Sutton
2021 Rd03  StAu W 26-16 22,838 A.Klien
2021 Rd24  LngS W 54-12  5,136 A.Klien
2022 Rd03  StAu W 28-16 18,254 G.Atkins
2022 Rd25  SFS2 L 16-26 41,906 G.Atkins


Selected Preliminary Semi-Final Teams