2022 - The Cyber View from the Hill
14th September 2022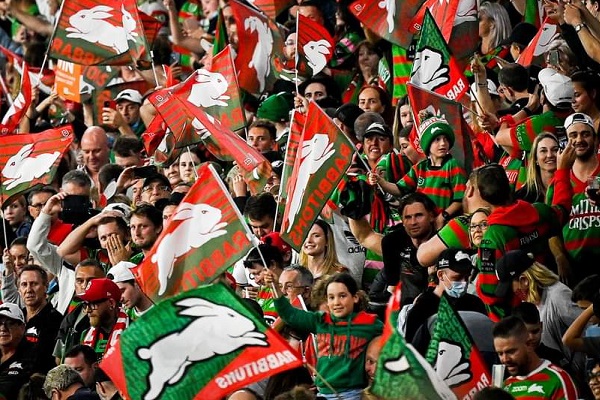 The Battle of Moore Park
Thats was a epic brutal battle for supremacy of Moore Park. With Souths reduced to 11 men on two occassions the team lifted to control possession in these vital periods. And not only that we crossed their line on two occassions. This was a heoric match with so many good performaces across the park as team won the battle and then were able to focus on winning the sudden death match. So brutal was the game 7 players were sent to the sin bin, a record and 5 charges laid by the Match Review Committee. We are now back at the new stadium, which has feels like home to take on the 2nd placed Sharks, in the second of there sudden death games to make the big dance.
Johnston 30 tries back to back
What a remarkable achievement for Alex Johnston, who became the first player to score 30 tries in a season in back to back seasons, after another 2 tries on the weekend and moving into outright 5th place on all-time try scoring list. This is on the back of winning the Ken Irvine Medal for a 3rd successive season. And the season isn't finished yet.
Walker Show
After all of the dust ups it was Mitchell and Walker who settled first and started playing football. Walker had a huge game setting up 4 tries down the left side and is just what the team needed. And I love hus jibe of being back at "home" again this week.
Concussion deciding games
With the advent of the concussion protocols we continue to see games being influenced heavily by head knocks. Last year the loss of a player while making a tackle early in a game gives the opposition a significant advantage. We saw this in last year Grand Final and a few weeks ago when Murray went off. We need to revise the HIA replacement rule accordingly. In NSW Cup the rule is one failed HIA you can activate the 18th man, while in the NRL its 3. Though a failed HIA due to foul play where a player is sin-binned allows you to activate the 18th man. I beleive we should reduce the failed NRL failed HIA situation to 2 as it was almost never used throughout the season, and two defenders having a head clash in a tackle is a classic example of when it should occur.
Rabbitohs TV - Weekly Segment
The boys recap Preliminary Semi-Final game
Preliminary Semi-Final - Stat Attack
Statistically it was a average game that was effected by the multiple sin-bins. Completions improved to 80% from 79% last week. Errors improved to 8 from 9 last week. We gave away 9 penalties and 3 6-again calls from 11 last week. Souths Effective 1st tackle improved to a very poor level of 40.3m from 41.8m last week. Our missed tackles improved to a very good level of 23 from 26 last week. Opposition offloads dropped to 12 from 10 last week.
Looking at our left side defence - Johnston-Tass-Walker/Nikorima-Murray/Arrow/CheeKam (0-1-3-2) improved to 6 from 8 missed tackles last week. On the right side Milne-Graham-Ilias-Koloamatangi (1-4-1-2) improved to 8 from 9 missed tackles last week. Ruck defence Tatola/Burgess-Cook/Havili-Nicholls/Havili/Arrow-Arrow/Murray (3-2-3-1) dropped to 9 from 8 missed tackles last week.
Our go forward was steady at 1658m from 1656m last week. Sele, Nicholls, Havili, Cook, Graham, Tass and Milne made 10+m per run. Arrow, Murray, Tatola, Koloamatangi, Graham, Tass, Johnston and Milne made 100+m in the match. Defensively Koloamatangi was our best in the tackling raking up 41 tackles. Sele and Johnston didn't miss a tackle.
News This Week
MenuLog Rabbitohs 2023-25 Upper Back Jersey Sponsorship Extension
IRL - Ivory Coast and Uganda awarded Observer Membership
Semi-Final Preview
Recent 2022 Form - South Sydney (6th)

Rd24  Nth Qld    StAu W 20-10
Rd25  Syd Rstrs  SFS2 L 16-26
mPSF  Syd Rstrs  SFS2 W 30-14

Recent 2022 Form - Cronulla-Sutherland (3rd)

Rd24  Canterbury Ende W 16-0  
Rd25  Newcastle  NISC W 38-16 
MPSF  Nth Qld    Ende L 30-32 (ET/GP)

Recent South Sydney v Cronulla-Sutherland Results

2019 Rd20  Ende L 24-39 13,523 A.Gee/D.Munro
2020 Rd01  StAu W 22-18  6,235 B.Cummins/B.Sharpe 
2021 Rd10  LngS W 32-22 45,155 C.Sutton
2022 Rd20  Ende L 20-21 11,492 G.Sutton