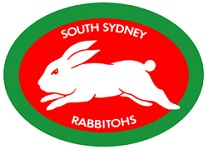 South Sydney - History of the Rabbitoh
The rabbit first appeared on a Souths jersey in 1959 when the new saddle jersey was unveiled. But this story of emblem of the South Sydney Rabbitohs goes back like many things way back in time. For the uneducated the monica of the South Sydney DRLFC is not a Rabbit but a Rabbit-oh. So what is a Rabbit-oh ?
A Rabbit-oh is a person who would hunt and trap rabbits.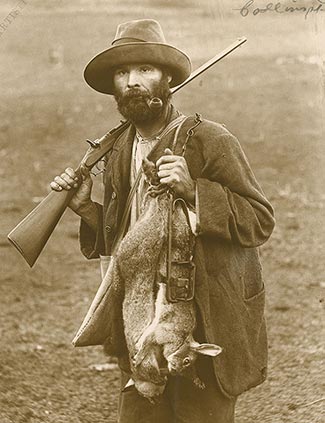 He would then cart his catch back to town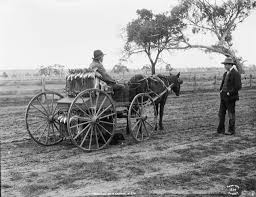 and then sell his catch in the street to his call -
Rabbit-O ! Come and get your fresh rabbits, Rabbit-O !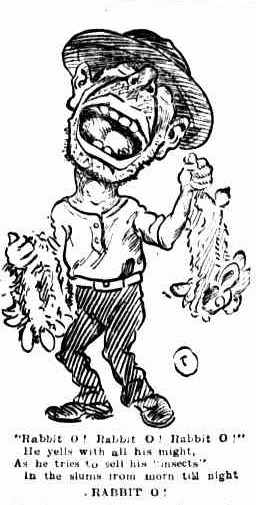 Rabbits had become a stable diet of many Australians after they had been first brought here by the First Fleeters. The remote area of Botany was a renowed area for rabbits and a happy hunting ground.
Back in the days of the old South Sydney rugby union club, some players were Rabbit-oh's. They would wear their jerseys while wheeling their carts from which they sold rabbits. They toured the streets of Redfern, Waterloo and Surry Hills selling their catch to the cry of Rabbit-Oh. The housewives would yell back their order. They would then turn up for training in blood and fur covered jerseys.
This carried on into the League days as players transfered across. Every one ate rabbits and many players became Rabbit-ohs.
So as League supporters attended matches they cheered the Rabbit-oh cry at those "Rabbitoh" players who were now on the field playing and it caught on as the unofficial symbol of the team.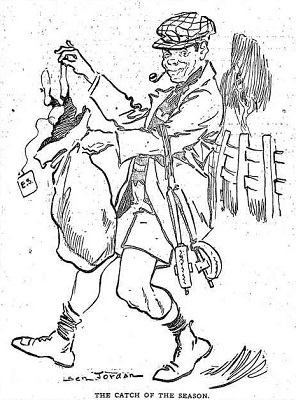 In the early days at a match at the Agricultural ground, supporters in the crowd released half a dozen rabbits onto the field prior to a big match and the rabbit was regarded as the unofficial mascot. Then again in the 1954 Grand Final a rabbit was once again released on the the field.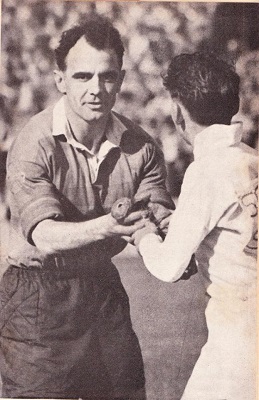 However it took years before it was accepted officially and even by newspapers. In 1959 the Rabbit became the official mascot on the new saddle jersey, designed as a plain white rabbit. In 1978 the NSWRL took over the marketing control for the clubs and a slight change came to the emblem with the white rabbit now enclosed within a red and green football. Then in 2007 owner Russell Crowe introduced the black rabbit on the jerseys as a home / away jersey marketing tool. That year also players were also issued with a silver rabbit by the club owners as a education tool on the history of this great club. While members would obtain bronze, silver, gold or platinium rabbits as a reward for membership loyalty.
---