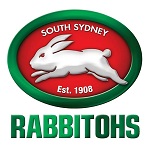 South Sydney Rabbitohs Broadcast Matchess
In 1962 the first TV broadcast of Rugby League began. It wasn't until the advent of Pay-TV that all matches were broadcast. Here is a list of South Sydney broadcast matches, before this period began in 1997, or additional matches like trials or lower grades that have also been broadcast, since.
The 1967 Grand Final between Souths and Canterbury was the first live TV broadcast of a NSWRL match.
Season 1924
Round 1 - South Sydney v Western Suburbs (Highlights)

Season 1939

Final - South Sydney v Balmain (Highlights)

Season 1952

Grand Final - South Sydney v Western Suburbs

Season 1961

* Round 2 - South Sydney v Manly-Warringah Highlights

Season 1962

Round 15 - South Sydney v Canterbury-Bankstown

Season 1965

Grand Final - South Sydney v St George

Season 1966

Round 6 - South Sydney v Eastern Suburbs

Round 18 - South Sydney v St George

Season 1967

* Round 4 - South Sydney v Canterbury-Bankstown SCG

Major Semi-Final - South Sydney v St George

Grand Final - South Sydney v Canterbury-Bankstown

Season 1968

Round 3 - South Sydney v Balmain

Round 22 - South Sydney v Eastern Suburbs

Major Semi-Final - South Sydney v Manly-Warringah

Preliminary Final - South Sydney v St George

Grand Final - South Sydney v Manly-Warringah

Season 1969

Grand Final - South Sydney v Balmain

Season 1970

Round 5 - South Sydney v Eastern Suburbs

Round 7 - South Sydney v St George

Round 18 - South Sydney v St George

Grand Final - South Sydney v Manly-Warringah

Season 1971

Grand Final - South Sydney v St George

Season 1974

Round 9 - South Sydney v Newtown

Round 13 - South Sydney v Penrith

Round 16 - South Sydney v North Sydney

Round 19 - South Sydney v Western Suburbs

Round 21 - South Sydney v Eastern Suburbs

Season 1975

* South Sydney v Eastern Suburbs

Season 1976

Round 7 - South Sydney v Western Suburbs

Season 1977

* Round 8 - South Sydney v Cronulla-Sutherland

Round 12 - South Sydney v Balmain

Season 1978

* Ch10 Challenge Cup Round 1 - South Sydney v St George

* Ch10 Challenge Cup Semi-Final - South Sydney v Balmain

* Ch10 Challenge Cup Final - South Sydney v North Sydney

* Round 20 - South Sydney v Western Suburbs

Season 1979

Round 4 - South Sydney v Western Suburbs

Round 19 - South Sydney v Canterbury-Bankstown

* Round 20 - South Sydney v Western Suburbs

Round 22 - South Sydney v Balmain

Amco Cup - South Sydney v NSW Country

* Amco Cup Semi-Final - South Sydney v Cronulla-Sutherland

Season 1980

Round 1 - South Sydney v St George

Round 5 - South Sydney v Newtown

* Round 16 - South Sydney v Newtown

Round 20 - South Sydney v Manly-Warringah

Round 21 - South Sydney v Western Suburbs

Round 22 - South Sydney v Canterbury-Bankstown

Minor Preliminary Semi-Final - South Sydney v St George

Season 1981

Midweek Tooth Cup Round 1 - South Sydney v Parramatta

* Midweek Tooth Cup Round 2 - South Sydney v St George

Midweek Tooth Cup Semi-Final - South Sydney v Manly-Warringah

Midweek Tooth Cup Final - South Sydney v Cronulla-Sutherland

Round 13 - South Sydney v St George

* Round 17 - South Sydney v Eastern Suburbs

Round 18 - South Sydney v Manly-Warringah

* U23s Grand Final - South Sydney v Parramatta

Season 1982

KB Cup Round 1 - South Sydney v North Sydney

KB Cup Round 2 - South Sydney v Penrith

* KB Cup Quarter-Final - South Sydney v Balmain

KB Cup Semi-Final - South Sydney v Newtown

Round 4 - South Sydney v Cronulla-Sutherland

Round 5 - South Sydney v Balmain

Round 8 - South Sydney v Parramatta

Round 9 - South Sydney v Western Suburbs

Round 11 - South Sydney v Canterbury-Bankstown

Round 12 - Souths Sydney v St George

Round 13 - South Sydney v Manly-Warringah

Round 14 - South Sydney v Canterbury-Bankstown

Round 16 - South Sydney v Newtown

Round 19 - South Sydney v Balmain

Round 21 - South Sydney v Eastern Suburbs

Round 22 - South Sydney v Parramatta

Round 24 - South Sydney v North Sydney

Round 25 - South Sydney v St George

Round 26 - South Sydney v Manly-Warringah

Season 1983

KB Cup Round 1 - South Sydney v NSW Country

* Round 2 - South Sydney v St George

* Round 13 - South Sydney v Eastern Suburbs

Round 16 - South Sydney v St George

RG Grand Final - South Sydney v Manly-Warringah

Season 1984

Panasonic Cup Round 1 - South Sydney v Combined Brisbane

Round 3 - South Sydney v Parramatta

Round 5 - South Sydney v Illawarra (Redf)

Round 7 - South Sydney v Manly-Warringah

Round 10 - South Sydney v Canterbury-Bankstown

Round 16 - South Sydney v Parramatta

Round 17 - South Sydney v St George

Round 18 - South Sydney v Illawarra

Round 23 - South Sydney v Canterbury-Bankstown

Playoff - South Sydney v Canberra

Minor Preliminary Semi-Final - South Sydney v Manly-Warringah

Minor Semi-Final - South Sydney v St George

Season 1985

* Charity Shield/Midweek Cup - South Sydney v St George

* Round 4 - South Sydney v Canberra

* Round 6 - South Sydney v North Sydney

* Round 10 - South Sydney v Western Suburbs (Prat)

* Round 13 - South Sydney v Balmain

Round 14 - South Sydney v Eastern Suburbs

* Round 15 - South Sydney v St George

* Round 17 - South Sydney v Canberra

Round 18 - South Sydney v Parramatta (SCG)

Round 22 - South Sydney v Cronulla-Sutherland (SCG)

* Round 24 - South Sydney v Canterbury-Bankstown

Round 25 - South Sydney v Manly-Warringah (SCG)

Season 1986

Panasonic Cup Round 1 - South Sydney v Canterbury-Bankstown

Round 4 - South Sydney v Western Suburbs (Redf)

Round 6 - South Sydney v Eastern Suburbs (Redf)

Round 7 - South Sydney v North Sydney

Round 12 - South Sydney v Manly-Warringah

Round 15 - South Sydney v Illawarra

Round 17 - South Sydney v Western Suburbs

* Round 18 - South Sydney v Penrith (Redf)

Round 19 - South Sydney v Eastern Suburbs

Round 21 - South Sydney v Canterbury-Bankstown

Round 24 - South Sydney v Parramatta

Round 25 - South Sydney v Manly-Warringah

Round 26 - South Sydney v Balmain

Major Premiliminary Semi-Final - South Sydney v Canterbury-Bankstown

Minor Semi-Final - South Sydney v Balmain

U23 Grand Final - South Sydney v Penrith

Season 1987

Panasonic Cup Round 1 - South Sydney v St George

Panasonic Cup Quarter-Final - South Sydney v Balmain

* Round 1 - South Sydney v Illawarra

* Round 3 - South Sydney v Balmain

Round 5 - South Sydney v Western Suburbs

* Round 6 - South Sydney v Parramatta

Round 7 - South Sydney v Manly-Warringah

Round 8 - South Sydney v Canterbury-Bankstown

Round 11 - South Sydney v Eastern Suburbs

Round 14 - South Sydney v Illawarra

Round 15 - South Sydney v St George

Round 16 - South Sydney v Balmain (SCG)

Round 18 - South Sydney v Western Suburbs

Round 19 - South Sydney v Parramatta

Round 20 - South Sydney v Manly-Warringah

Round 23 - South Sydney v Cronulla-Sutherland

Round 24 - South Sydney v Eastern Suburbs

Round 25 - South Sydney v Canberra

Minor Premiliminary Semi-Final - South Sydney v Balmain

Minor Semi-Final - South Sydney - Canberra

U23 Grand Final - South Sydney v St George

Season 1988

Panasonic Cup Round 1 - South Sydney v Canberra

Panasonic Cup Quarter Final - South Sydney v Cronulla-Sutherland

Panasonic Cup Semi-Final - South Sydney v Balmain

* Round 2 - South Sydney v Eastern Suburbs

* Round 3 - South Sydney v Canberra

Round 7 - South Sydney v Canterbury-Bankstown

Round 9 - South Sydney v Balmain

* Round 11 - South Sydney v Parramatta (SFS)

Round 12 - South Sydney v Western Suburbs

Round 14 - South Sydney v Brisbane

Round 15 - South Sydney v Penrith

Round 16 - South Sydney v Cronulla-Sutherland

Round 17 - South Sydney v Eastern Suburbs

Round 18 - South Sydney v Canberra

Round 22 - South Sydney v Canterbury-Bankstown

Season 1989

* Nissan 7s

Panasonic Cup Round 1 - South Sydney v Penrith (Parr)

Panasonic Cup Quarter-Final - South Sydney v Canterbury-Bankstown

Round 1 - South Sydney v Eastern Suburbs

Round 3 - South Sydney v Cronulla-Sutherland

Round 6 - South Sydney v St George

Round 7 - South Sydney v Canterbury-Bankstown (Belm)

* Round 9 - South Sydney v Western Suburbs (Camp)

* Round 11 - South Sydney v Newcastle

Round 12 - South Sydney v Balmain

Round 13 - South Sydney v Parramatta

Round 14 - South Sydney v Penrith

Round 15 - South Sydney v Brisbane

Round 17 - South Sydney v Canberra (SFS)

Round 18 - South Sydney v Cronulla-Sutherland

Round 22 - South Sydney v Canterbury-Bankstown

Major Semi-Final - South Sydney v Balmain

Final - South Sydney v Canberra

U21 Grand Final - South Sydney v Canberra

Season 1990

World 7s Semi-Final - South Sydney v Parramatta

* PreSeason - South Sydney v Balmain

Round 1 - South Sydney v Canterbury-Bankstown

Round 2 - South Sydney v Cronulla-Sutherland

Round 3 - South Sydney v Eastern Suburbs

Round 8 - South Sydney v Western Suburbs

Round 9 - South Sydney v Parramatta (SFS)

Round 14 - South Sydney v Balmain

U21s Round 15 - South Sydney v Newcastle

Season 1991

U21 Round 1 - South Sydney v Eastern Suburbs

* Round 12 - South Sydney v Brisbane

Season 1992

* World 7s

Tooheys Challenge Round 1 - South Sydney v Canterbury-Bankstown (Lismore)

Round 4 - South Sydney v Balmain

Round 7 - South Sydney v Eastern Suburbs

Round 8 - South Sydney v Manly-Warringah

Round 9 - South Sydney v Brisbane

Round 15 - South Sydney v Penrith

Season 1993

* World 7s

Tooheys Challenge Round 1 - South Sydney v Brisbane

Tooheys Challenge Quarter-Final - South Sydney v Canterbury-Bankstown (Armidale)

* Tooheys Challenge Semi-Final - South Sydney v Western Suburbs

Round 2 - South Sydney v Manly-Warringah

Round 9 - South Sydney v Parramatta

* Round 10 - South Sydney v Canterbury-Bankstown

Round 12 - South Sydney v Balmain

Season 1994

World 7s

Tooheys Challenge Cup Round 1 - South Sydney v Western Suburbs

Tooheys Challenge Cup Quarter Final - South Sydney v St George

Tooheys Challenge Cup Semi-Final - South Sydney v Balmain

Tooheys Challenge Cup Final - South Sydney v Brisbane

* SG Ball Cup Final- South Sydney v Newcastle

Round 1 - South Sydney v Newcastle

* Round 5 - South Sydney v Western Suburbs

Round 6 - South Sydney v Manly-Warringah

Round 8 - South Sydney v Balmain

Round 11 - South Sydney v St George

Round 12 - South Sydney v Eastern Suburbs

Round 13 - South Sydney v Penrith

Round 15 - South Sydney v North Sydney

Round 16 - South Sydney v Newcastle

Round 18 - South Sydney v Canterbury-Bankstown

Round 19 - South Sydney v Illawarra

Round 21 - South Sydney v Manly

Season 1995

* World 7s

Tooheys Challenge Cup Round 2 - South Sydney v Western Reds

* Jersey Flegg Cup - South Sydney v Parramatta

Round 1 - South Sydney v Manly-Warringah

* Round 5 - South Sydney v Parramatta

Round 7 - South Sydney v Newcastle

Round 11 - South Sydney v Western Suburbs

Round 15 - South Sydney v South Queensland (Lang)

* Round 16 - South Sydney v North Queensland

* Round 21 - South Sydney v North Sydney

* Reserve Grade Round 6 - South Sydney v Eastern Suburbs (SFS)

Season 1996

World 7s

Round 1 - South Sydney v Manly-Warringah (Brookvale)

Round 6 - South Sydney v Eastern Suburbs

* Round 9 - South Sydney v Syd Tigers

* Round 10 - South Sydney v Penrith

* Round 12 - South Sydney v Western Reds

* Round 13 - South Sydney v Gold Coast

* Round 15 - South Sydney v South Queensland

* Round 16 - South Sydney v North Queensland

Season 1997

World 7s

Round 3 - South Sydney v Western Suburbs (SFS)

* Round 4 - South Sydney v Balmain (Leic)

Round 5 - South Sydney v St George (SFS)

Round 7 - South Sydney v Sth Queensland

Round 9 - South Sydney v Parramatta (SFS)

Round 12 - South Sydney v Illawarra (SFS)

Round 14 - South Sydney v Western Suburbs (Camp)

Round 19 - South Sydney v Eastern Suburbs (SFS)

U20 Semi Final - South Sydney v Balmain (SFS)

Season 1998

Round 1 - South Sydney v Auckland (MtSm)

Round 6 - South Sydney v Western Suburbs (SFS)

Round 8 - South Sydney v St George (Koga)

Round 12 - South Sydney v Illawarra (Woll)

Round 16 - South Sydney v Balmain (Leic)

Round 20 - South Sydney v North Queensland (Town)

Round 22 - South Sydney v Auckland (SFS)