Referee Darcy Lawler was a late withdrawal and Lancashire was rushed over to referee the match. Powell badly injured his jaw early in the first half and did not return for the second half.
Reserve Grade - Round 18
v St George, 2:00pm
LOSS 7-16
Coyne was sent off late in the second half for pucnhing in the ruck.

HT    0-12

N.Ryan try
Gudgeon, R.McWilliams goals
 
Final Line Up
                                   T  G/A  FG 

Flbk - 17 - Flockton, A            -  -     -
Wing - 18 - Turner, K              -  -     -
Cntr - 10 - Lang, A                -  -     -
Cntr - 33 - Holmes, W              -  -     -
Wing - 31 - Ryan, N                1  -     -
5/8  - 52 - McWilliams, R          -  1     - (c)
Half - 35 - Power, M               -  -     -
Lock - 25 - Christie, R            -  -     - 
SRow - 50 - Glanville, W           -  -     -
SRow - 39 - Gudgeon, J             -  1     -
Prop - 26 - Gibson, C              -  -     -
Hook - 41 - Broach, L              -  -     -
Prop - 40 - Coyne, J               -  -     -

                                   1  2     -

Other Reserve Grade Matches

 7-0  Prat Wests      b Newtown
11-10 Brok Manly      b Norths
20-5  Leic Balmain    b Canterbury
21-7  SSG  Easts      b Parramatta

               W D  L   F   A Diff PT
ST GEORGE     14 1  3 256 134 +125 29
BALMAIN       13 -  5 226 132  +94 26
NORTHS        13 -  5 226 149  +77 26
MANLY         12 2  4 179 138  +41 26
--
Easts          9 -  9 169 175   -6 18
Souths         8 1  9 194 172  +22 17
Newtown        5 4  9 153 192  -39 14
Wests          7 - 11 131 172  -41 14
Canterbury     4 - 14 119 235 -116  8
Parramatta     1 - 17 125 278 -133  2


Third Grade - Round 18
v St George, 12:45pm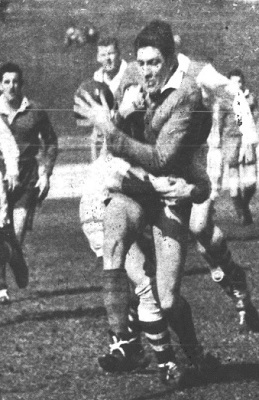 LOSS 6-10

HT    3-3

Gilbey, Sutton tries 
no goals

Final Line Up
                                   T  G/A  FG

Flbk - 43 - Sutton, R              1  -     -
Wing - 58 - Gilbey, F              1  -     -
Cntr - 37 - Martin, S              -  -     -
Cntr - 19 - McWilliams, B          -  -     -
Wing - 61 - Chandler, G            -  -     -
5/8  - 22 - Butler, R              -  -     -
Half - 63 - Pike, E                -  -     - (c)
Lock - 38 - Gain, J                -  -     -
SRow - 54 - Brown, J               -  -     - 
SRow - 53 - Brown, R               -  -     - 
Prop - 51 - McGreal, K             -  -     - 
Hook - 47 - Granville, S           -  -     -
Prop - 48 - Griffiths, C           -  -     -

                                   2  -     -

Other Third Grade Matches

 6-4  Prat Newtown    b Wests
13-0  Brok Norths     b Manly
22-9  Leic Balmain    b Canterbury
31-5  SSG  Easts      b Parramatta

               W D  L   F   A Diff PT
BALMAIN       13 1  4 233 127 +106 27
ST GEORGE     13 -  5 205 103 +102 26
NORTHS        12 -  6 209 115  +94 24
WESTS         12 -  6 172 109  +63 24
--
Newtown       10 3  5 144 116  +28 23
Canterbury     8 - 10 147 176  -29 16
Souths         6 3  9 152 146   +6 15
Easts          6 - 12 133 207  -74 12
Manly          3 2 13 118 199  -81  8
Parramatta     2 1 15  83 291 -208  5

Club Championship

               FG  RG  3G  PT
ST GEORGE     128  87  52 267
--
Balmain        80  78  54 212
Norths         72  78  48 198
Wests          96  42  48 186
Manly          92  78  16 186
Newtown        80  42  46 168
Easts          64  54  24 142
Souths         48  51  30 129
Canterbury     36  24  32  92
Parramatta     24   6  10  40


Ref - SMH
Midweek - Aug 19 1958 NSWRL Premiership - Playoff



15-4  Redf (5v4) Balmain    b Newtown

               W D  L   F   A Diff PT
ST GEORGE     16 -  2 480 187 +293 32
WESTS         12 -  6 379 263 +116 24
MANLY         11 1  6 291 251  +40 23
BALMAIN       10 -  8 254 273  -29 20
--
Newtown       10 -  8 297 252  +45 20
Norths         9 -  9 279 322  -43 18
Easts          8 - 10 244 252   -8 16
Souths         6 - 12 246 291  -45 12
Canterbury     4 1 13 207 276  -69  9
Parramatta     3 - 15 202 412 -210  6



Weekend - Aug 23 / Aug 30 1958 NSWRL Premiership - Semi-Finals



34-10 SCG  (2v1) Wests       b St George  (Aug 30)
22-10 SCG  (4v3) Balmain     b Manly


Reserve Grade - Semi-Finals


13-9  SCG  (2v1) Balmain    b St George   (Aug 30)
16-9  SCG  (3v4) Norths     b Manly


Third Grade - Semi-Finals


18-10 SCG  (2v1) St George  b Balmain     (Aug 30)
28-4  SCG  (4v3) Wests      b Norths
 

Weekend - Sep 6 1958 NSWRL Premiership - Preliminary Final


  
BYE        (1)   Wests
26-21 SCG  (2v3) St George   b Balmain


Reserve Grade - Preliminary Final


BYE        (1)   Balmain
15-10 SCG  (2v3) St George  b Norths


Third Grade - Preliminary Final


BYE        (1)   St George
 9-5  SCG  (2v3) Wests      b Balmain
 

Weekend - Sep 13 1958 NSWRL Premiership - Grand Final



20-9  SCG  (2v1) St George   b Wests


Reserve Grade - Grand Final


20-10 SCG  (1v2) Balmain    b St George


Third Grade - Grand Final


12-11 SCG  (2v1) Wests      b St George
 

---
© 2019 SSR Almanac / HOME / RETURN