South Sydney DRLFC Extraordinary General Meeting - Privatisation
19th March 2006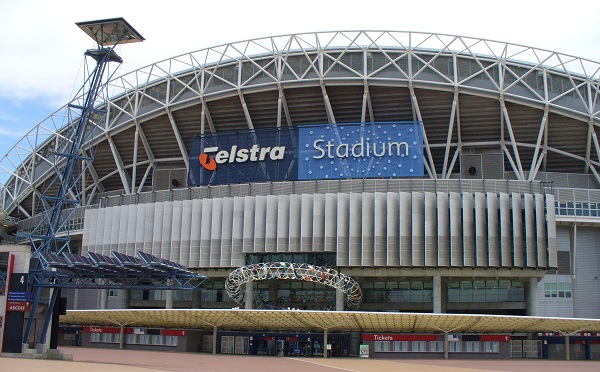 A extraordinary general meeting was called to be held in the Millenium Room of Telstra Stadium for the vote for privatisation of the club, on Sunday March 19.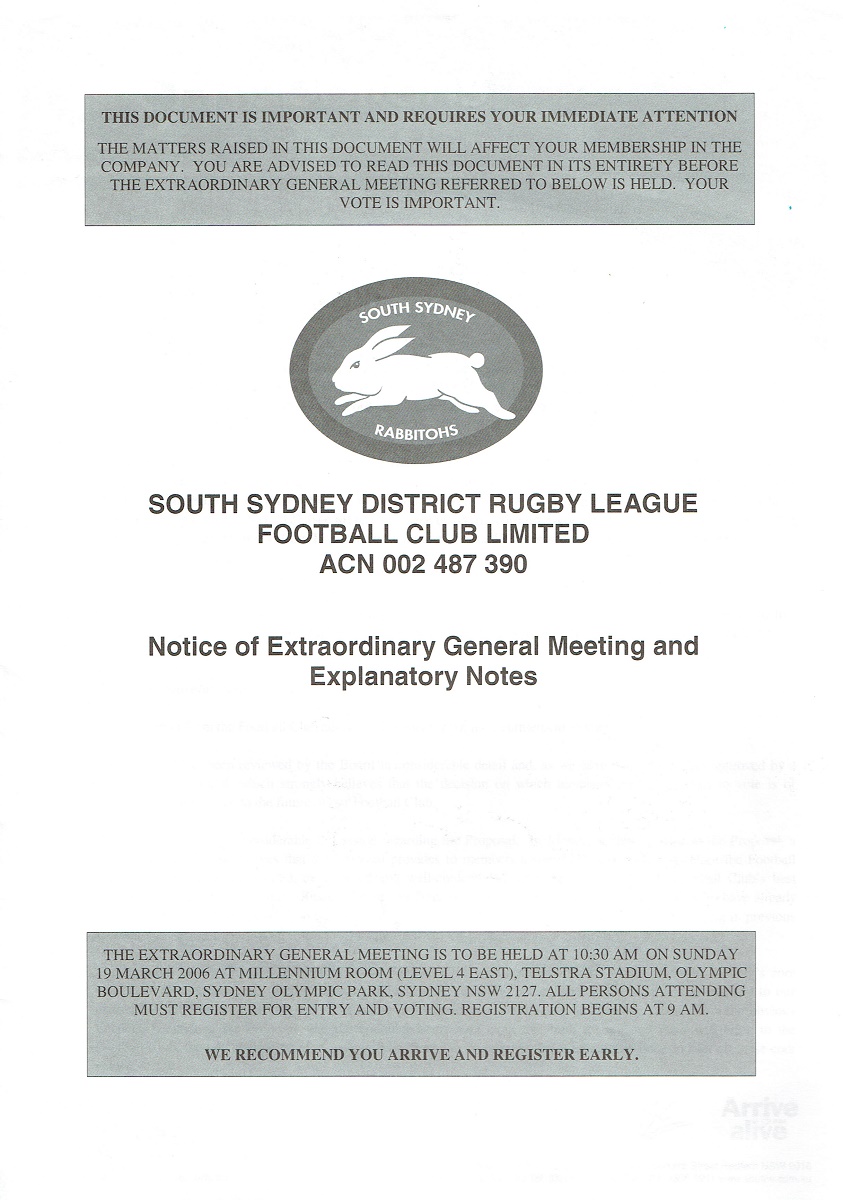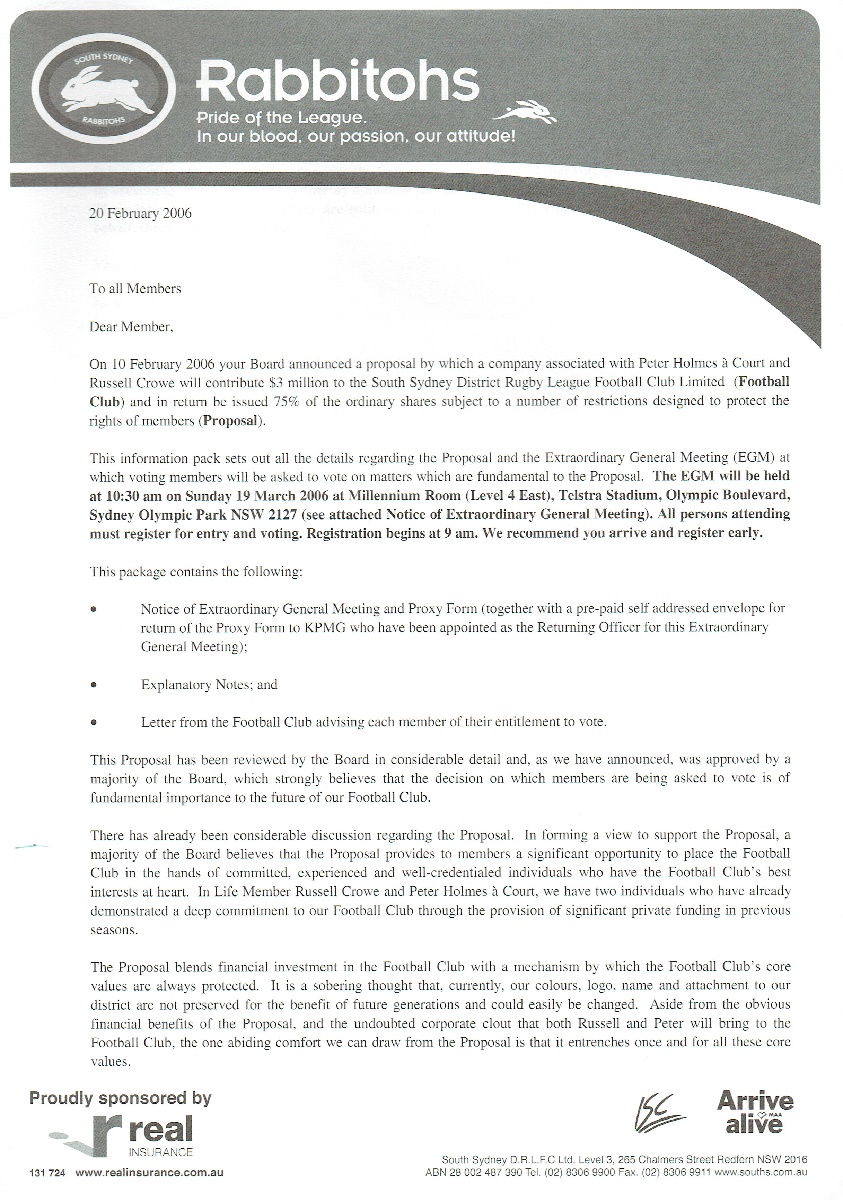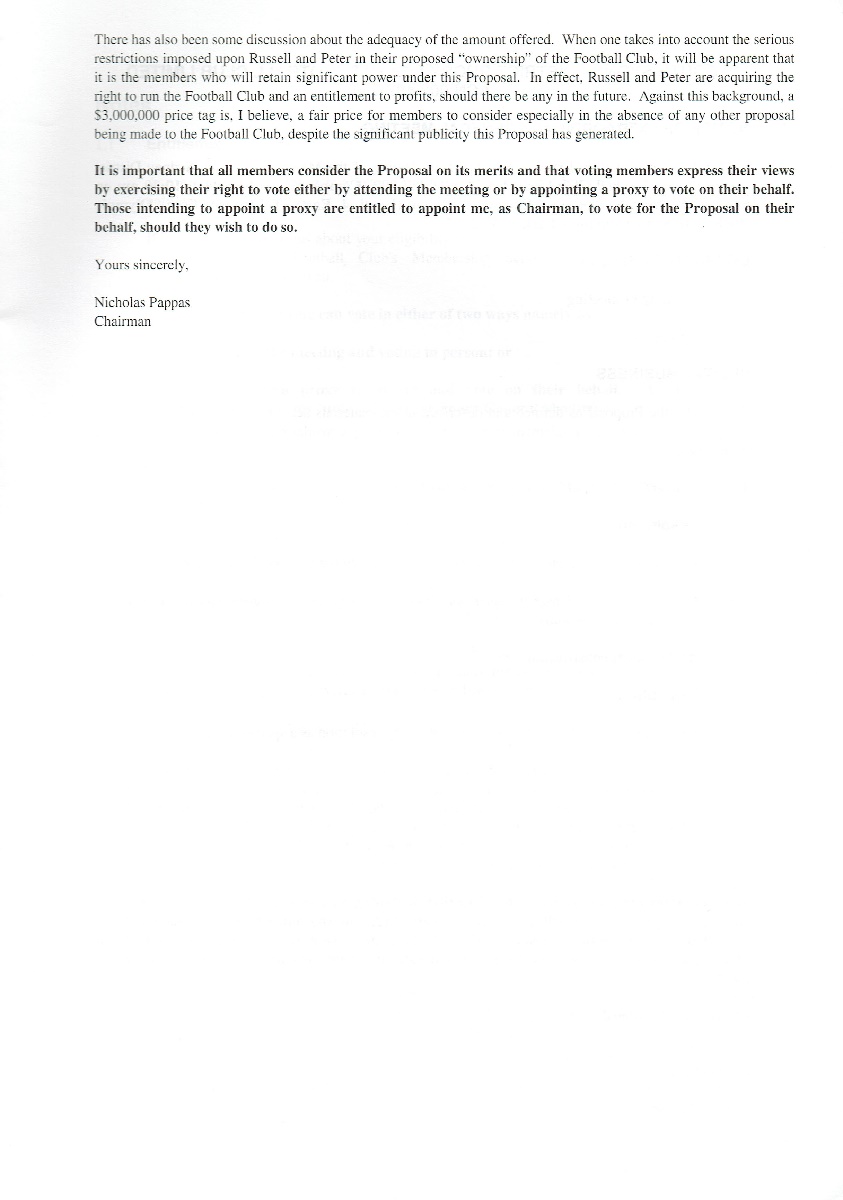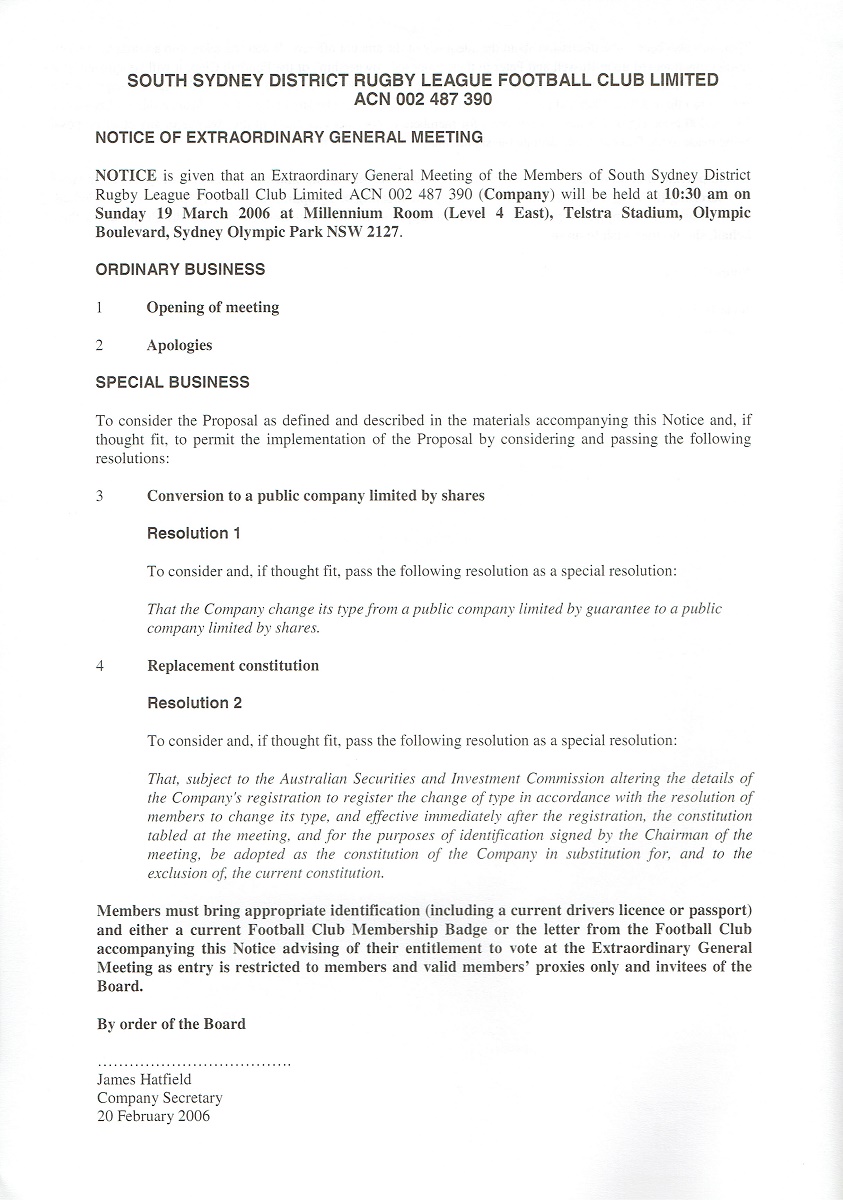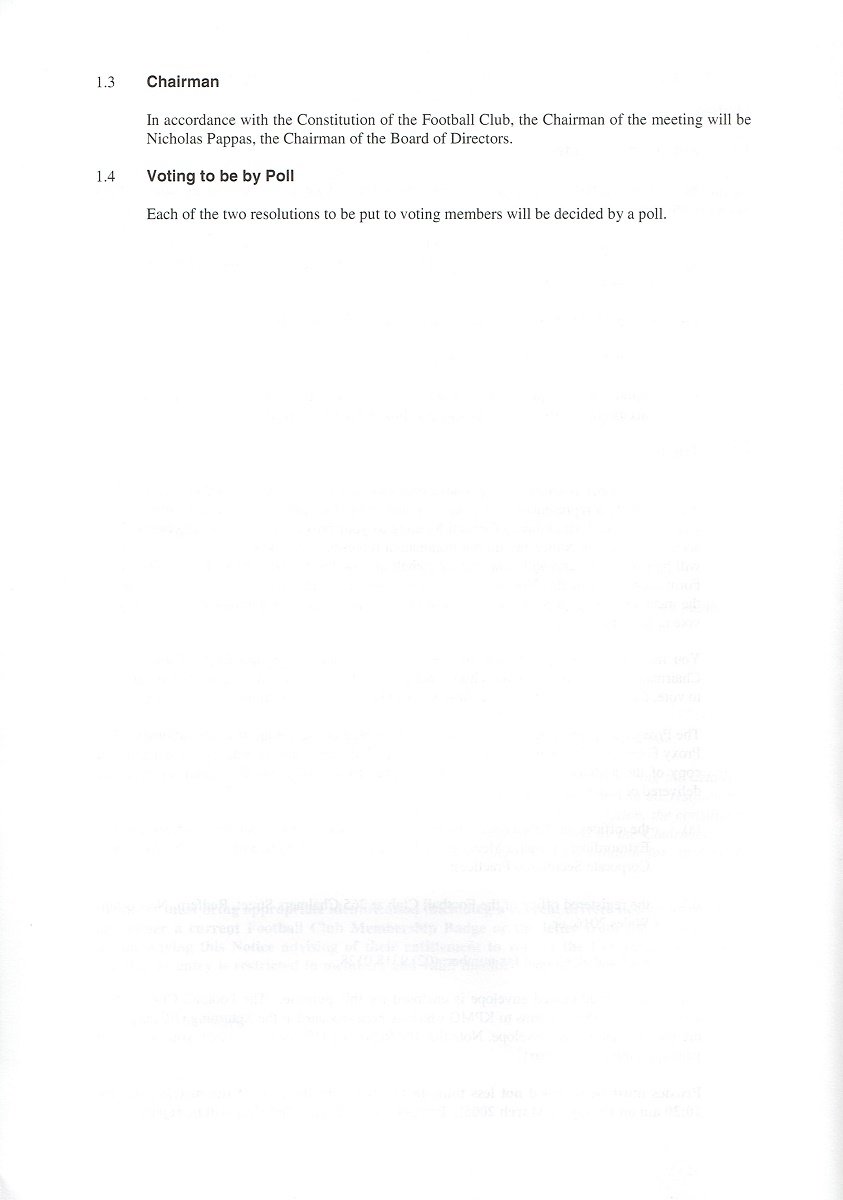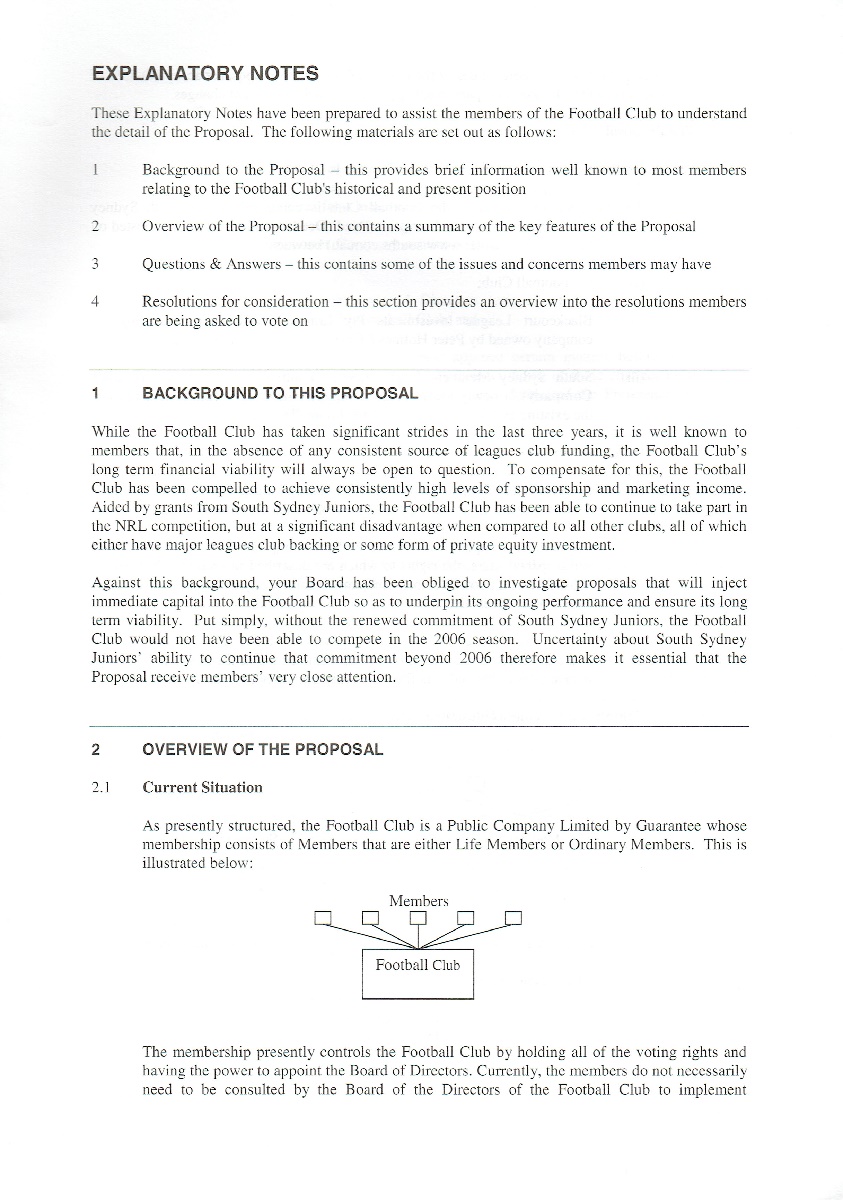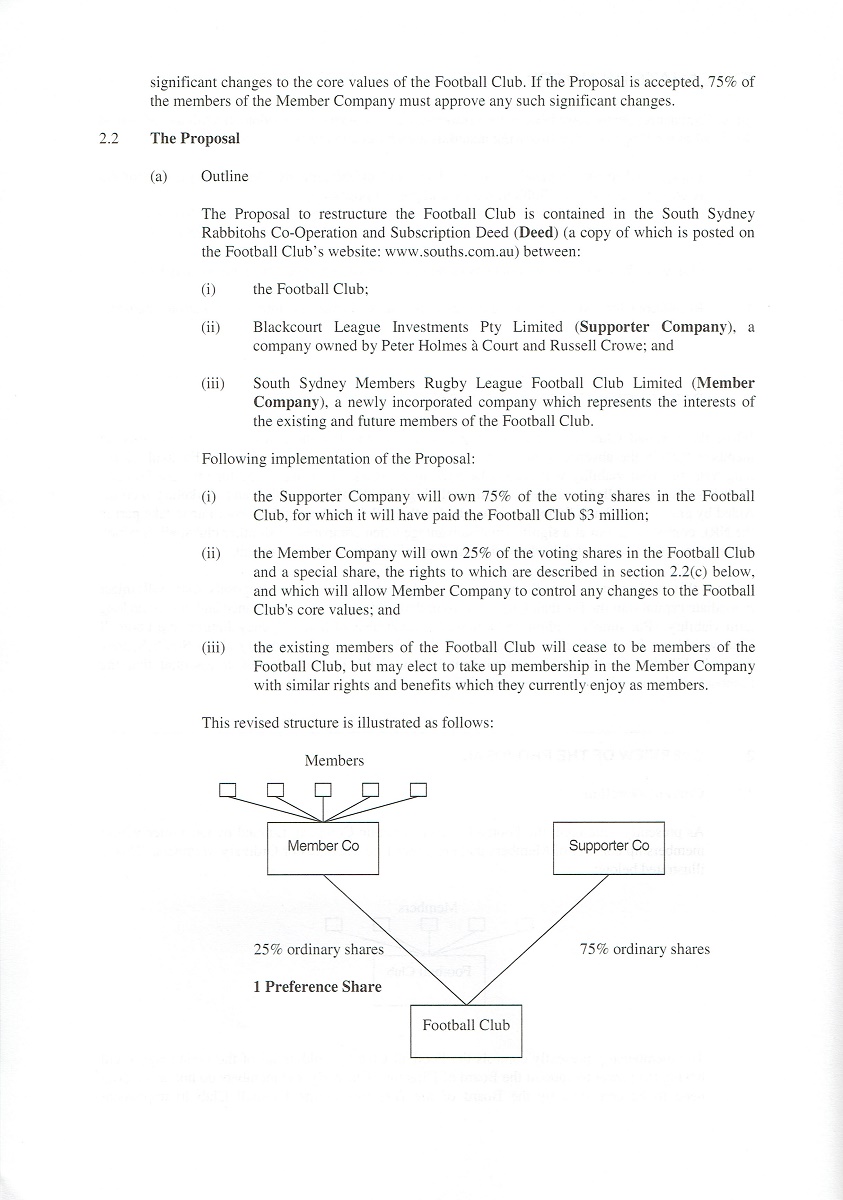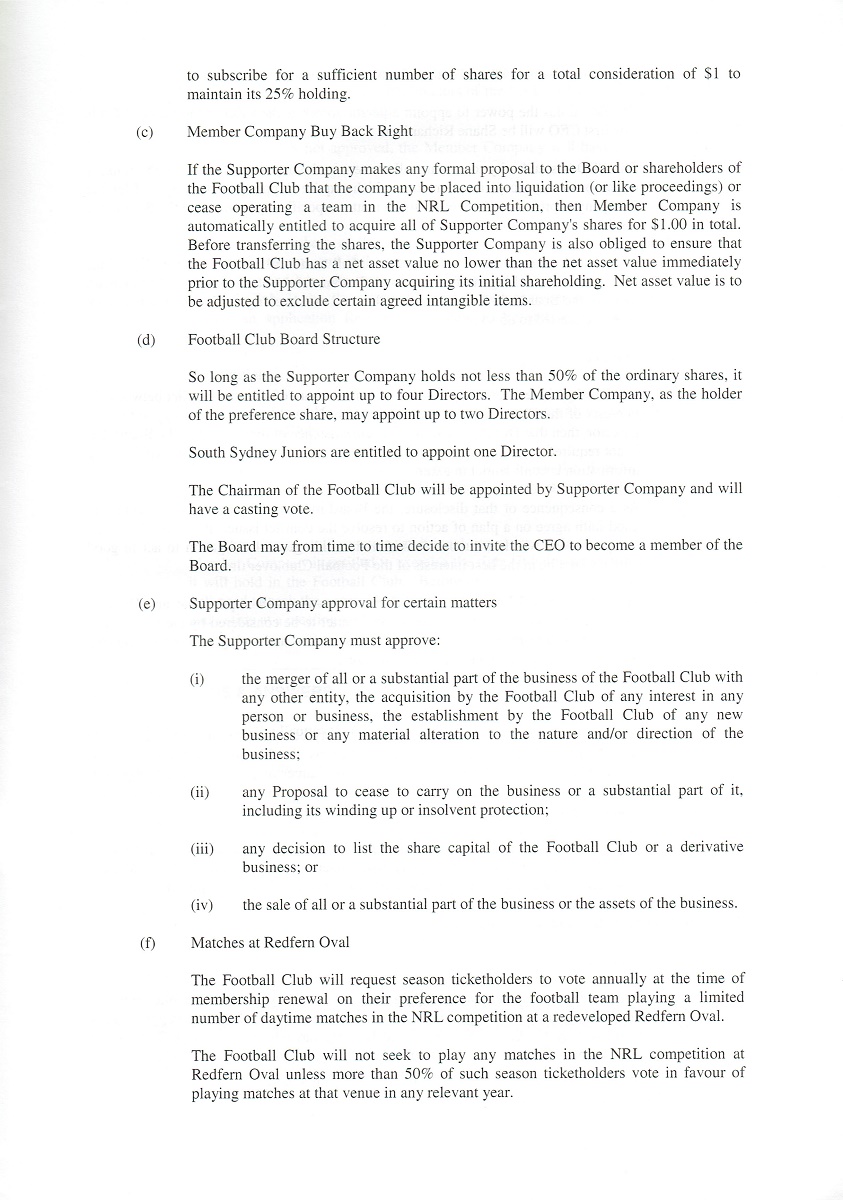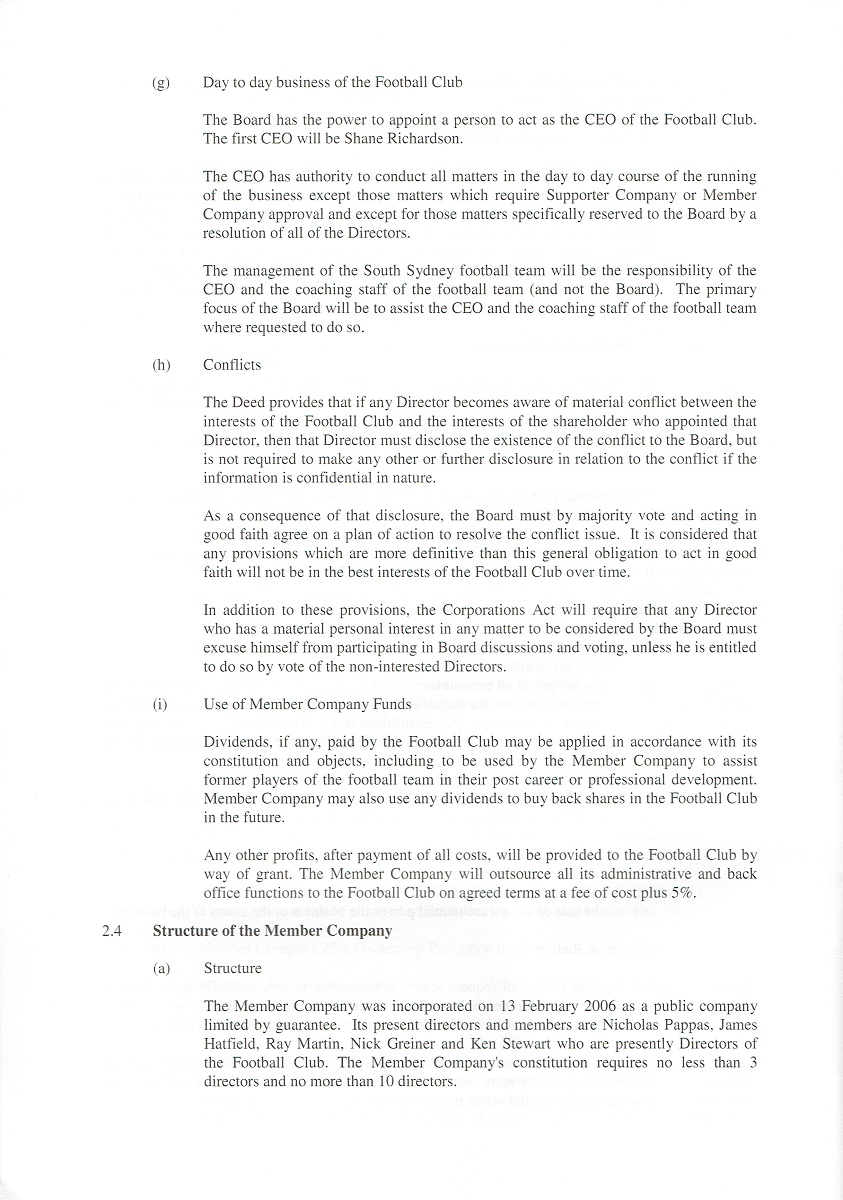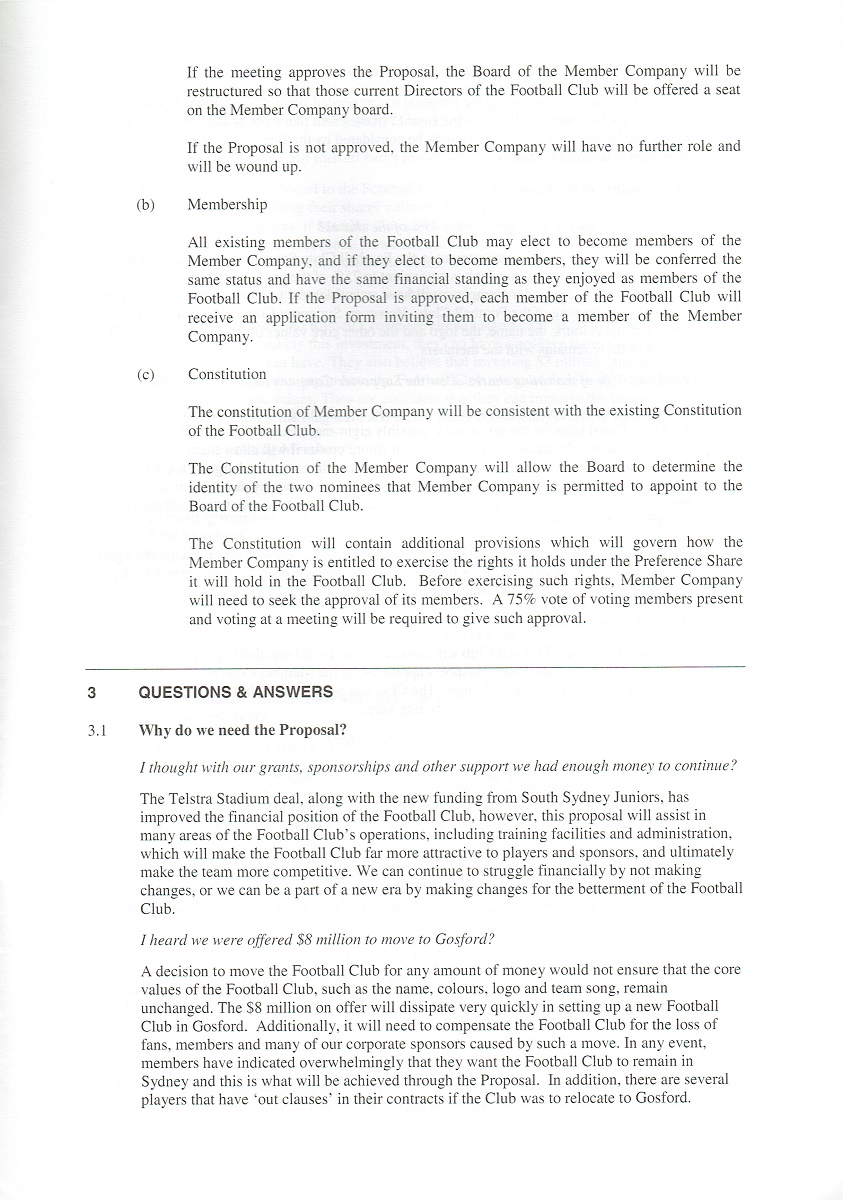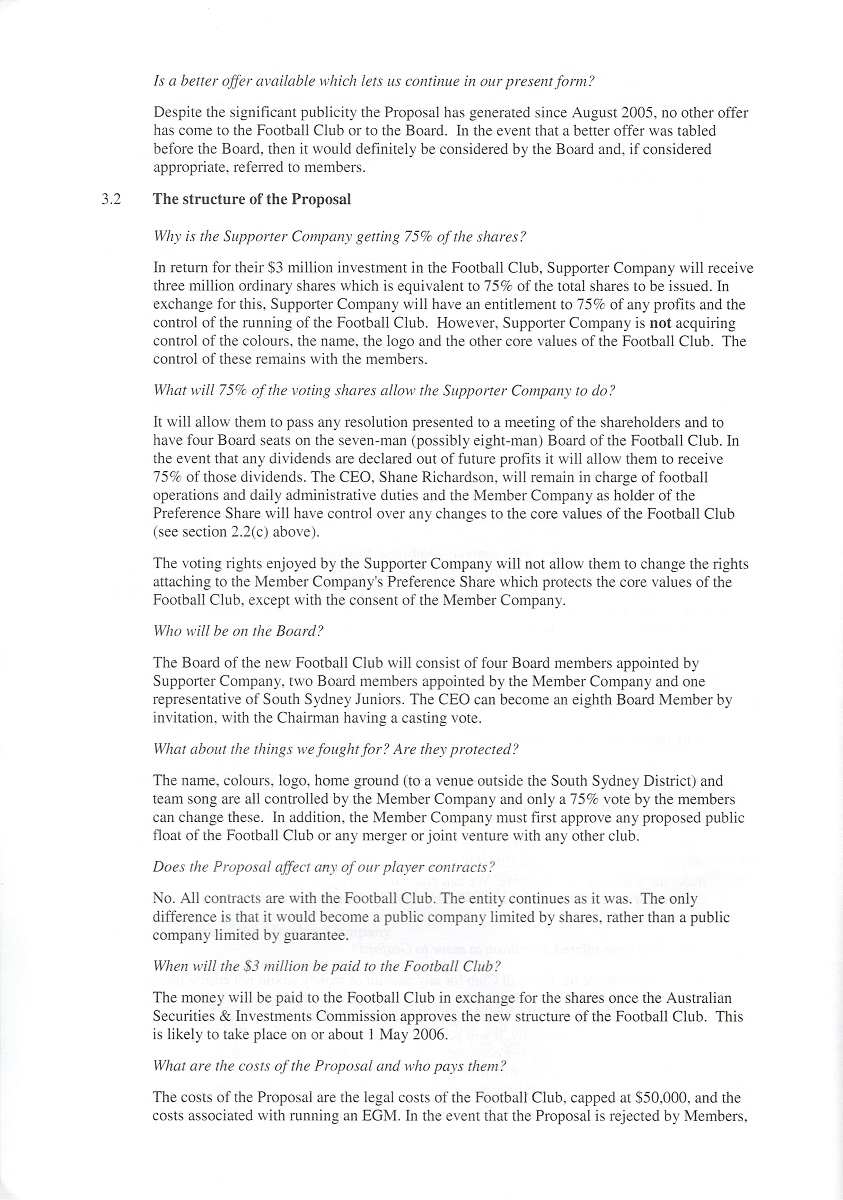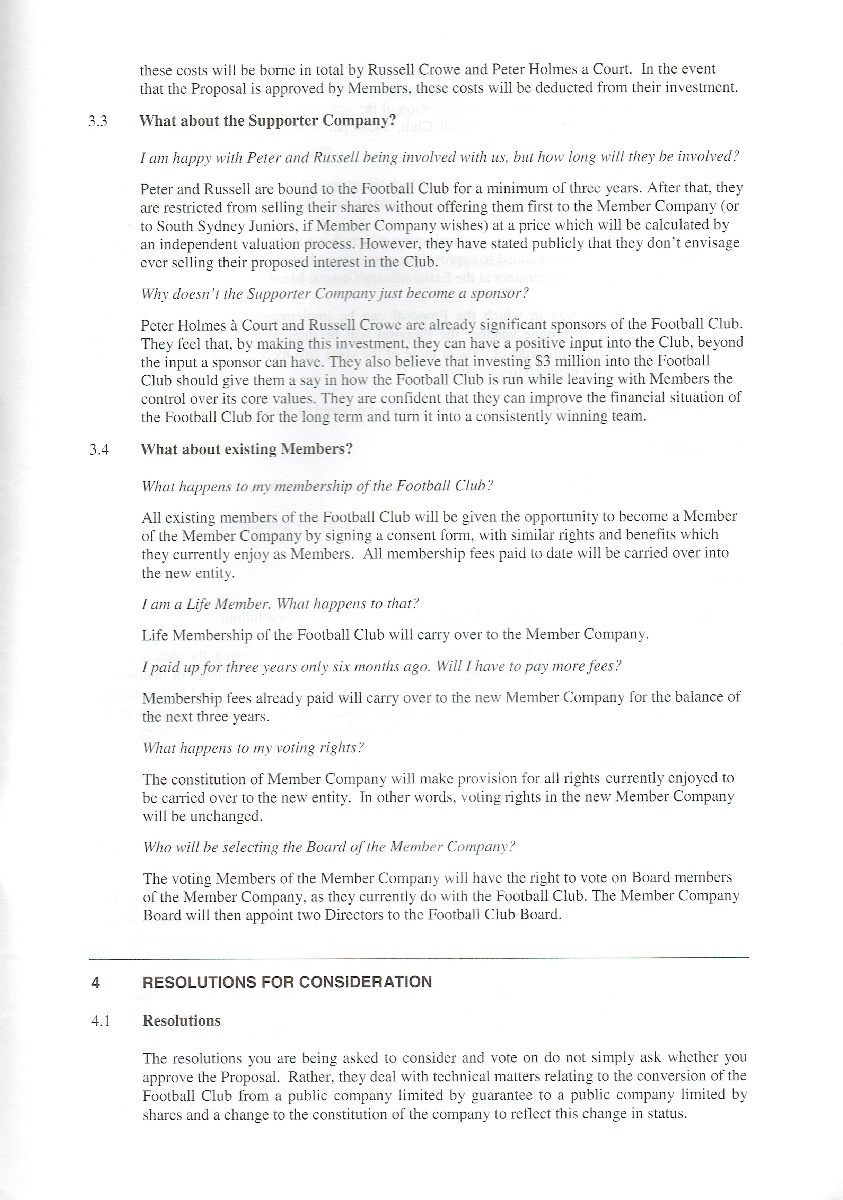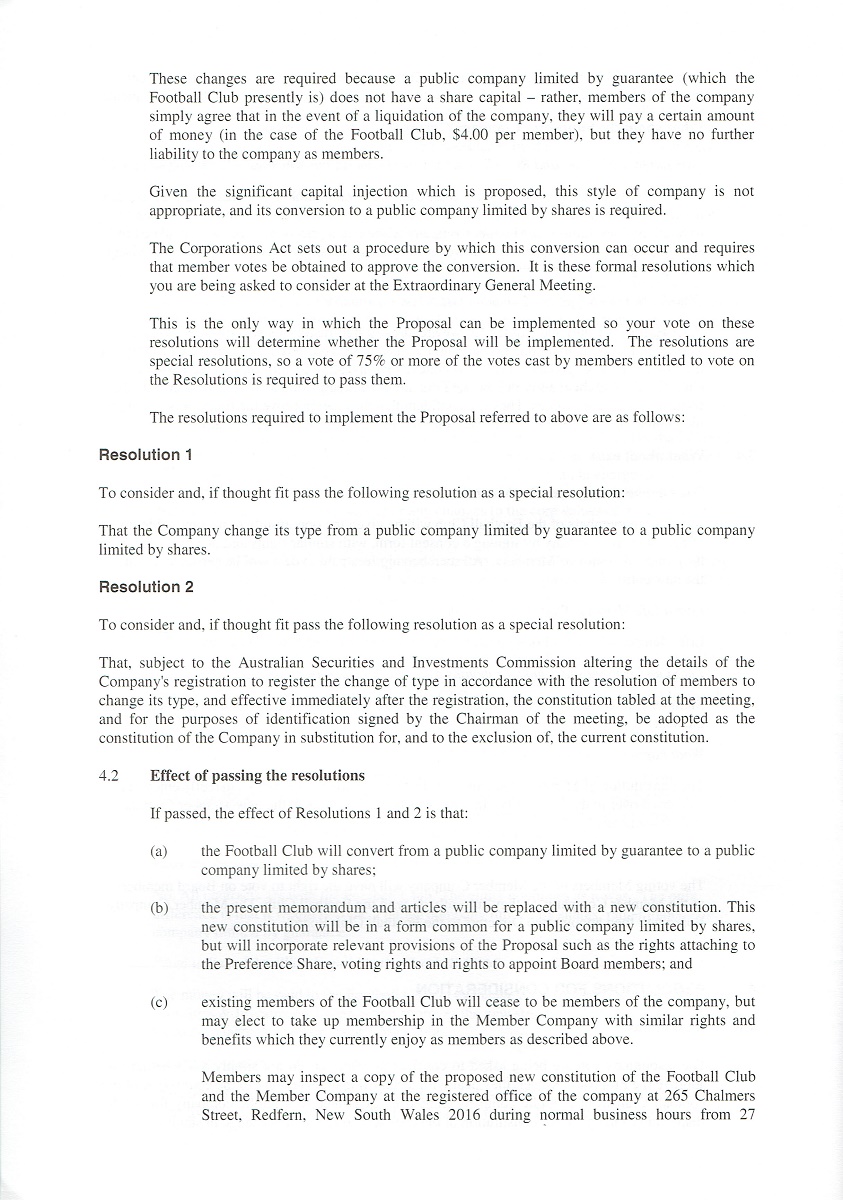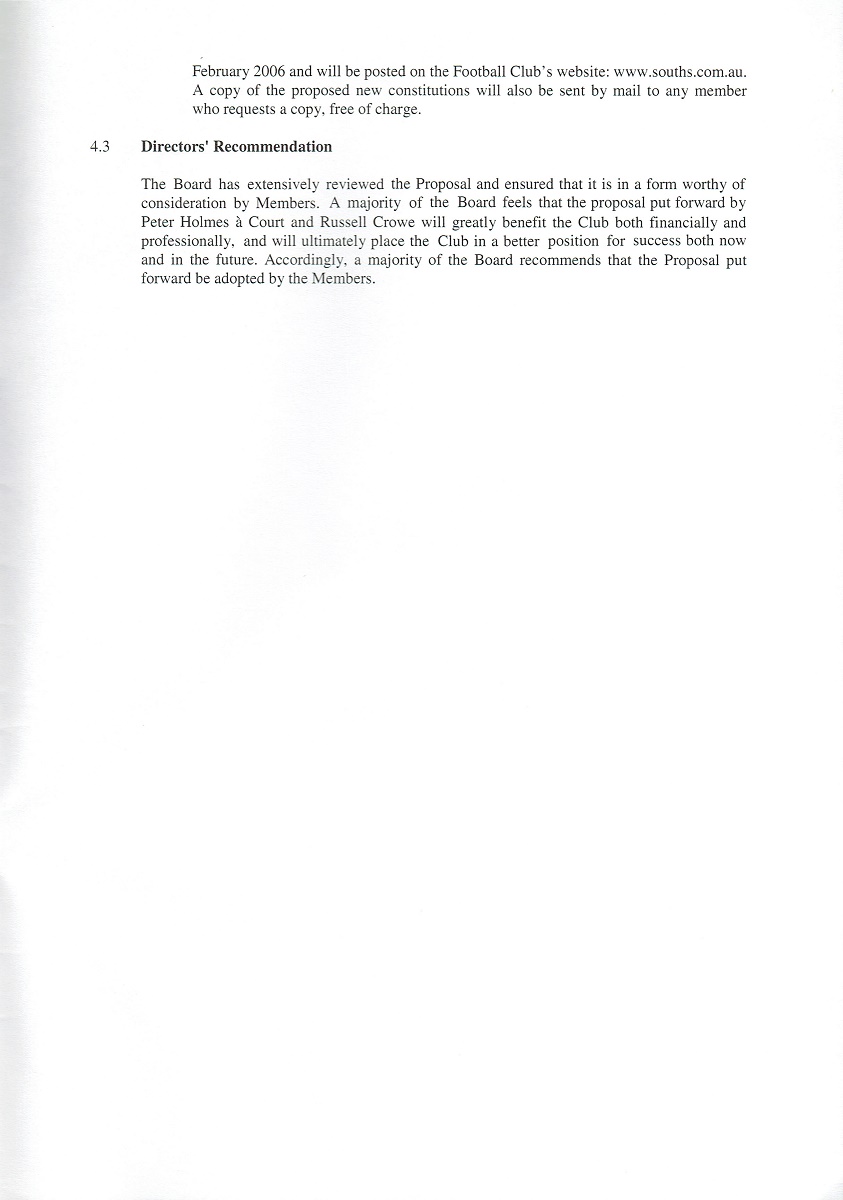 South Sydney Privatisation - Deed of Operation
South Sydney DRLFC Constitution - Current(March 2006)
South Sydney DRLFC Constitution - Proposed Revision for Privatisation
South Sydney Member Co. Constitution
South Sydney DRLFC Chairman Nicholas Pappas has announced this afternoon that the proposal from Peter Holmes à Court and Russell Crowe has been overwhelmingly endorsed by the voting Membership of the Club, meaning the pair will invest $3 million into the Rabbitohs in return for a 75% share of the Club. The voting Membership, of which nearly 4000 votes were cast, voted in favour of the Holmes à Court and Crowe proposal by a 75.8% majority. Mr Pappas described it as a momentous day for the Club, giving it the opportunity to at last operate on a level playing field with the other NRL Clubs. "This has been people power at its most potent," Mr Pappas said. "Our supporters have given Peter and Russell an opportunity to unite this Club and make it a force again in the NRL. "It also enshrines all core values that our Members hold so dear and ensures that the Club forever remains in Sydney. "This is the mandate Members gave my Board and we have delivered on all our promises. "This is a time for the entire South Sydney family to come together and embrace a bright new future for our much-loved Club. "I congratulate Russell and Peter on the dedication they have shown towards our beloved Football Club and thank our Members for the magnificent manner in which they acquitted themselves today at such a critical moment in our Club's history."
Businessman Peter Holmes a Court and Hollywood actor Russell Crowe promised to revitalise South Sydney football club after members today approved their $3 million takeover bid by the barest of margins. Needing a 75 per cent majority for the proposal to go through, Holmes a Court and Crowe achieved 75.8 per cent of the vote. A mere 32 votes decided the outcome, with 3942 voting in favour of the bid and 954 against. "This means we have a future, we have a future and we have cash in the bank and we can begin to focus on the very thing that all of the factionalism and the in-fighting stops us focusing on which is playing the game of football and playing it competitively," an elated Crowe said after today's extraordinary general meeting. "We've been given the mandate by the members of the club and we intend to one by one achieve all the things we've been talking about. "A lady came up to me today and said that's the best game we've played since 1971 (Souths last grand final victory). I agree." Crowe and Holmes a Court were two of 48 speakers who addressed today's meeting at Telstra Stadium, along with ardent anti-privatisation leader Henry Morris who, with Crowe, were the last to speak before voting began. "My last words to members were 'let's vote yes, let's get into bed together, I hope you respect me in the morning," Crowe said. "This has been a great day, it was a really amazing thing to be involved in and sitting in that room hearing person after person talk about their love for the club and the club needs to go forward." While Homes a Court will not take over officially from executive chairman Nick Pappas for another month, he vowed to start work tomorrow. He said he was appreciative of the job at hand, which was reiterated by business partner Crowe, who immediately after the result was announced said "Your life has changed in a very dramatic way young fella." "I feel the weight of the expectation of all of those fans, of all of those members," Holmes a Court said. "I feel the weight of the expectation of the players, the future players and I know that we'll do whatever we can and I know that we can bring them with us. "We can start working on the important things immediately. We can go back to people we approached to be directors and say now would you like to consider being involved in the club. "We can start to see where (chief executive) Shane Richardson wants the immediate assistance." As well as acquiring 75 per cent ownership of the club, Holmes a Court and Crowe will appoint four of the eight members to the football club board. First on their hit list for prospective board members is Collingwood AFL club president and new Nine Network boss Eddie McGuire. "I've talked to Eddie about it.. I think it matches up really well in terms of his image," Crowe said. "I think it gives us a great opportunity to have someone with not only a high profile but a past that includes bringing a team that's not going very well into profitability, I think we've got a lot to learn of Eddie. "I haven't had a second conversation with him because it wasn't relevant until today, but now I'll have a second conversation with him and now it will be up to him." Another prospective board member us Crowe's cousin and former New Zealand cricket captain Martin Crowe. Pappas, who has been Souths chairman for the last three years, said he was delighted to hand over the role to Holmes a Court, and did not rule out being one of Holmes a Court and Crowe's nominations for the board. Asked how confident he had been of a positive result, Crowe replied "Right up until Nick old poker face Pappas made the announcement I didn't think it was necessarily coming our way because 75 per cent is a big ask." Morris said he had accepted that the members had spoken, while fellow 'no' campaigner George Piggins vowed never to attend another Souths match.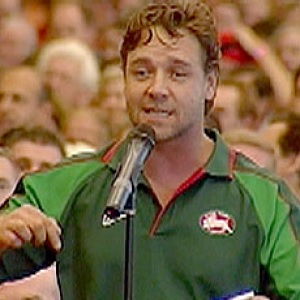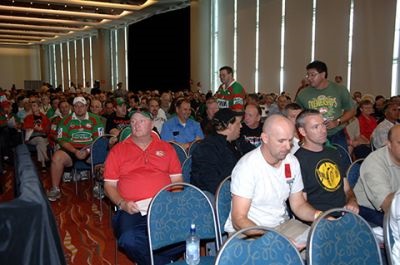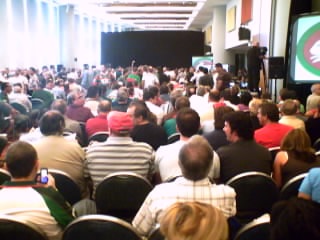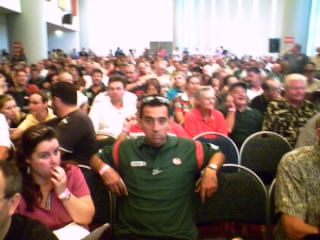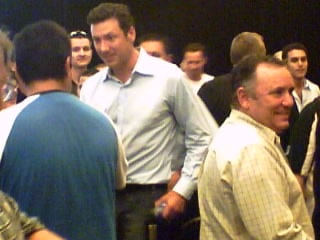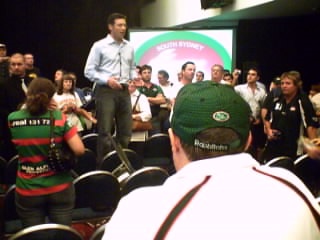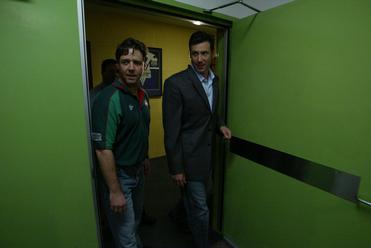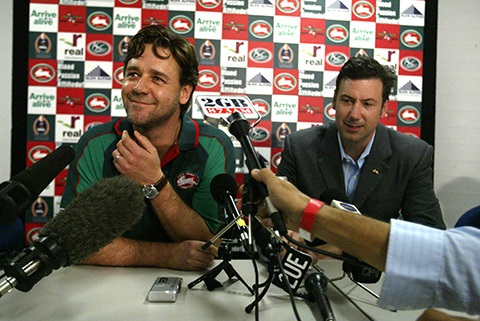 Due to the privatisation vote, there was no 2005 DRLFC Annual Report issue to members. Annual Reports are now issued directly by South Sydney Member Co. to members. Below is a extract of the 2005 player statistics from the 1st Member Co annual report and the final SSDRLFC Financial Report prior to privatisation taking over.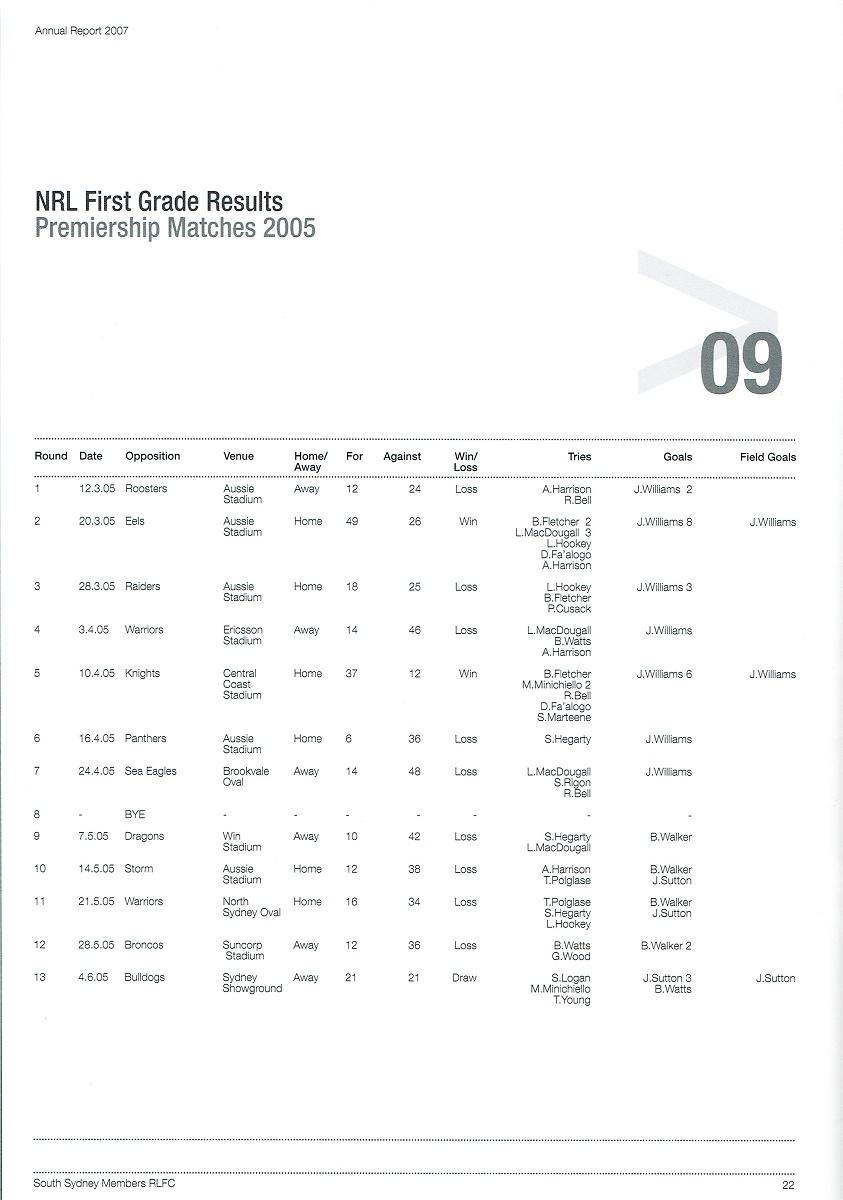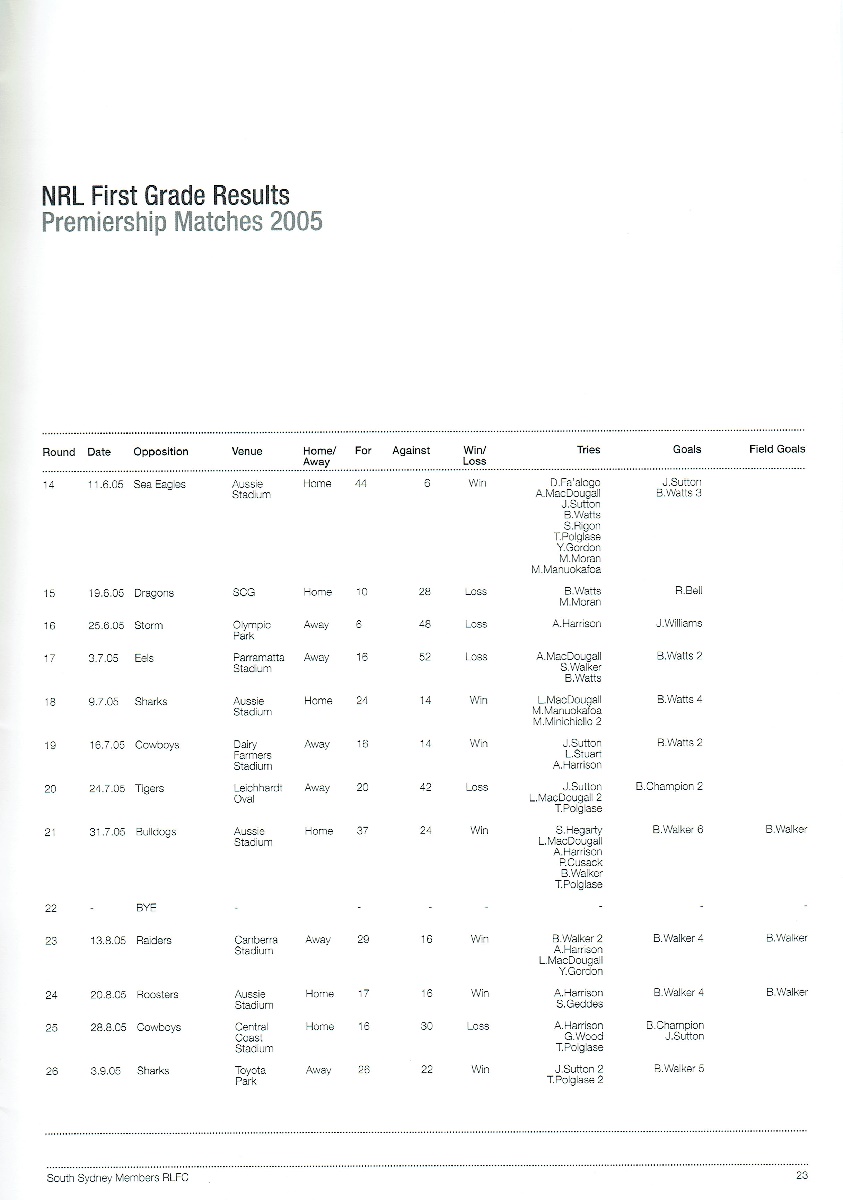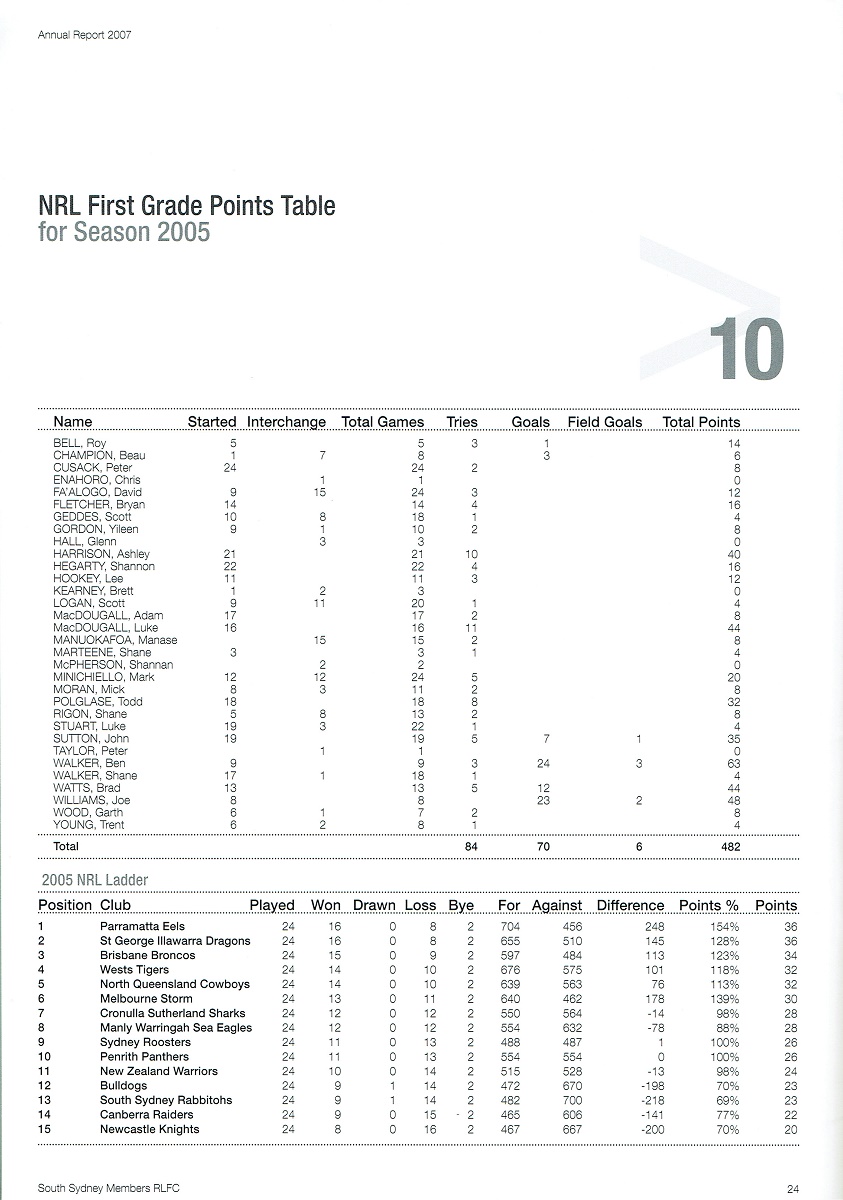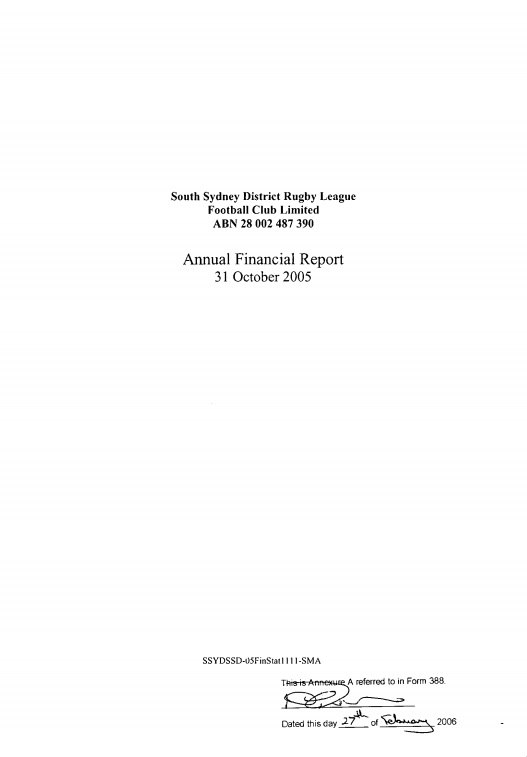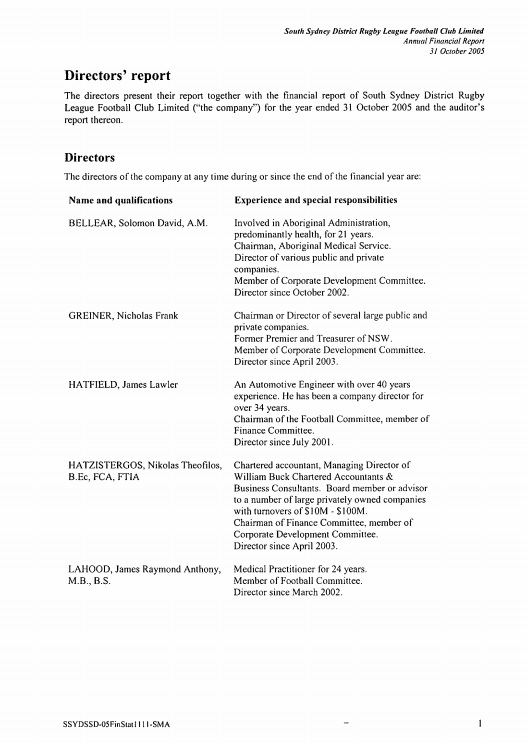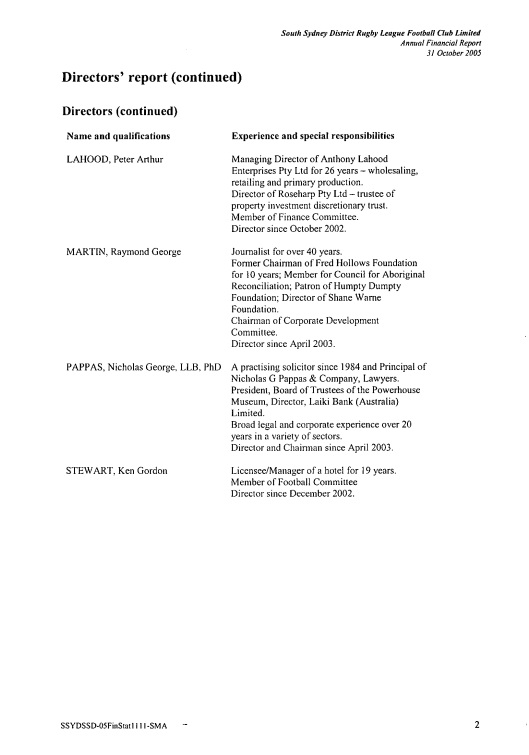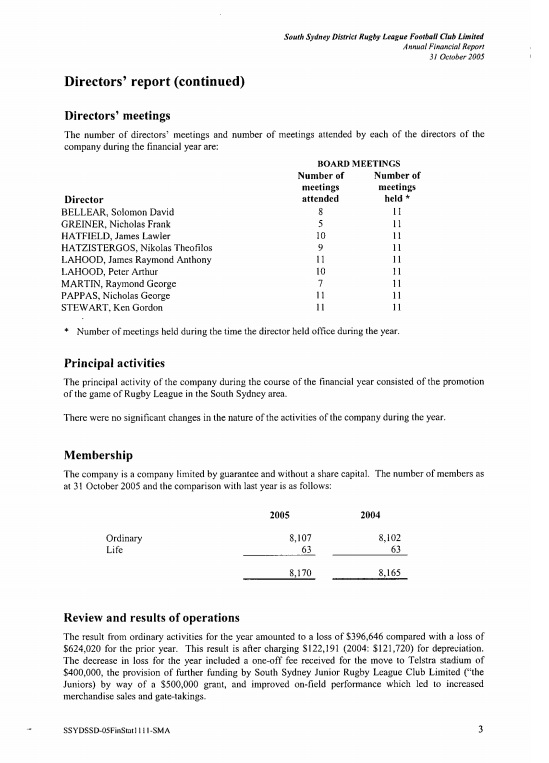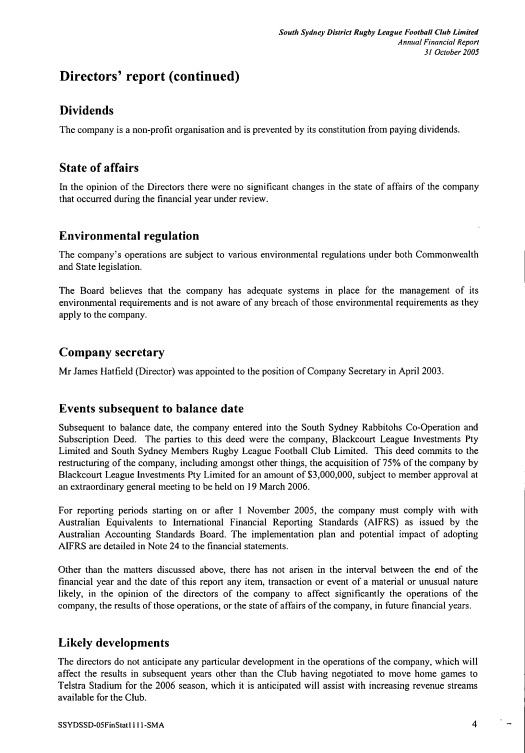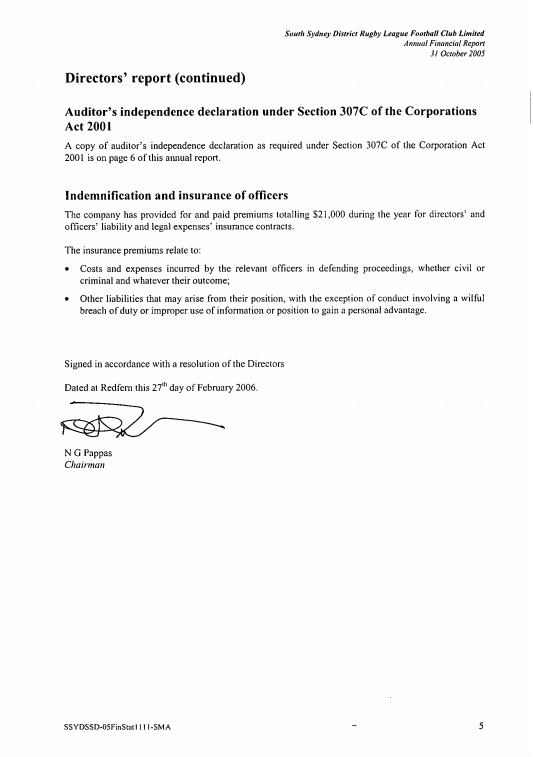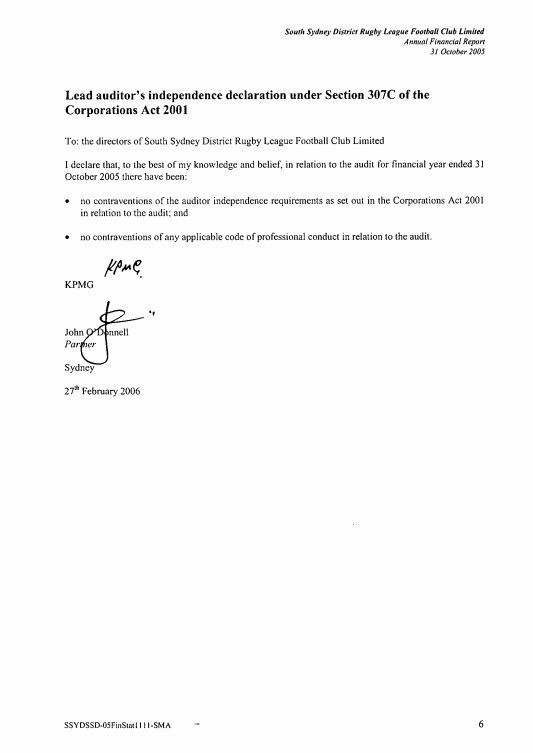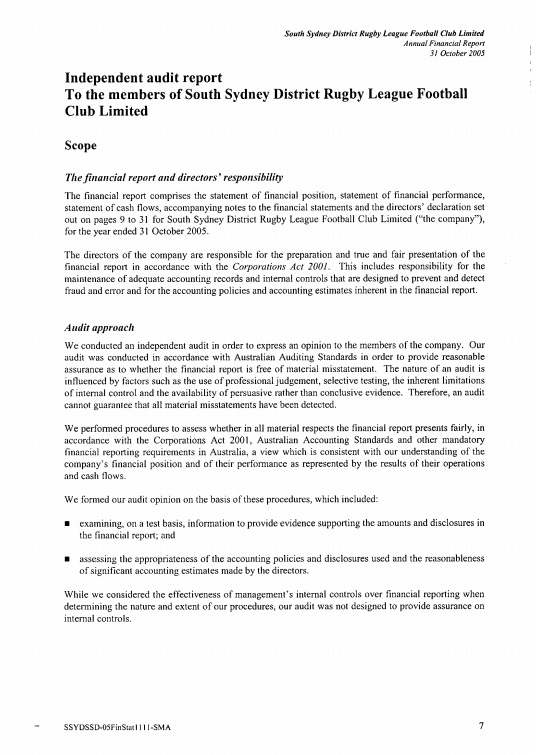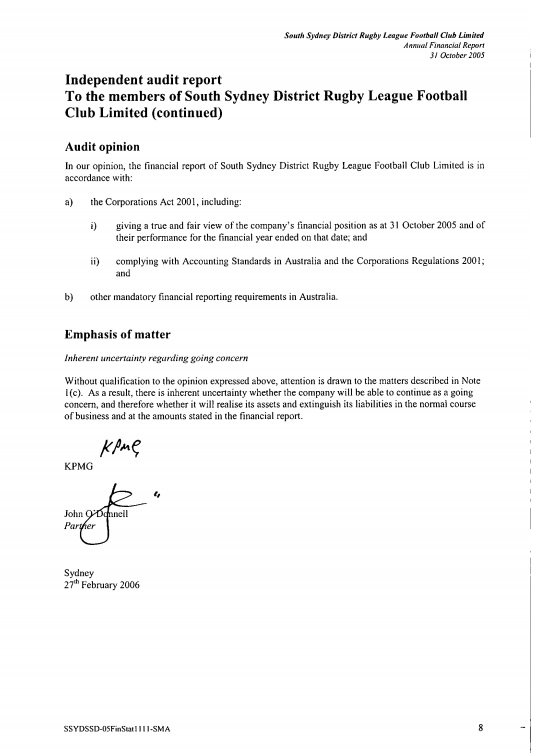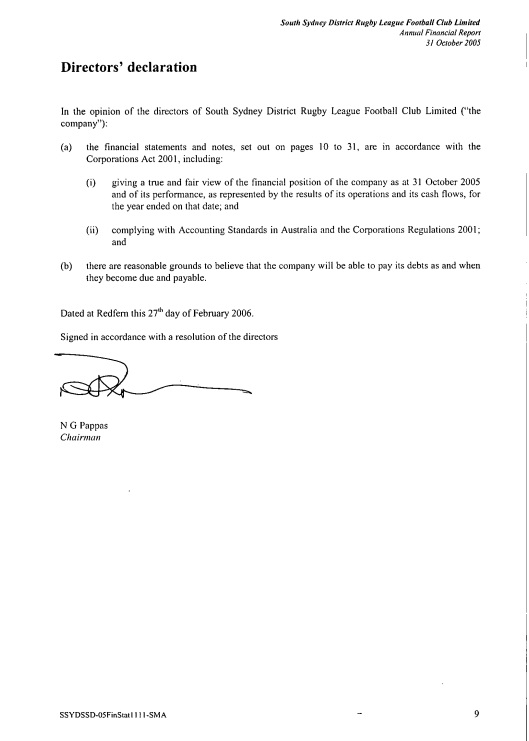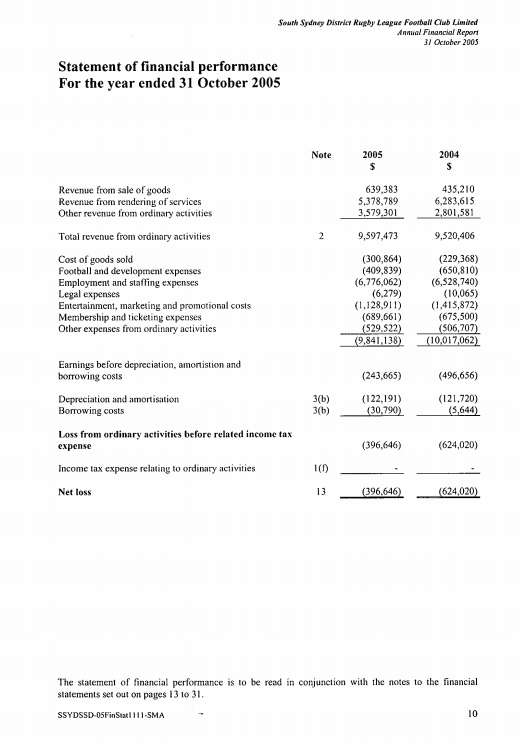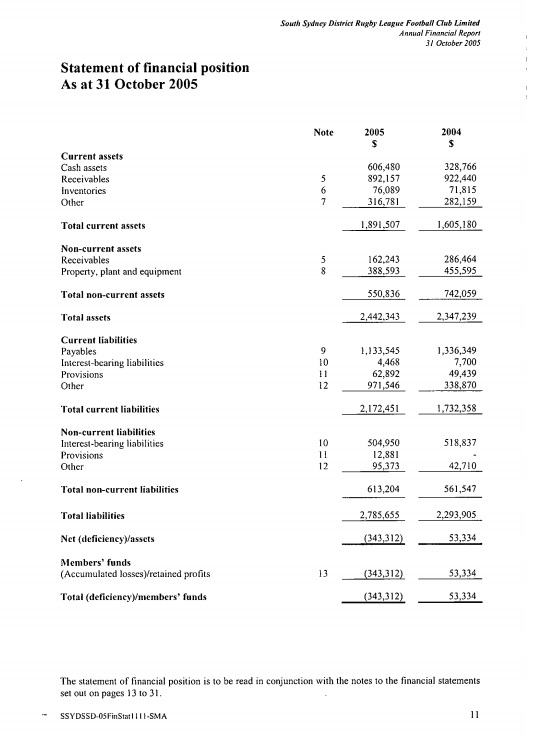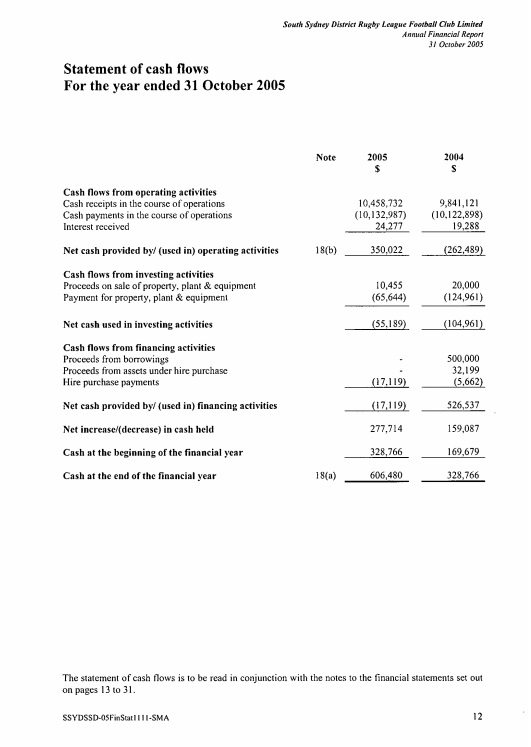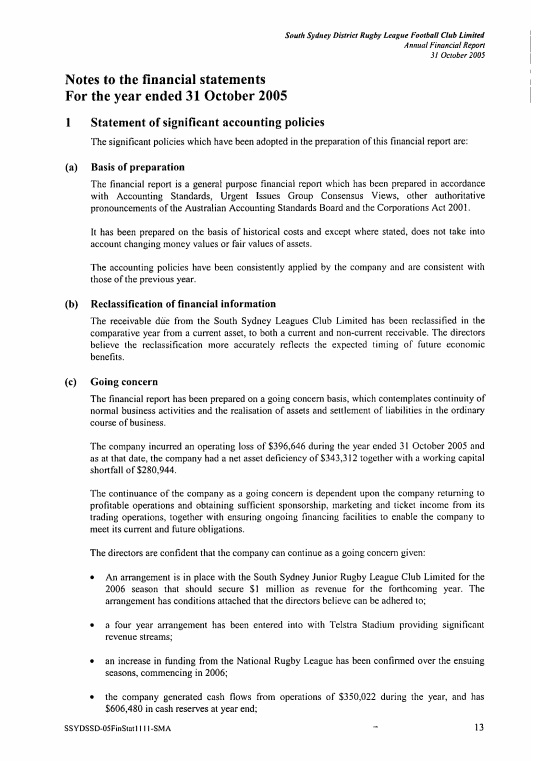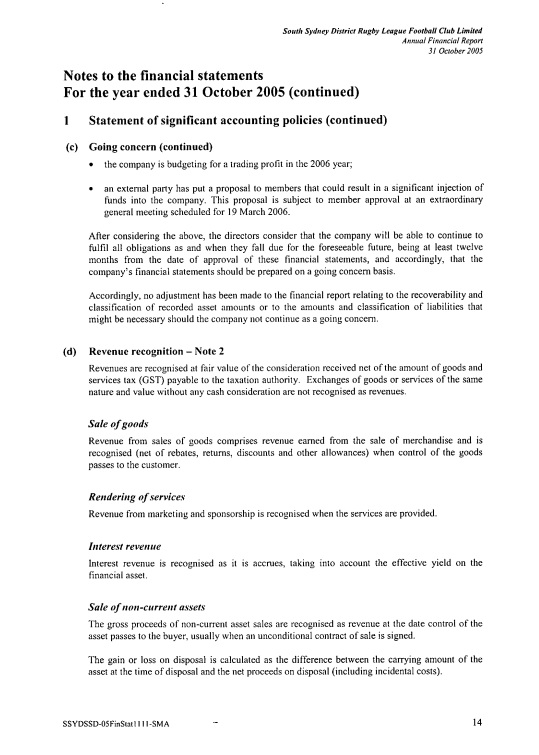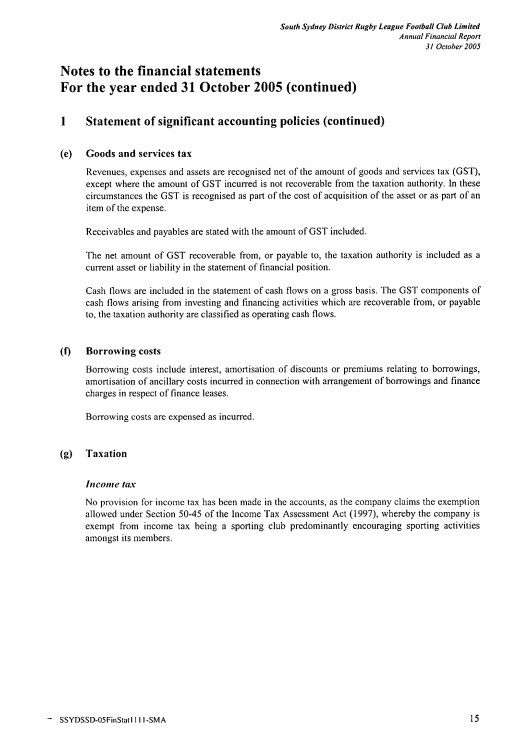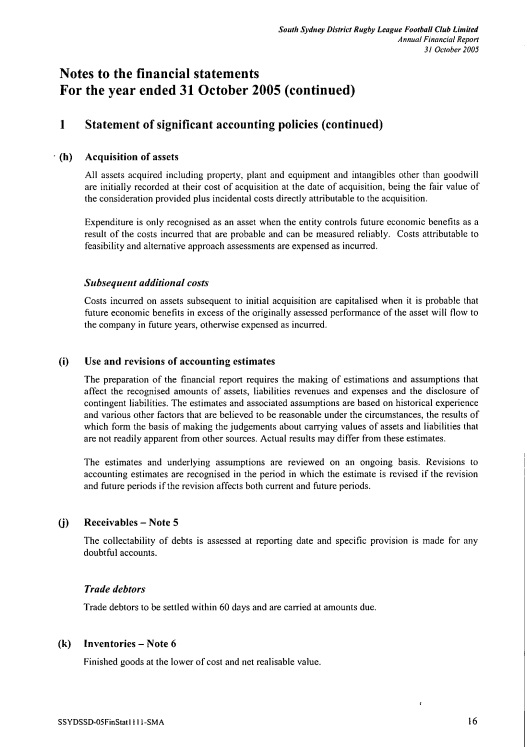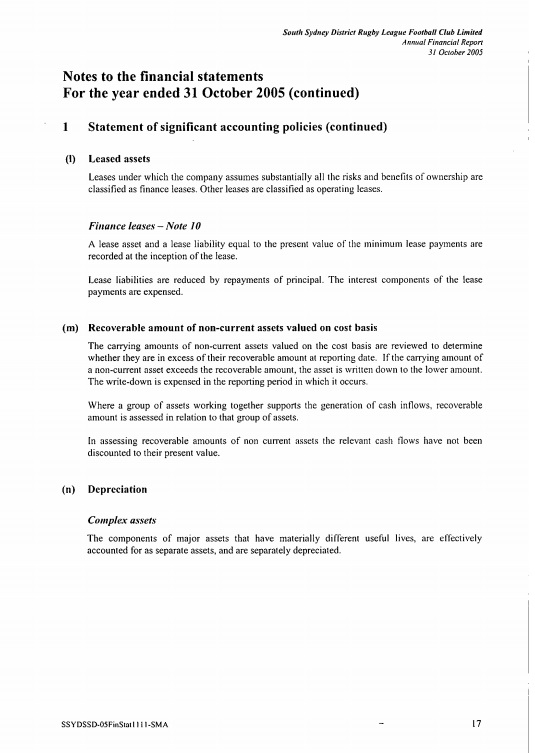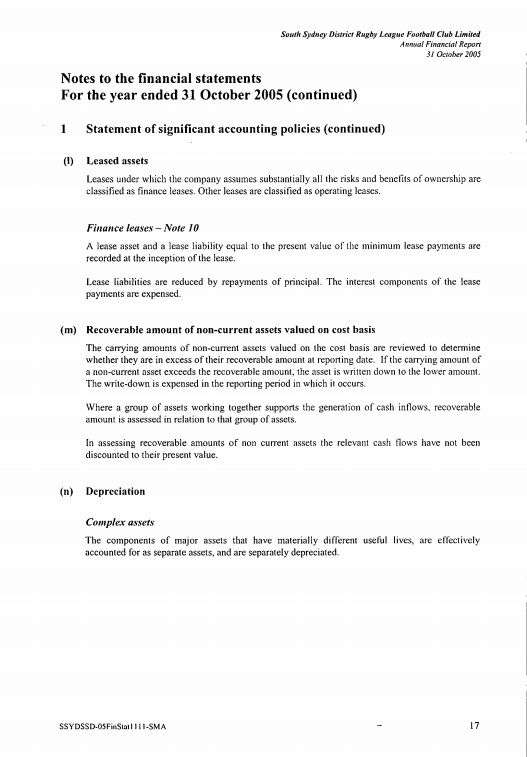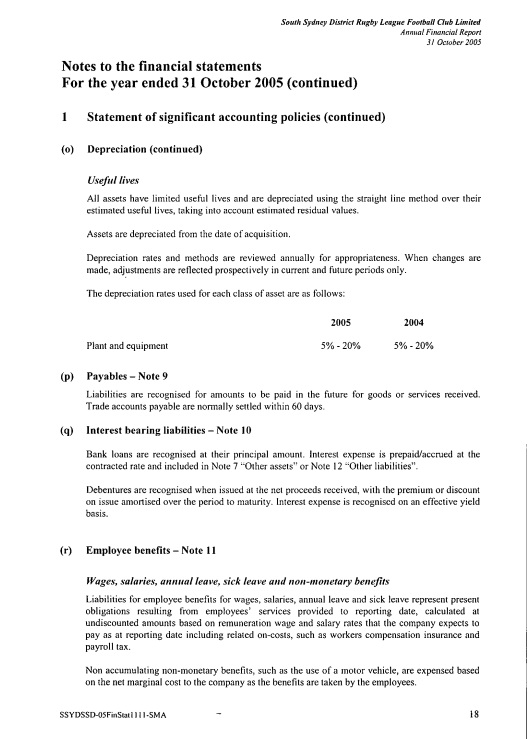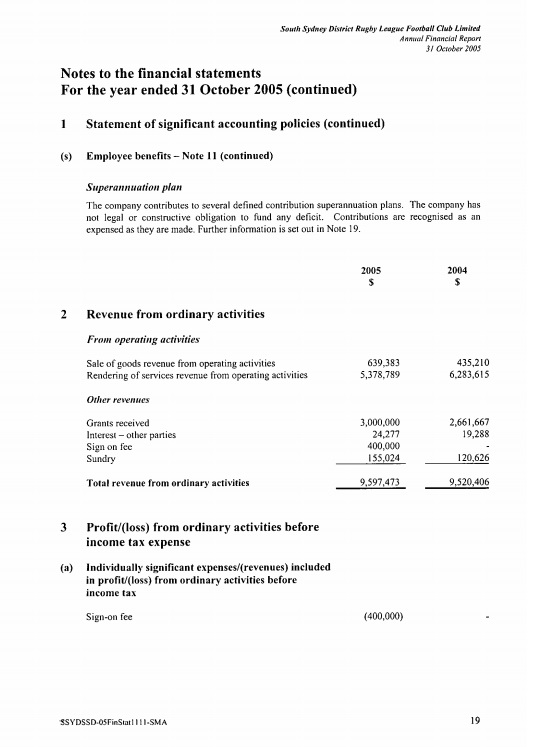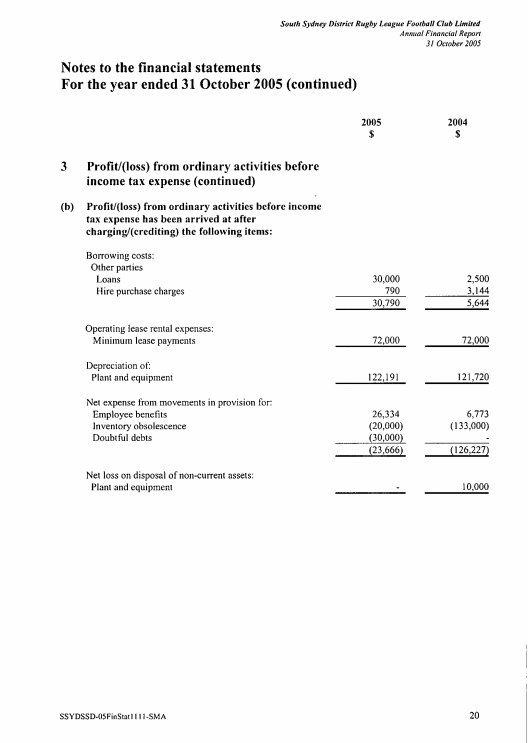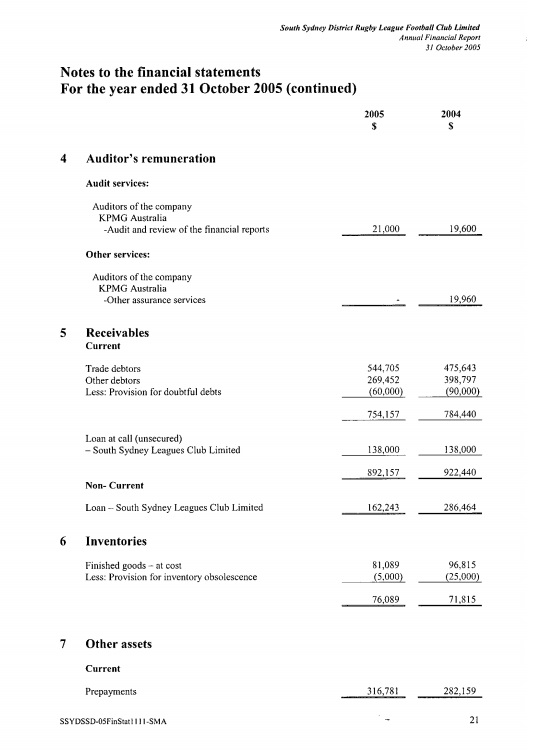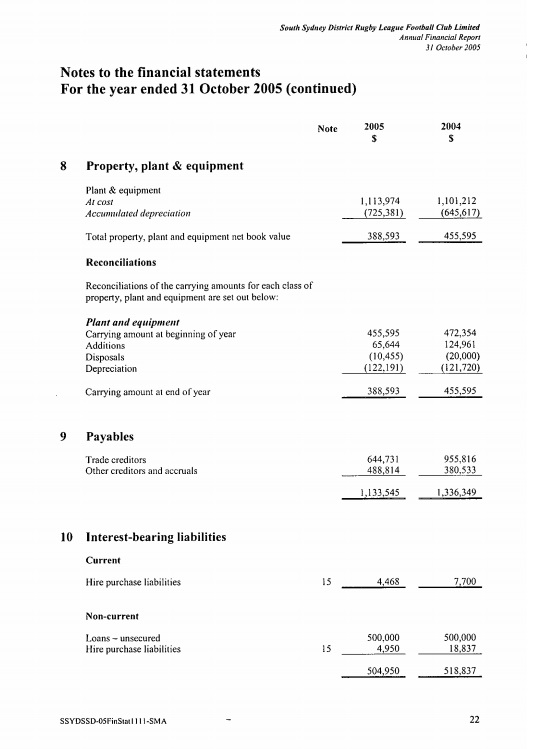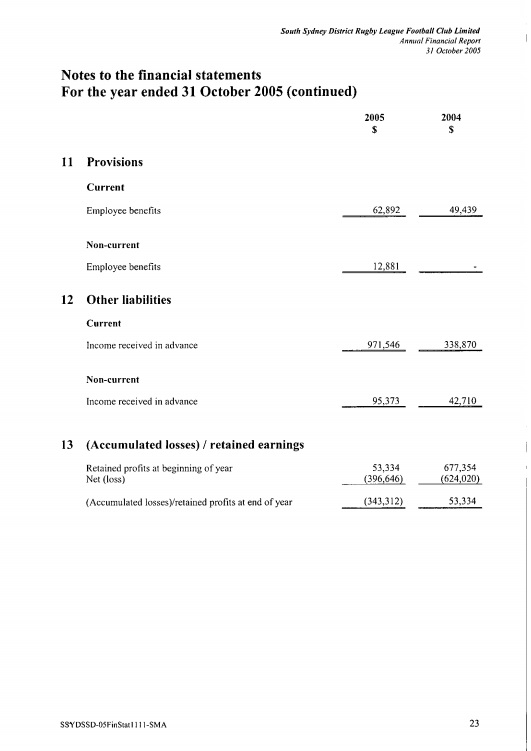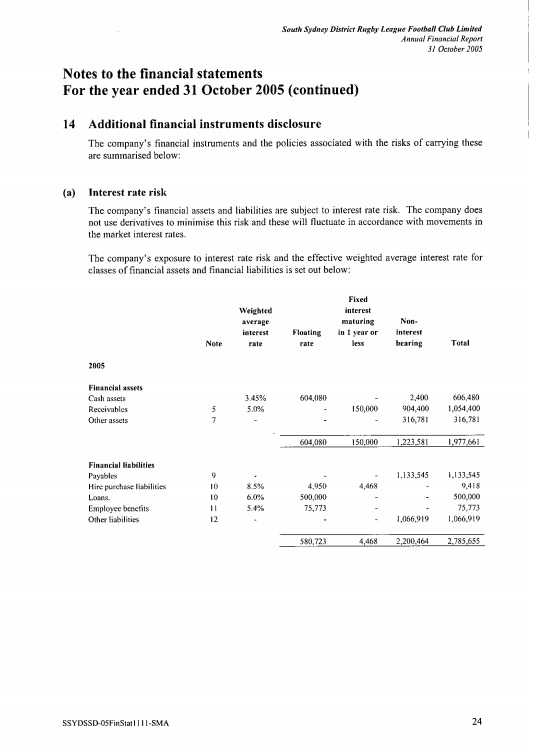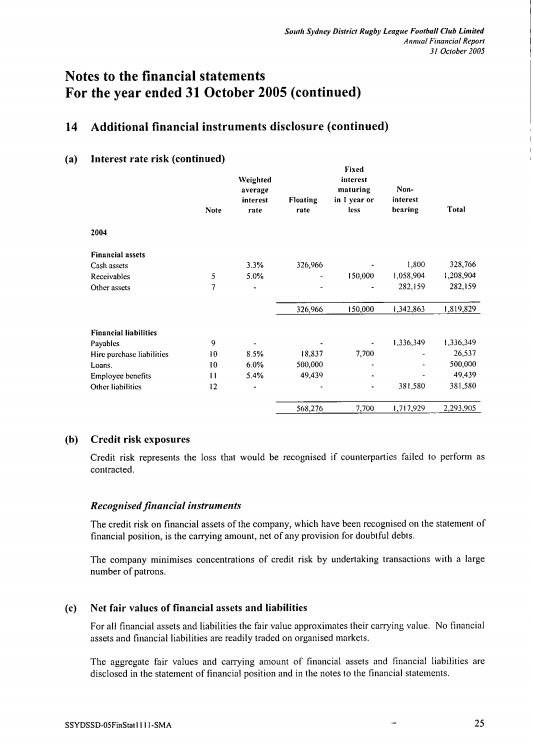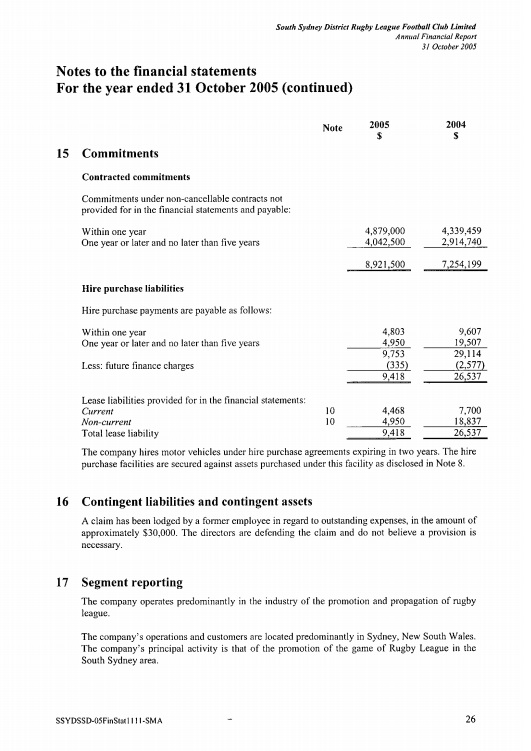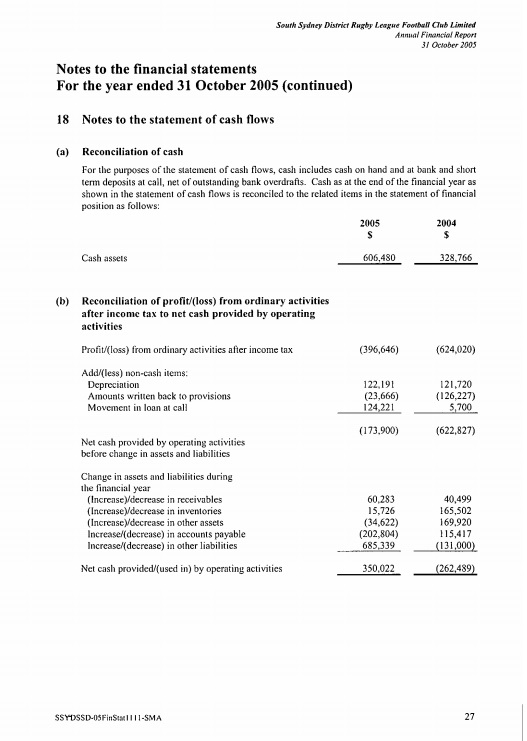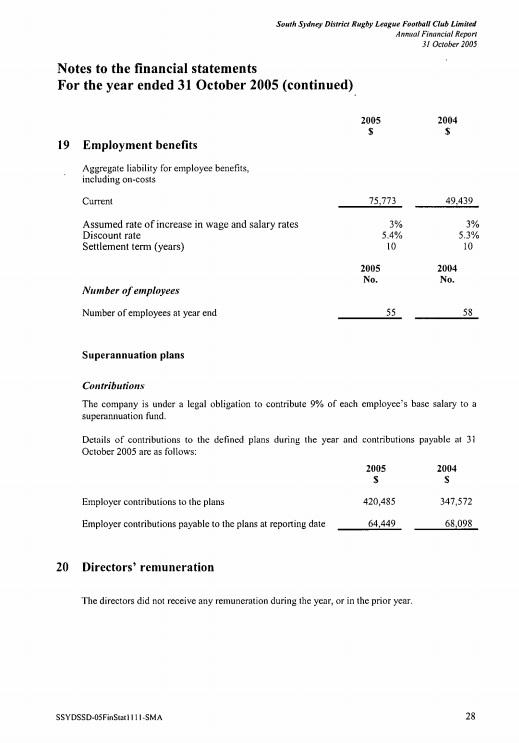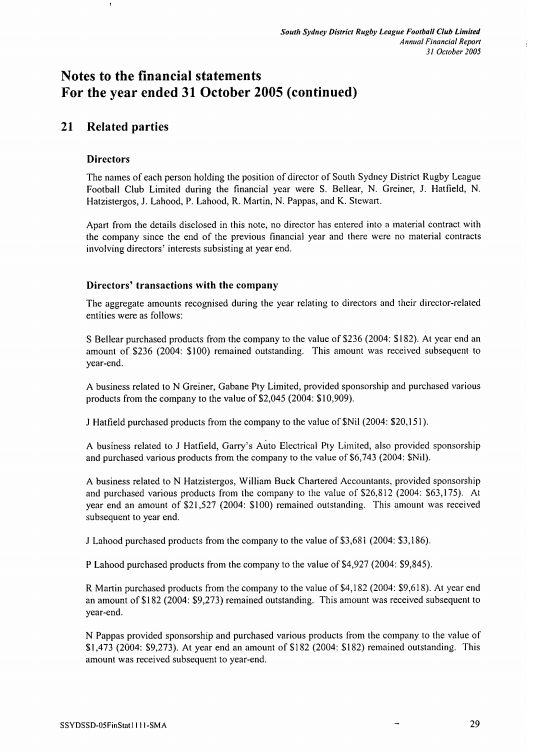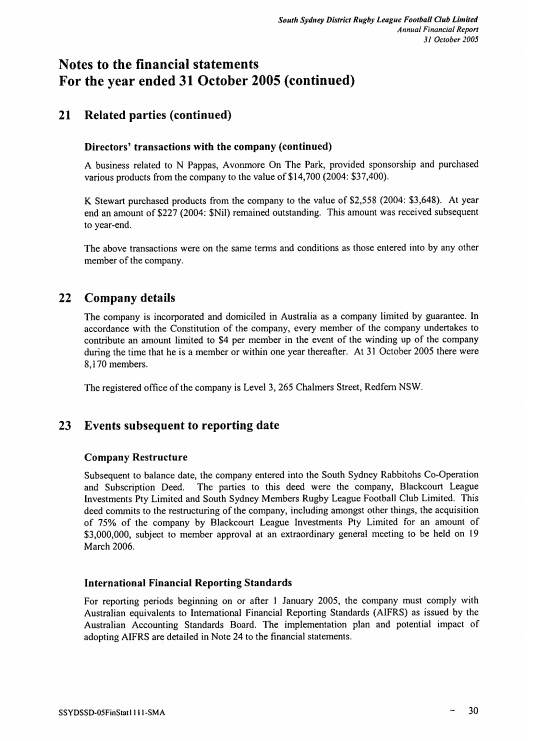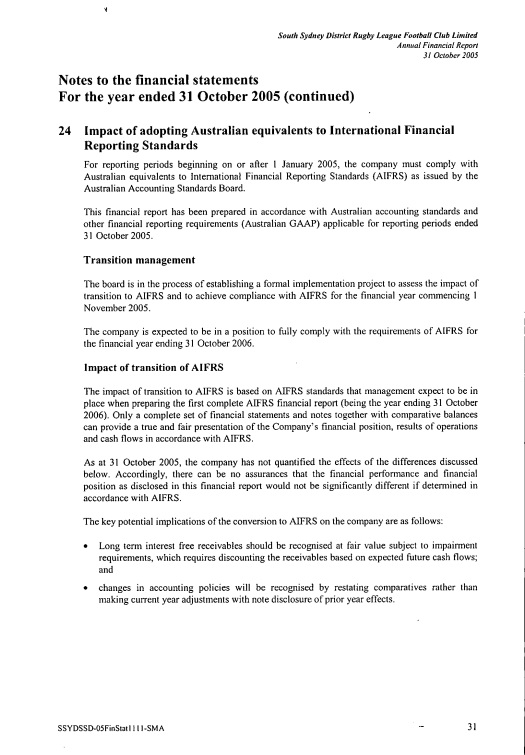 ---