2011 Charity Shield Trial
South Sydney v St George-Illawarra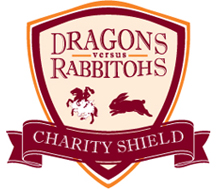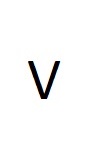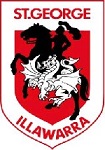 Stadium Australia
Sun Feb 13, 7:00pm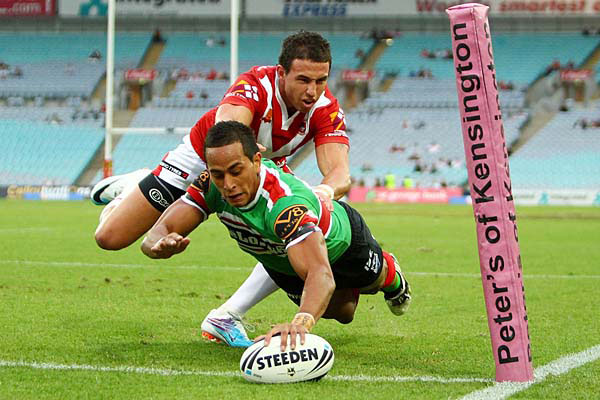 Late Changes
Fetuli Talanoa is a late withdrawal with Kane Morgan coming up onto the wing. Ben Ross started at prop with Scott Geddes dropping back to the bench. Dave Tyrrell started in the second row in place of Shannon McPherson.
LOSS 10-32
The South Sydney Rabbitohs have fallen short of securing their fourth straight Charity Shield after a 32 points to 10 loss to the St George Illawarra Dragons at ANZ Stadium tonight (Sunday). 19,267 Members and supporters of both Clubs saw the Dragons run in six tries to two in the traditional unofficial season opener. The Rabbitohs opened the scoring early through rookie winger Kane Morgan. In the sixth minute of play the Rabbitohs had mounted enough pressure to pin the Dragons at their own end of the field. A long ball from halfback Chris Sandow to the left wing found Morgan who scored. The Rabbitohs looked strong in the opening 20 minutes, making plenty of metres up the middle through captain Roy Asotasi and front row partner Scott Geddes, as well as smart dummy half running from the likes of Morgan, fellow winger Chris McQueen and centres Junior Vaivai and Dylan Farrell. The Dragons struck back in the 17th minute when Bronx Goodwin scored the first of two tries. The second 20 minutes saw the Dragons bust out to an 18-4 lead with replacement forward Jack Bosden scoring a try along with Goodwin nabbing his second four-pointer. The second stanza also saw Sandow pull off a massive hit on Nathan Fien and John Sutton make a big bust up the middle of the field to set up his side in good field position, but failing to add any more points. The Rabbitohs struck early in the second half when Farrell touched down in the 45th minute. A well-placed cross-field kick from Sandow found the chest of Farrell, and Sandow's conversion brought the Rabbitohs within eight. From then on in it was all the Dragons. Tries to Darius Boyd, Ratu Peni Tagive and Michael Greenfield put the result beyond doubt and the reigning premiers had secured another trophy on the turf at ANZ Stadium. The Rabbitohs did not give up throughout the 80 minutes and the game gave many of the Rabbitohs' younger brigade a taste of taking on the best team in the competition. Penalties and poor handling stifled the Rabbitohs at times and Head Coach John Lang is well aware that his side has plenty to work in the lead up to round one against the Roosters. "I thought we dominated the first 20 minutes but we didn't put on enough points and they were the better team after that," Coach Lang said. "They're the most consistent team in the competition over the past few years and they really have set the standard. "Games like this show that your seasoned, tough pros will be your best players and our young guys played well in patches. "I thought Roy (Asotasi) played particularly well and young Junior Vaivai marked up on Mark Gasnier and went fairly well I thought. "There's plenty of stuff for as a coaching staff have to look at and next weekend in Coffs Harbour we'll field a stronger side and not as big a squad." Captain Asotasi echoed his coach's sentiments. "As Langy said they have been the most consistent side over the past two years and to play them tonight was a good test for us," Asotasi said. "It was good for some of the young guys to test themselves against the premiers and we can look forward to next weekend against the Titans."

 6 min  4-0
17 min  4-6
33 min  4-12
36 min  4-18
46 min 10-18
67 min 10-22
69 min 10-28
79 min 10-32

Morgan, Farrell tries
Sandow 1 from 2 goals

Crowd      19,267
Referee    T.Archer / J.Maxwell

Final Line up
                             T  G/A  FG
Flbk - Wesser, Rhys          -  -     -
Wing - Morgan, Kane          1  -     -
Cntr - Vaivai, Junior        -  -     -
Cntr - Farrell, Dylan        1  -     -
Wing - McQueen, Chris        -  -     -
5/8  - Sutton, John          -  -     -
Half - Sandow, Chris         -  1/2   -
Prop - Ross, Ben             -  -     -
Hook - Falloon, Beau         -  -     -
Prop - Asotasi, Roy          -  -     - (c)
SRow - Pettybourne, Eddy     -  -     -
SRow - Tyrrell, Dave         -  -     -
Lock - Lowe, Ben             -  -     -

Int  - Geddes, Scott         -  -     -
Int  - Webster, Malcolm      -  -     -
Int  - Mansour, Josh         -  -     -
Int  - Mundine, Matt         -  -     -
Int  - Reynolds, Adam        -  -     -
Int  - Ha'angana, Adrian     -  -     -
Int  - Apps, Deon            -  -     -
Int  - Peats, Nathan         -  -     -
Int  - Burgess, George       -  -     -

                             2  1/2   -

Other FG Matches

18-0  Brok Manly      b Cronulla
34-10 Lang Melbourne  b Ipswich/Bris Easts
22-10 Town Wests-Tig  b Nth Qld
42-18 Wynn Brisbane   b Gold Coast
24-4  Rota Warriors   b Parramatta
24-22 Leic Canterbury b Sydney
72-0  Newc Newcastle  b Fiji


Judiciary News
No one was charged out of the match.
U20 National Youth Toyota Cup - Trial

v St George Illawarra

Sun Feb 13, 4:45pm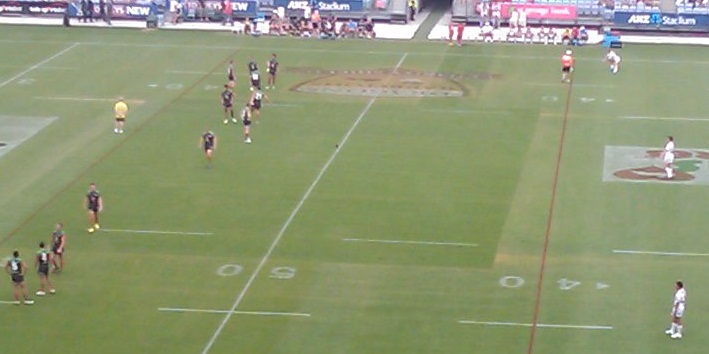 LOSS 12-20

In the Toyota Cup, the Dragons were too strong for the Rabbitohs, running out 20-12 victors at ANZ Stadium. The Rabbitohs' right side attack was its most lethal weapon with centre Kieran Vale and second rower James Cooper all scoring down that side of the field. It was a scrappy performance from South Sydney in only their second hit out as a squad, with James Roberts and Vale the Rabbitohs' best.

 6 min  0-4
15 min  0-8
29 min  0-12
37 min  4-12
42 min  8-12
48 min  8-16
64 min 12-16
71 min 12-20

Roberts, Vale, Lolesio tries
no goals attempted



Reserve Grade - NSW Cup Trial

v Macquaire Scorpians, Dora Sat Feb 12 6:00pm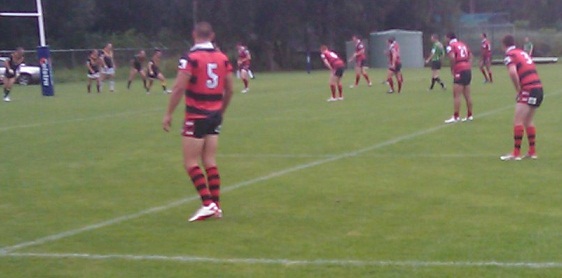 WIN 10-4

The Bears played a trial against Newcastle FG team the Macquaire Scorpians. It was a wet game with strong defence from both side and a amount of dropped ball Florimo again looked good in his short stint. Others that played well Molan, Itula, Hawkins, Kaifoto and Johnston. Liam Mecham also played well at fullback.

 7 min  6-0 
12 min 10-0 
57 min 10-4 

Molan, Itula tries
Hawkins 1 from 2 goals

Final Line up
                             T  G/A  FG
Flbk - Itula, Andre          1  -     -
Wing - Pettyborne, Kennedy   -  -     -
Cntr - Nichols, Greg         -  -     -
Cntr - Leslie, Bennett       -  -     -
Wing - Johnston, Curtis      -  -     -
5/8  - Hawkins, Jack         -  1/2   -
Half - Florimo, Jay          -  -     -
Prop - Kaifoto, John         -  -     -
Hook - McKinnon, Brendan     -  -     -
Prop - Shearer, Jake         -  -     -
SRow - So'oalo, Joseph       -  -     -
SRow - Apps, Ryan            -  -     -
Lock - Molan, Brock          1  -     -

Int  - Schuster, Ray         -  -     -
Int  - Bragg, Ben            -  -     -
Int  - Areaiiti, Neccrom     -  -     -
Int  - Kourouche, Ali        -  -     -
Int  - Field, Martin         -  -     -
Int  - Haddrick, Luke        -  -     -
Int  - Matapuku, Joey        -  -     -
Int  - Zreika, Nashaat       -  -     -
Int  - Mecham, Liam          -  -     -
Int  - Webster, Dean         -  -     -
Int  - Ryan, Ben             -  -     -
Int  - Retzlaff, Herman      -  -     -
Int  - Umu, Komisi           -  -     -
Int  - Latham, Joel          -  -     -

                             2  1/2   -


---