Central Coast RL adopt Roosters moniker
24th February 2017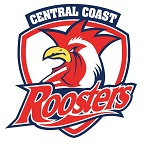 After Easts group took over the Woy Woy League's Club and changed Woy Woy Rooster's red and white to include some blue, and the subsequent reserve grade feeder partnership with Wyong Kangaroos, and Central Coast RL division back in 2014. The Central Coast Rugby League's representative teams will now also be known as the Roosters from this season, rather tahn the Centurians. They will play under the banner of the Central Coast Roosters as part of the next stage of the partnership between Central Coast Division Rugby League and the Sydney Roosters National Rugby League club.
The CRL Country Championship under-23s, 18s, 16s, 15s, 14s and ladies league tag sides will all take on the new moniker along with the Harold Matthews and SG Ball sides. In addition, the Coast's sky blue and yellow will be replaced by the traditional tricolours of blue, red and white made famous by the Bondi Junction club since 1908. The partnership was formed in 2014.
Central Coast Roosters SG Ball coach and former Kangaroo Mark O'Meley said it was fantastic that the rugby league mad region was finally being taken seriously by an NRL club. "There's a direct pathway, and there's heaps of talent coming through," he said. "Other clubs haven't really tried too hard in this area," "When I was 15 it was North Sydney but since then we've had Melbourne come but not in a strong way and the Knights who said they were here but didn't actually do anything in the region. "So as much as people say we've had clubs here, we haven't really since North Sydney."
---