RLIF 2017 Annual Meeting
28th March 2017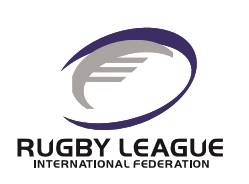 At its meeting on 28 March 2017 the RLIF Board made substantive progress to broaden and strengthen International Rugby League.
RLIF 2018 Emerging Nations World Championship
In support of the RLIF strategic plan 'Global Conversion' the Board determined to support an Emerging Nations World Championship in 2018. Each team will be required to be entered by the RLIF Member Nation and will be required to meet the RLIF eligibility regulations. The RLIF determined that a measure of success for the event and RLIF's investment of $100,000 will be the legacy provided by players returning to their home nation to expand and further develop the sport. In addition to the Emerging Nations World Championship expressions of interest had been received by RLIF from regions to compete in their own competition. Whilst being unable to financially support such a competition the RLIF Board endorsed up to four regions participating in a parallel competition.
Ambitious enthusiasts from all corners of the globe will converge on Sydney in November 2018 for the Rugby League Emerging Nations World Championship (ENWC) following a decision at today's RLIF Board to award a grant of $100,000 to the event. A celebration of the sport's global expansion and diverse communities, the ENWC will feature Tier Two and Tier Three nations from around the world where the sport is developing. The Rugby League International Federation (RLIF) event will be a two-week gathering of communitiesfrom a geographical spread never seen before in rugby league. "The 2018 Emerging Nations World Championshipwill feature more global teams than any previous rugby league competition," RLIF Chairman Nigel Wood said. "It will put the spotlight on the fact that rugbyleague is played in more than 60 countries and give recognition to the many volunteer players and officials around the globe who do great things for this sport. One of the Board' objectives in awarding the grant was to measure the event's success by creating a legacy of participants returning to their nation to spread the interest and growth in Rugby League. "People may not realise Canada has been competing internationally for 30 years, or that domestic leagues are now established in a wide range of countries for example in Hungary, Chile and Hong Kong." Western Sydney is set to be the hub of activity, with confirmed competition venues including Windsor, St Mary's and Cabramatta. Alongside the ENWC the RLIF Board also endorsed the concept of a number of regional teams playing in a separate competition. "The reason many of us love rugby league is because it's open to everybody," Mr Wood said. "It is a sport that rewards flair and developing nations enjoy the fact it is uncomplicated by technicalities or expensive equipment. "The game's popularity is reflective of its ability to serve as a vehicle for positive life changes, and that will be demonstrated by the stories of players from many backgrounds participating in the Emerging Nations World Championship. "I'm sure there will be rags to riches tales and, undoubtedly many players who dream of a professional contract but, regardless, this event will be something special within itself." Confirmed nations competing in the event are: Canada, Greece, Hong Kong, Hungary, Latvia, Malta, Niue, Philippines, Thailand and Vanuatu. The RLIF is expecting to confirm several additions to this already diverse list in coming months, with the tournament draw to be released in 2018.
RLIF Rugby League World Cup 2021 Qualification
In respect of the qualification process for the RLIF Rugby League World Cup 2021 it was agreed that this would be a 16 -team tournament. Seven teams will be qualified from Europe, 6 from Asia Pacific , 2 from the Americas and one from a play-off series hosted in Middle East/Africa . The Quarter-Finalists in the 2017 RLIF Rugby League World Cup will qualify as of right.
Should 6 teams not pre-qualify via the RLIF RLWC17 Quarter-Finals from Asia-Pacific then the 16th place will be awarded to Middle East/Africa.
Should 6 teams pre-qualify via the Quarter-Finals from Asia-Pacific in 2017 and Lebanon do not qualify via the Quarter- Finals in 2017 then the 16th place will be determined by a play-off hosted in Middle East/Africa between the Middle East/Africa Champions and the 7th placed nation in Asia-Pacific.
Should 6 teams pre-qualify via the Quarter- Finals from Asia Pacific and Lebanon qualify via the Quarter Finals in 2017 that a play-off be held hosted by Middle East/Africa between the highest placed team in Middle/East Africa excluding Lebanon, the 3rd placed team in the Americas and the 7th placed team in Asia-Pacific.
"The Board were mindful that every nation should have an opportunity to participate in a qualification process for the RLIF Rugby League World Cup in 2021. This solution provides every nation with that opportunity whilst rewarding success for eight of our Members who reach the Quarter-Finals of the 2017 RLIF Rugby League World Cup."
---