NSW Government SFS and Stadium Australia Upgrade Program
24th November 2017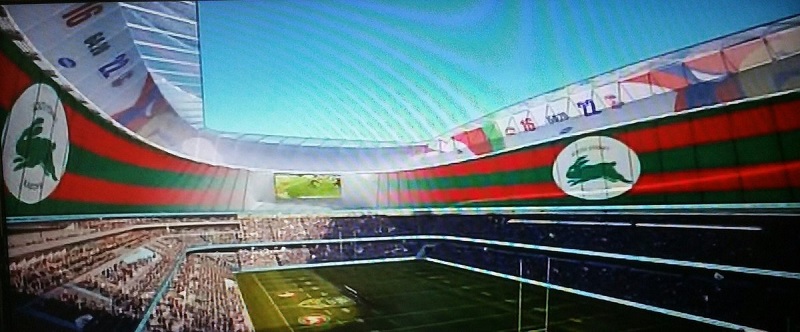 Rugby League fans in New South Wales will secure the world-class facilities they deserve under the new stadium program unveiled by the NSW Government today. NRL CEO Todd Greenberg said the decision to build new stadia at Sydney Olympic Park and Moore Park – in addition to the new Western Sydney stadium at Parramatta - is the breakthrough the game needs to draw more people to matches. "Our fans will now have access to three world-class stadia where they can watch anything from Telstra Premiership games through to State of Origin and Grand Finals," he said. "Those games will be held in rectangular venues, purpose built for Rugby League with fans able to sit closer to the action than ever before. "It's a great result for our clubs, for our fans and for the game."
ANZ Stadium will be transformed in to one of the world's great rectangular stadiums as part of a significant investment in sporting and entertainment facilities in this State, the NSW Premier announced today. Premier Gladys Berejiklian said that works will begin on a new 75,000-seat rectangular stadium in 2019, with the aim that Sydney will have a new major events rectangular Stadium at Sydney Olympic Park by 2022. Ms Berejiklian said the investment in stadiums would ensure NSW remains the No.1 destination for major sporting and entertainment events well into the future.
The Premier announced today:
A new 45,000-seat stadium to replace Allianz Stadium at Moore Park, with construction to start in 2018 and open in 2021 (estimated cost $705 million, subject to tendering process).
A new 75,000-seat rectangular stadium to replace ANZ Stadium at Sydney Olympic Park, with construction to start in 2019 and open in 2022 (estimated cost $1.25 billion, subject to tendering process).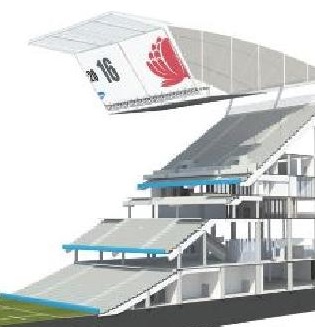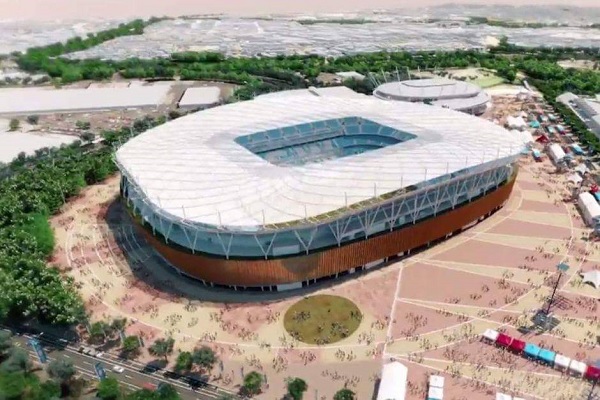 "Fans will be closer to the action than ever before, with steep seating creating a colosseum-inspired wall of sound and colour, enhanced with the world's most advanced technology," Ms Berejiklian said. "This investment means we can compete on the world stage for events such as the FIFA Women's World Cup, the Rugby World Cup, and keep Sydney as the number one sporting destination. "This is an investment into our vital tourism industry, which is worth $33.2 billion per year to the NSW economy and supports 164,000 jobs." ANZ and Allianz currently attract a combined 3.5 million visitors per year and contribute more than $1 billion into the economy every year. Over the period ANZ and Allianz are being rebuilt, the NSW Government will invest around $200 billion on health and education.
Sport Minister Stuart Ayres said: "We can also announce the NSW Government has secured NRL Grand Finals games for the next 25 years. "The SCG will host one Grand Final in 2020 during the construction phase, and we have organised sequencing so that all other Grand Finals will be played at Allianz (2021 and 2022) and ANZ (2023 to 2044)," Mr Ayres said. The NRL has signed a new Memorandum of Understanding with the NSW Government pledging to keep the Grand Final in Sydney as long as the timeline for construction of the new stadia is met.
Today's confirmation of the full redevelopment of ANZ Stadium supports the NSW Government's commitment to other major infrastructure projects in Western Sydney. It follows the announcement on 18 October by Premier Berejiklian and Transport & Infrastructure Minister Andrew Constance that a Stage 2 extension of the Western Sydney Light Rail project will connect Sydney Olympic Park with Parramatta. The future ANZ Stadium event experience will be further improved by proposals in the Sydney Olympic Park Master Plan 2030, and strategic infrastructure projects including WestConnex, Sydney Metro West, Parramatta Light Rail Phase 2, and improvements to the existing heavy rail network.
Venues NSW Chairman Christine McLoughlin and ANZ Stadium CEO Daryl Kerry today congratulated the NSW Government on its commitment to deliver world-class sporting and entertainment infrastructure in NSW. Mr Kerry, said: "The NSW Government must be congratulated on delivering an exceptional outcome on major event infrastructure in this State. The Government's investment will deliver an outstanding network of major stadiums for NSW. "Confirmation of a new 75,000-seat rectangular stadium to replace ANZ Stadium at Sydney Olympic Park is fantastic news for everyone who appreciates sport and entertainment, the sporting codes and clubs and entertainment promoters that use the Stadium, and our valued Stadium Members. "The Government has committed to a world-class Stadium for the future in the geographical heart of the city, where Australians and visitors from across the globe can come together in celebration of excellence in sport and entertainment. "We look forward to working with Government to bring the new Stadium to life and for this project to be an engine for future growth in the Sydney Olympic Park precinct and throughout Greater Sydney."

CEO Solly comments on Government Stadia Policy
20th March 2018
There has been a great deal of public comment recently about the State Government's stadia policy, and this is a great opportunity to confirm the South Sydney Rabbitohs' position on the proposed investment and stadia improvements. As current, anchor tenants of ANZ Stadium, our priority, and that of the NRL, has always been the delivery of a world class, rectangular, ANZ Stadium in the geographical centre of Sydney. The proposed new stadium at Olympic Park will have dramatically steeper seating creating a spectacular in-stadium atmosphere. The redeveloped stadium will also feature state-of-the-art technology that will enable it to be a more intimate venue for Club games, but remain a wonderful venue for large events, such as the recent Ed Sheeran concerts. This will ensure an exceptional experience for Members and fans at smaller, mid-sized or large events. We have always maintained that, aligned with the improvements to the transporting infrastructure to and from ANZ Stadium, the improvements to the stadium will deliver a fantastic facility, with great transport links in a lively precinct. This investment will create a sporting, entertainment, cultural and retail hub at Sydney Olympic Park - helping to sustain the long-term future of the park and our Club. Since the initial announcement of funding for the redevelopment of Stadiums in Western Sydney (Parramatta and ANZ Stadium) in 2016, there has been bi-partisan political support for the prioritisation of a world class, rectangular, ANZ Stadium. We therefore welcome the Government's commitment to invest in stadium infrastructure to build great stadiums and create the best possible match day experience.Other state governments have invested heavily to deliver outstanding infrastructure to continue holding events in facilities that cater for the modern needs of Members and fans. The NSW Government is right to invest now before the state falls behind its competition for major events, with the resulting damage to the economy. More importantly, it will ensure the experience of our Members and fans is equal to, or better than, those attending events throughout the rest of the country.
A number of our Members attended the opening match at Optus Stadium in Perth and loved that experience. We now want to see ANZ Stadium upgraded to be a world class, state of the art, rectangular stadium in the geographical centre of Sydney. The Rabbitohs will also benefit from the Government's facility investment through the funding contribution to our proposed new base at Heffron Park in Maroubra. The Government's investment in stadiums and the Community and High Performance Centre will absolutely benefit the wider community and result in increased participation in grass roots sport. It will also help us secure the future of the Club and deliver on our core purpose - to win Premierships for our Members and community. We therefore encourage our Members to publicly support the investment to redevelop ANZ Stadium and create our new Community and High Performance Facility at Heffron Park.
Rabbitohs CEO Blake Solly
---