Heffron Update - NSW Government Commits $40 mil to Minor works
28th November 2017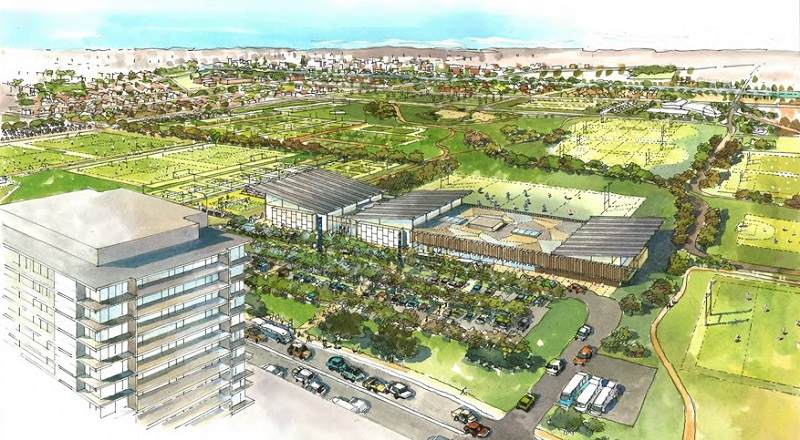 Rabbitohs CEO Blake Solly has given an insight on the recent announcement of the breakthrough stadium developments and upgrades, and how they will positively affect the Rabbitohs both on and off the field. Last week, New South Wales Premier Gladys Berejiklian announced that ANZ Stadium would be replaced with a 75,000 capacity rectangular oval through an estimated $1.25 billion investment, which will give Rugby League fans the best game-day experience possible. While it will take some time and patience, Solly is adamant that the investment will be great for Rabbitohs and Rugby League Members alike. "We welcome the State Government's investment into sporting facilities. We're very happy that ANZ stadium will be receiving the lion's share of the money and be knocked down and rebuilt as a purpose-built rectangular stadium," he said. "We think, aligned with the improvements to the transporting infrastructure to and from ANZ, that in five years time, we'll be looking at having a stadium with great transport links, creating the best possible match day experience for our fans and Members, so we're excited about that. "As a sport we should welcome $2.3 billion of investment in stadium infrastructure because it's a hefty sum but it's going to create three great stadiums and ideally those will operate as a network so the best games are at the right venues."
It won't be just the Rabbitohs' home ground that will be under change however, with Solly happily announcing the government's plans to fund the Club's new Centre Of Excellence, which will be located at Heffron Park in Maroubra. Solly says that the new base in Heffron Park will bring a monumental change in the Club's dynamics, from the players and staff to the Members and fans, which will bring a huge benefit to the Club as a whole. "I think the greatest opportunity that comes out of this is for us in particular is the Centre of Excellence funding. The government has confirmed they have $40 million of funding to give to NSW based clubs that participated in the process," he said.
"We gave our final submission in May, so we've been waiting a long time to find out how much of that will be allocated to our project in Heffron Park. We've had a wonderful partnership with Randwick City Council in presenting the submission, and for us we just want the State Government now to confirm the dividend from the Centre of Excellence fund for us so that we can begin building a new home for the Rabbitohs at Heffron Park that will transform the Club.
"Immediately it will house us all under one roof, bring in a world class training facility for our players, its going to be an asset when it comes to recruiting and retaining players and financially it will make a huge difference to us as well. "This is a process that has been going for four and half years, which is a long timem, and we're hoping this is the final announcement before things commence for not only the Club but for the Members and fans who want to sit in the best seats in the best stadiums to watch Rugby League around the world." With ANZ Stadium being the Club's home ground, Solly says that while games will have to be relocated to other venues during the new stadium's development, the Club will still have the protection it needs during this period, and will look at all the possible options open for a temporary home in the meantime. "In terms of how it will affect the Club at the moment, we don't know enough about the schedule of construction to really consider our position. We've got a long-term lease at ANZ that goes until 2030 and so from a financial point of view we're protected no matter what happens," he said. "We know the stadium management rights at Parramatta are being discussed at the moment, so that will have an impact on our decision, and then we'll wait to see and work with the NSW government and the NRL on where to play our games in 2020 and 2021 when ANZ is being rebuilt. "We haven't got full information from the government, we're expecting a full briefing in a couple months' time, but our understanding is that 2020 and 2021 will be the years when ANZ is out of action. It's a little while down the track but that gives us plenty of time to come to terms with what is going on and to get a plan set out and when we find out more information we'll keep our Members and fans involved. "In terms of ANZ not being available, we've just got to find the best option for us during that period to play our matches. From our point of view we've got to look at every option and choose what will be the best for the performance of the team and that's how we've got to approach it."
---