NSW Government Revises Stadia Plans
29th March 2018
Stadium Australia Before Refurbishment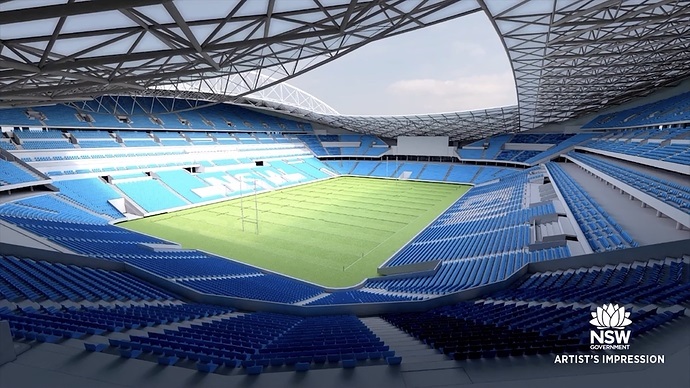 Stadium Australia After Refurbishment
NSW Premier Gladys Berejiklian has abandoned plans to knock down and rebuild ANZ Stadium at Sydney Olympic Park but will go ahead with a proposal for Allianz Stadium at Moore Park. The shell of the former Olympic stadium will instead be refurbished and transformed into a rectangular stadium. Ms Berejiklian said the new plans to refurbish the 70,000-seat ANZ Stadium would now cost $810 million - half a billion dollars less than it would have cost to knock down and rebuild the venue. The refurbishment plans include bringing "46,000 seats closer to the action" and extending the roof line to ensure all seats are under cover. The remaining 26,000 seats inside the stadium will remain unchanged. The changes would extend the life of the stadium by 40 years, the government said.
The cost of rebuilding Allianz Stadium at Moore Park to a "world-class 40,000- to 45,000-seat facility" would be $730 million, the Premier said.
The NRL grand final is set to remain in Sydney until at least 2042 after the NSW government committed to redeveloping ANZ Stadium into a rectangular configuration. NSW Premier Gladys Berejiklian outlined details of a compromise deal in the Sydney stadium debate at a press conference on Thursday in which she admitted there had been a very real chance the state would have lost the NRL grand final to Brisbane without the upgrade of ANZ Stadium. The former Olympic venue is home to Canterbury-Bankstown Bulldogs, South Sydney Rabbitohs and Wests Tigers, is also Sydney's venue for State of Origin and has hosted the NRL grand final since the stadium opened in 1999. It will be reconfigured into a 70,000-seat rectangular stadium but will no longer be knocked down and rebuilt, enabling renovations to be completed two years earlier in mid-2021. However, the Premier announced a new stadium would still go ahead at Moore Park, with Allianz Stadium to be knocked down and rebuilt at a cost of $730 million. The $1.5 billion investment in Sydney's two biggest stadiums honours a Memorandum of Understanding between the NRL and the NSW government to stage the grand final in Sydney for the next 25 years. "I am also pleased to say that the grand final will still remain in NSW for the next 25 years," Berejiklian said. "Had we not invested in our stadiums we would have been at risk and in fact definitely lost events to other states. That is a really big coup for us and we know how important that is to making sure we retain all of those major events which we were definitely in risk of losing. I don't want to underestimate that enough. Had we not invested in our stadiums we would have been at risk and in fact definitely lost events to other states."
The NRL guaranteed the grand final would be played in Sydney for the next 25 years on the proviso a world-class rectangular stadium was built at Sydney Olympic Park. NRL CEO Todd Greenberg said the commitment made in the original MOU would be honoured. "We committed to playing the grand final in Sydney for the next 25 years and that commitment will be met," Greenberg said. "Whichever way you look at it, this is a huge investment in stadia for our game and we always said that if the government invests in facilities we will play our biggest games there."
In total, the NSW Government will spend more than $1.8 billion on the rebuilding of Parramatta and ANZ Stadiums, and the redevelopment of ANZ Stadium.
The new 35,000-seat Parramatta Stadium is expected to be completed in time to host matches in next season's opening round but Allianz Stadium will be out of action until March 2022 once construction begins later this year.
Berejiklian said Allianz Stadium would be redeveloped into a world-class venue, with:
substantially improved sightlines;
a roof that covers all patrons;
significantly improved amenity, and food and beverage options.

The renovation of ANZ Stadium, described by Berejiklian as a "two-thirds refurbishment", will begin at the end of the 2019 season and is scheduled for completion by mid-2021. "This will change the atmosphere of the entire stadium but importantly it will provide a rectangular stadium with fans close to the action," she said. "That is what is required for a world-class stadium." Berejiklian said that compared to a "knock down rebuild", the cost of renovating ANZ Stadium would save $500 million and be completed two years earlier than previously scheduled. The revised strategy for ANZ Stadium is more in keeping with the original plan announced by former NSW Premier Mike Baird in 2016 for a permanent 72,000-seat rectangular stadium at a cost of about $700 million.

Greenberg said the changes were still a great outcome for fans. "Naturally I would have preferred to see a new stadium built at Sydney Olympic Park in line with our Memorandum of Understanding," he said. "But this remains the biggest infrastructure program the game has ever seen, one that gives our fans a new level of stadia facilities. "We will have three top-class rectangular stadia in Sydney which will bring our fans closer to the action than ever before. "When you combine the new transport infrastructure to Moore Park and Sydney Olympic Park we believe this package will deliver a great outcome for all sports fans.
---