Zoom 2019-20 Sterum Sponsorhip
6th December 2018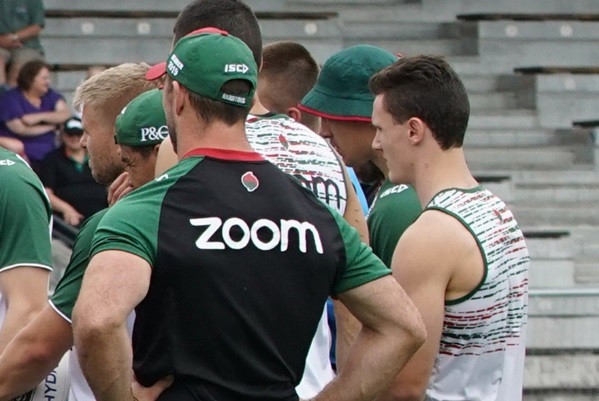 The South Sydney Rabbitohs have announced that Zoom Video Communications, Inc., the leader in modern enterprise video communications, has signed to feature on the Rabbitohs' jerseys for the next two seasons. Zoom will appear on the sternum of all Rabbitohs jerseys in 2019 and 2020 including home, away and special event jerseys throughout both seasons. Zoom has teamed up with leading sporting organisations around the world including the NBA's Golden State Warriors and NHL's San Jose Sharks, with the Rabbitohs being Zoom's first NRL corporate partnership. Zoom chose the Rabbitohs as they wanted to continue to be associated with a successful and leading sporting organisation when moving into the Australian sporting landscape. Zoom are stepping up to a jersey partnership property from 2019, having first joined the Rabbitohs' corporate family in the 2018 season.

Rabbitohs CEO, Blake Solly, is delighted to see Zoom move to a prominent position on the Rabbitohs' playing kit. "Zoom has been a fantastic partner and we're excited to have such a respected international brand partnering with us on our jersey for the next two years," Mr Solly said. "Zoom has changed the way organisations connect and communicate. Much like the Rabbitohs, the staff and products at Zoom are innovative, progressive and market leading. In 2018, Zoom saw great results from their partnership with us, with increased brand exposure and a number of business-to-business relationships built through our network. These results will only improve with their move to the sternum on our famous, red and green hooped jersey. This is a great fit for us and a great fit for Zoom and we're looking forward to working with their leadership to ensure our partnership is a huge success in 2019 and beyond."

In addition, a key part of the partnership will be Rabbitohs playing, coaching and administration staff using Zoom as part of their day-to-day operations, incorporating Zoom in Member webinars and extending the reach of Souths Cares in the community.

Zoom's Head of Australia & New Zealand, Michael Chetner said: "Zoom is proud to build on our partnership from last year with the most successful club in the NRL. Much like the South Sydney Rabbitohs, Zoom offers an experience that can't be matched. We are proud to be trusted with the responsibility of keeping the coaches, staff and administration team connected, allowing the team to focus on what they do best - winning matches. Michael Chetner, Zoom's Head of Australia & New Zealand "We wish the Rabbitohs the best of luck as they prepare for the season to commence and we are looking forward to cheering on a successful 2019 season."

Zoom was founded by Eric S. Yuan in 2011. It counts among its customers numerous Australian organisations ranging from financial services and high tech to higher education and healthcare. It has become one of the leaders in modern enterprise video communications with a secure and easy platform for audio and video conferencing, webinars and messaging across all devices and spaces. Zoom has grown over the past few years, now with over 45 billion annual meeting minutes and triple digit growth revenue and user growth. This is due to business being able to reach out to more and more commercial prospects because of Zoom's easy to use and manage communications platform. To find out more about how Zoom can empower your employees with world-class video communications, visit zoom.us.
---