Alcatel 2019-20 Away Jersey Sponsorhip
13th December 2018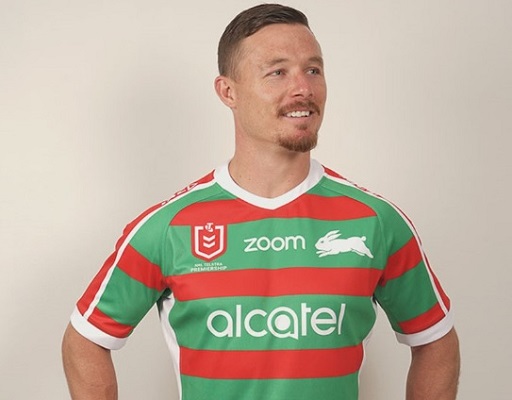 Alcatel, part of the TCL Group, has today announced a new major partnership with the South Sydney Rabbitohs that will see the brand move to the front of its jersey for all away games for the 2019 and 2020 NRL seasons. Today's announcement reflects the evolution of a strong and steadfast relationship between both organisations, with this upcoming season marking the eighth consecutive year that Alcatel has sponsored the iconic NRL club. The agreement will also see parent company TCL visible on the lower back of home game jerseys, with other benefits including LED signage, corporate hospitality and a other money-can't-buy benefits also included that will enable Alcatel to further drive its marketing initiatives associated with this partnership, including involvement in the club's extensive community and charity work.
Alcatel prides itself on introducing the latest in mobile technology into devices that won't break the bank. This year saw the introduction of a wide range of sub-$200 devices that have clearly resonated with Australian consumers, delivering the brand a record year locally with a massive 188% increase in unit sales that have effectively more than doubled its local revenue in 2018. Alcatel has also maintained their number 3 position in the mobile phone market in Australia for the last three years. Today's announcement marks the start of the next phase for the Alcatel brand locally. "This is an exciting day for Alcatel and the broader TCL Group in Australia as we grow our partnership with the Rabbitohs into one that will see the team proudly wearing our brand across their chest for at least the next two seasons," said Sam Skontos, VP and Regional Managing Director, South East Asia & Pacific, for Alcatel. "While brand exposure may seem like the most obvious benefit, our long-term relationship with the club means that we have also seen first-hand the crucial role this club plays in their local community. The unheralded work behind the scenes with Souths Cares, their youth and indigenous initiatives is also very important to us." "Our brand fits the rugby league market perfectly, and our journey as an organisation mirrors in many ways that of Souths over the better part of the last decade. We have grown into a powerhouse brand in the mobile phone and tablet market with a focus on technology accessible to all, and we couldn't be prouder to have grown the relationship continuously over the last eight seasons." "This new partnership will further propel our brand awareness and help consolidate our position in the market and further our growth."
Rabbitohs CEO Blake Solly is excited about the possibilities this partnership with Alcatel can bring to both organisations. "Alcatel have been a highly valued partner of the Rabbitohs for eight years now and their commitment to our Club is nothing short of outstanding," Mr Solly said. "To see them increase their involvement through the away jersey partnership is a real boon for our Club, as we share so many of the same values and vision for our businesses." "I recently travelled to Shenzhen to meet with the executive team at Alcatel and TCL and they have some exciting plans for their business as well as their partnership with us. Their branding looks fabulous on our famous red and green hooped jersey which has undergone a little bit of a makeover, incorporating vertical stripes on the sleeves in a throwback to the 1980s." "We're really excited to be working closely with Sam Skontos and the team at Alcatel and I'm sure our Members and supporters will see some great benefits come their way through this partnership."
Senior leader Sam Burgess is also looking forward to donning the Alcatel-branded jersey in 2019. "It's fantastic to have an international brand like Alcatel step up to the away jersey sponsorship," Burgess said.
---