2019 - The Cyber View from the Hill
1st May 2019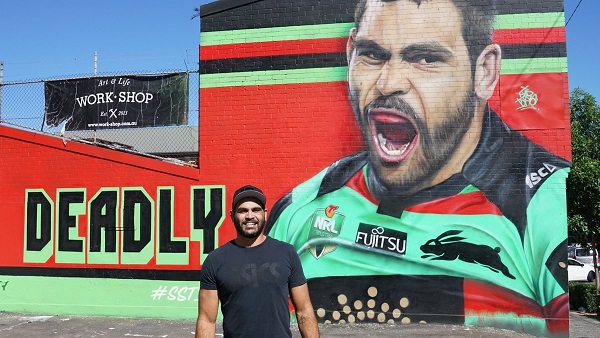 Defence Wins Again
It was a war between the two big packs at Penrith in a high quality game worthy of a finals fixture. Penrith forwards gave it to us but we held/ Building on last week our defence is being worked on by coach Bennett and it is payed wonders as we held our raid after raid on our line remanicant of of our 2014 victory at Penrith Park. It has been 7 rounds and our only loss has been a golden point point loss in the heat. Something special is building. Now for the battle of the coach's where playing groups have basically remained the same after Seibold our coach from last year left us in what became a coaching swap with Bennett. We go into this game in 2019 on opposite ends of the spectrum. Souths equal first while the Broncos are equal last. Still 8 more wins to qualify for the semis.
Turner finding a home
What can you say about the return of Kyle Turner. After the departure of GI and injury's to Burns and Denniss a SOS was given to Turner to play centre once again. He had played a few games as fill in the past but Bennett saw his desire to play on after his neck injury and has given him a shot at playng out wide. He has lost some of his forwards bulk, but this week he played his best game in years and is starting to look like a quality defence centre. Nothing is getting past him and now he is developing a GI style power attack to his centre play. If he can keep this up he could make centre his new home. Now to make up against SOO and former Rabbitoh James Roberts.
Amone metre eater
Been watching the progress of our new buy Tom Amone, the most interesting feature of his progress has been his impact as a prop. He continues to dominate the running metres up the middle with a fast powerful running style. Its still early stages but he is progressing well towards a first grade birth.
Mamouzelos steps up
Last few weeks has seen boom youngster PER mamouzelos step up into senior level. The U18 captain is a smart playing dummy half, he scored 8 tries in the SG Ball Cup. He is another hooker off the Souths production line and already a Greek rugby league international, when he played for Greece in the Emerging Nations Rugb League World Cup last year.
U16s so close but bow out
So so close, our dominate U16s bowed out from their Harold Matts campaign in the Grand Final qualifier. Miss a number of players due to Schoolboy rugby commitments, they got off to slow first half being 10 points down before putting on a late charge to almost steal the game. Top Try Scorer was Joseph Suaalii with 15 tries and Top Point Scorer was Joseph Nohra with 72 points from 1 try and 34 goals.
O'Mealey returns
a welcome face is making areturn with o'mealey our five-eighth last year making areturn to tthe team. she will help guide our team as the try and rebuild after the WNRL issues that impacted the team last year.
Get rid of Thursday Night Football
It is a debate that is raging across the NRL fan groups. The impact of Thursday Night Football. Crowd are slightly higher than Monday Night Football but fans continue to stay away from mid week football. We continue to see poor crowds when on the weekend time slots the same match can attrack a extra 10,000 fans. In 2019 the NRL has scheduled a large number of Sydney derby games on Thursday Night Football. These gameS continue to kill off the Sydney rugby league fan base, as school kids and workers make a habit of not going to NRL games. Even in Brisbane saw crowds significantly drop. We need to stop playing big crowd drawing games midweek and make going to rugby league on the weekend a habit once again. Time to move the game back into weekend timeslot and grow the games fan base.
Round 7 - Stat Attack
Statistically it was a poor game. Completion dropped to 75% from 81% last week. Errors dropped to 13 from 8 last week. We gave away 6 penalties from 8 last week. Souths Effective 1st tackle dropped to a horrid level of 45.5m from 30.8m last week. Our missed tackles was at a average level of 27 missed tackles from 15 last week. Opposition offloads dropped to 11 from 8 last week.
Looking at our left side defence - Graham-Turner-Walker-Sutton/Lowe (0-0-1-3) was steady at 4 missed tackles again this week. On the right side CAllan-Gagai-Reynolds-SBurgess/Lowe (0-3-4-3) was dropped to 10 from 6 missed tackles last week. Ruck defence TBurgess/GBurgess-Cook-Tatola/Nicholls-Murray/SBurgess (3-3-0-4) was dropped to 10 from 6 missed tackles last week.
Our go forward dropped to 1426m from 1812m last week. Sutton, Tatola, Nicholls and Graham made 10+m per run. Knight, Murray, Sam Burgess, Sutton, Graham and Gagai making 100+m in the match. Defensively Cook was our best in the tackling raking up 39 tackles. Nicholls, Tatola, Turner and Graham didn't miss a tackle.