2019 - The Cyber View from the Hill
5th June 2019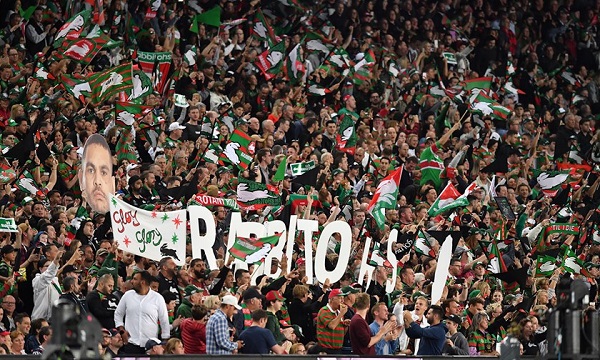 Origin impact at new Stadium
Origin period arrived and Souths were immediately impacted when we had 4 players on duty. With Cook and Murray unavailable our clean up workaround the rucks was missing. Added to this we had three debutants, and it showed in our lack of cohesian in attacking passing moves. The opposition attacked makeshift backline and debutants with success as we recorded our first loss in regulation time. Next up are the inform Knights who currently sit in the Top 4 with both teams having SOO stars backing up less than 2 days after SOO I. The return of Roberts this week is a welcome addition in a critical period. Still 4 more wins to qualify for the semis.
Gagai stars at Origin
He just continues to shine at Origin for Queensland. Playing on the wing, Dane Gagai has bagged another 2 tries, one off a 70m intercept to win the game. Thats 11 tries from 11 origin games. He continues to show he is a big game player.
Johns and Taaffe call the shots
There was rotten luck for Dean Hawkins on the weekend when he went down with a suspected broken colar bone. But the team didn't lose a beat as Taaffe playing in his first reserve grade game and Johns took control of the match. Some great bombs from Johns and Taaffe's game management helped out reserve grade team to a unlikely victory.
Taumoepenu strong debut
Another one of our U18 boys stepped up into seniors last week with Tevita Taupoepenu a tall prop making a his presence felt in his short stint on the bench. Looking forward to see how his career progresses.
Riley rep call up
Congratulations to our captain Rebecca Riley who has been called into the city team for this wekends Womens Australia championships. This is a follow on from her selection last year.
Start the season a week earlier
During a regular year we have 2 bye weekends and 3 SOO games. SOO II has been a great success on a standalone representative weekend where the impact of the origin period was reduced last year. As mentioned last week we need to do the same for SOO I. But to make it work for SOO III we need to use the bye weekend that exists during the first week of March just before round 1. So that will mean will need to start the season on the first weekend of March rather than on the second weekend of March so that SOO III falls on a standalone representative weekend.
Round 12 - Stat Attack
Statistically it was a poor game. Completion still very good at 81% from 80% last week. Errors improveded to 10 from 11 last week. We gave away 5 penalties from 4 last week. Souths Effective 1st tackle droppeded to a very poor level of 40.1m from 28.2m last week. Our missed tackles was at a disasterous level of 47 missed tackles from 30 last week. Our worst all season. Opposition offloads dropped to 16 from 9 last week.
Looking at our left side defence - Graham-Lowe-Tracey-Sutton/Britt (1-3-3-3) dropped to 10 from 7 missed tackles last week. On the right side Hiroti-Doueihi-Reynolds-SBurgess (2-1-4-4) dropped to 11 from 9 missed tackles last week. Ruck defence TBurgess/Knight-Brittain/Sironen-GBurgess/Nicholls-Tatola/Britt (10-5-6-4) dropped to 25 from 13 missed tackles last week.
Our go forward dropped to 1565m from 1849m last week. Sam Burgess, Nicholls, Knight and Tracey made 10+m per run. Tom Burgess, Britt, Sam Burgess, Tracey, Graham and Lowe making 100+m in the match. With Tracey making 200+m on debut. Defensively Brittain was our best in the tackling raking up 50 tackles. No one didn't miss a tackle.