2019 - The Cyber View from the Hill
12th June 2019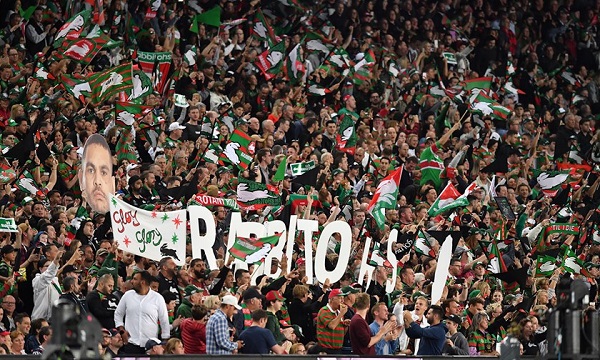 Lack of Halves
So Origin period continues to have a impact on our season with our second loss. We just couldn't hold the ball in the wet and add that to a pair of inexperianced halves bothe returning from injury and Newcastle just controlled the game at will. We still have 3 more games effected by the Origin period, with captain Sam Burgess now going under the knife for clean up surgery. Another tough game coming up. Still 4 more wins to qualify for the semis.
Welcome home Roberts
It didn't take long, 8 minutes in fact and Jimmy the Jet returned to the South Sydney try scoring list. His speed will be a tremendous asset as he looks to regain his SOO form.
Britt and Nicholls monster game
Dean Britt and Mrk Nicholls both returned to reserve grade on the weekend and immediately reminded everyone of the ability by both have monster games running 200m plus and stamping their authority over the Newcastle pack. Don't think they will stay there long.
Chanfoon continues his strong performances
A quiet achiever in our U20s squad is the second rower Maila Aluni-Chanfoon. While not a try scoring star he is doing all the hard work out wide in defence and hit ups and continues to be a vital cog in our U20s pack.
Mo'ale power display
A unsung hero of our womens team is our big girl up front Monique Mo'ale. This week she returned back via the bench and had a immediate impact scoring a try up the middle.
Time for a Aussie Challenge Cup
Its time to think of a better way to manage the trial period and provide game content during the SOO period. Over the last few years clubs have played 2 to 3 trials in February. A good way to address both situations and create TV content is for a return of a secondary competition. We all enjoyed the Midweek Cup and the Pre-Season Cup gave us a way to announce the season has arrived. While both won't work independantly in our expanded competition structure a combined format would. During the pre-season many clubs are playing NSW Cup or Qld Cup teams so a format that includes stronger tier 2 clubs from the prior season would add interest. So taking a leaf out of the English league, a Aussie Challenge Cup should be established. Where two rounds are played during the pre-season at country venues. Then during SOO I representative weekend we would play Quarter Finals as double headers on Thursday and Friday nights. SOO II representative weekend its Semi-Finals on Thursday and Friday nights. While on SOO III representative weekend its the Final on Thursday night. Clubs would not be allowed to field players who are participating in representative squads, thus giving fringe Top 30 players an opportunity.
Round 13 - Stat Attack
Statistically it was a very poor game. Completion dropped to a shocking 65% from 81% last week. Our worst all year. Errors dropped to 16 from 10 last week. Our worst all year. We gave away 6 penalties from 5 last week. Souths Effective 1st tackle dropped and remained in a very poor level of 41.7m from 40.1m last week, on the back of the worst second half of the season 51.6m. Our missed tackles was at a average level of 26 missed tackles from 47 last week. Opposition offloads improved to 5 from 16 last week.
Looking at our left side defence - Graham-Gagai-Tracey-Sutton/Murray (0-2-2-0) improved to 4 from 10 missed tackles last week. On the right side Hiroti-Roberts-Doueihi-SBurgess/Lowe (2-4-2-3) was steady at 11 missed tackles this week. Ruck defence TBurgess/Knight-Cook/Brittain-GBurgess/Tatola-Murray/SBurgess (1-2-4-3) improved to 10 from 25 missed tackles last week.
Our go forward dropped to 1285m from 1565m last week. George Burgess, Knight and Roberts made 10+m per run. Sutton, Tom Burgess, Knight, Sam Burgess and Roberts making 100+m in the match. Defensively Doueihi was our best in the tackling raking up 32 tackles. Sutton, Murray, Knight, Brittain and Graham didn't miss a tackle.