2019 - The Cyber View from the Hill
17th July 2019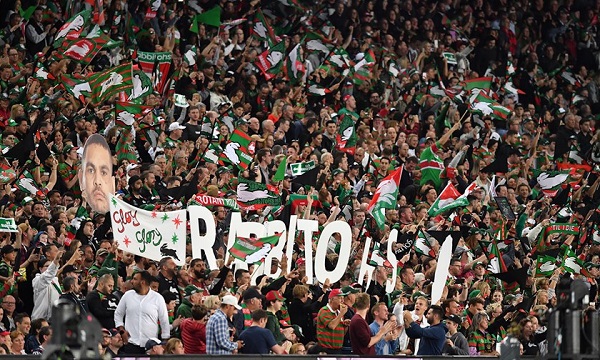 Finally a win
After all of the poor performances finally a quality half of football where we took control of the game against a team running 5th. But the openning 10 minutes of the second half undid all of the good work over a few critical errors. We have 7 more weeks to improve our 80 minute performances before the finals Still 3 more wins to qualify for the semis.
Reynolds 600 goals
Adam Reynolds continues with his great goal kicking, notching up his 600th place kick goal, which was also his 21st goal in succession. He is our 2nd greatest goal kicker but still 200 shy of the great Eric Simms. He topped this off by kicking his 18th fieldgoal to win the game.
Dillon comes back from injury
While the team struggled again on the back of poor first half, one stand out was the return of Kurt Dillon. It didn't go unnoticed as he has been called up into the first grade fringe squad.
Girls bow out
It was a tough year in the shadow of the NRLW decision to exclude Souths. Many players moved on, resulting in the team missing out on the Top 8. Our Top point scorer was Candice Clay and Akira Kelly with 18 points. With Monicqua Mo'ale our top try scorer with 4 tries.
Ribot Alarm Bells
My alarms bell went into overdrive hearing the name of the Super League architect John Ribot and Chris Johns involved at NRL again. Seems he is now getting involved in a potential 8 game relocated the Titans to Brisbane. He was involved in the setup of the Broncos and the Storm at the expense of other clubs and locked the NRL into 20 year funding agreements that setup unfair advantages only being rectified in recent years.
Round 17 - Stat Attack
Statistically it was a game of two halves. Completion improved to 89% from 72% last week. Our best all year. Errors improved to 5 from 13 last week. We gave away 2 penalties from 7 last week. Souths Effective 1st tackle improved to a average level of 34.8m from 34.8m last week. After a very good first half of 22.8m to a very poor second half of 46.8m. Our missed tackles dropped to a very poor level of 37 missed tackles from 18 last week. Opposition offloads dropped to 20 from 6 last week.
Looking at our left side defence - Graham-Burns-Walker-Sutton/Su'A (2-2-4-2) dropped to 10 from 3 missed tackles last week. On the right side Gagai-Roberts-Reynolds-Britt/Turner (6-3-5-2) was dropped to 16 from 9 missed tackles last week. Ruck defence Tatola/Amone-Cook-Knight/Turner-Murray/Britt (2-0-1-2) dropped to 5 from 4 missed tackles last week.
Our go forward improved to 1694m from 1477m last week. Knight, Sutton, Britt, Amone, Graham and Walker made 10+m per run. Knight, Sutton, Tatola, Britt, Graham, Burns, Gagai and Walker making 100+m in the match. Defensively Cook was our best in the tackling raking up 53 tackles. Turner, Sironen and Doueihi didn't miss a tackle.