2019 - The Cyber View from the Hill
24th July 2019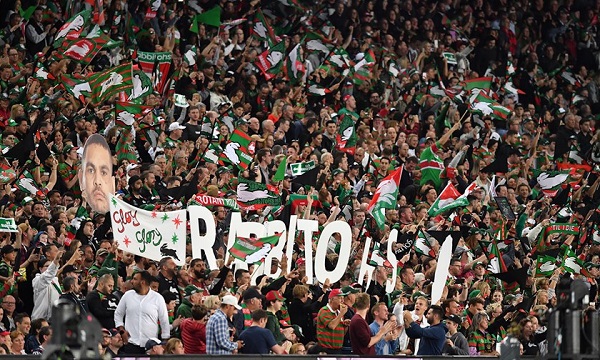 Strong Finish
We came out with a strong start against a big pack, in another game we were missing our big Burgess boys and Knight. But once again we lost our way for the first 20 minutes of the second half. A final flurry of tries in the last 10 minutes sealed the game. But we almost lost it and a better team wouln't have allowed us to comeback the way we did. Still 2 more wins to qualify for the semis.
Murray Powers Through
Cameron Murray just contiues to stamp his authority over the game. A smaller lock forward who is so fit and tackling demon. He was given the task of taking care of Tamalolo and he grassed him so many times in the game making 51 tackles. Then we needed he setup the match winning try and then backed up Roberts to seal the game with a try under the posts in his 50th first grade game.
Su'A Sting
Jaydn Su'A is fast developing a reputation as a hard hitter in defence. he has come on in the last few games in the last 30 minutes and immediately makes his presence felt in defence. His crunching tackles are really put a sting in the opposition.
Rodwell a double
Rodwell continues to make his presence felt as he powers through for classic prop tries up the middle. On the weekend he scored a double and tackles everything as well.
World 9s Launch
This week we saw the launch of the return of the World 9s competition. It was first tried during the Super League war 22 years ago. But was lost in the aftermath as we return to 7s format. Then after the successful return of 9s at NRL the opportunity has returned at international level. In recent years we have had a successful world U18s 9s and two Commonwealth Gmes 9s and recently a Pacific Games 9s, so the time is right for its return and allows a opportunity for the smaller nations.
Round 18 - Stat Attack
Statistically it was another yo-yo game. Completion dropped to 76% from 89% last week. Errors dropped to 11 from 5 last week. We gave away 6 penalties from 2 last week. Souths Effective 1st tackle dropped to a poor level of 35.8m from 34.8m last week. Our missed tackles improved to a very good level of 17 missed tackles from 37 last week. Opposition offloads improved to 7 from 20 last week.
Looking at our left side defence - Graham-Burns-Walker-Sutton/Lowe (0-2-1-0) improved to 3 from 10 missed tackles last week. On the right side Gagai-Roberts-Reynolds-Lowe/Su'A (1-1-2-1) was improved to 5 from 16 missed tackles last week. Ruck defence Tatola/Nicholls-Cook-Britt/Turner-Murray/Amone (5-1-2-1) dropped to 9 from 5 missed tackles last week.
Our go forward dropped to 1513m from 1694m last week. Britt, Su'A, Roberts and Doueihi made 10+m per run. Britt, Tatola, Murray, Doueihi, Roberts, Gagai and Graham making 100+m in the match. Defensively Cook and Murray was our best in the tackling raking up 51 tackles. Sutton, Murray, Lowe, Graham and Doueihi didn't miss a tackle.