2019 - The Cyber View from the Hill
18th September 2019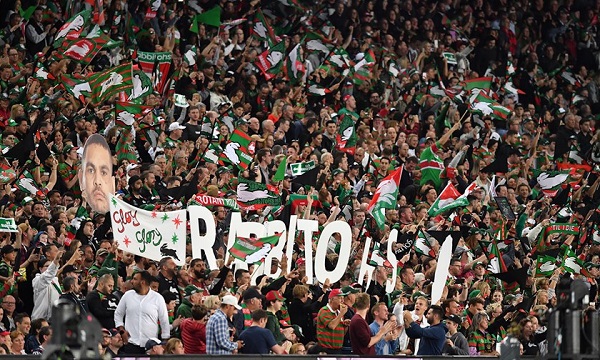 Black Friday
First time back to the SCG for a semi-final since 1987, and the openning period can only be described as diaboloical. From a Coaching blunder before kickoff to a dropped ball and before got started we were 2 tries down before we went into the break, with our worst start for season. The team looked like the week before had taken its toll mentally. They regrouped for the second half but by then it was too late. Now for a sudden death semi-final against arch rivals Manly.
Burgess Twins return
After a number of weeks we saw the return of the Burgess twins. George had spent 9 weeks on the sideline and Tom a month. It was good to finally see them both on the paddock again. They will be better for the run after such a long time off.
Brittain Award
Congratulations to Billy Brittain who secured the award of being the best NSW Cup player. He has been a unsung hero of the team, in a Robbie Farah style of player who is helping drive the team towards glory.
French the hero
What a game in U20s where the lead kept changing and once again ended regular time with the scores even. In extra time with less than a minute on the clock, Ilias was blocked from getting the equalising field so the ball was sent wide. French got the ball drew 3 men as he raced to the line but was caught 1m short, but then got a great offload to Zampech who scored the winning try. It allows Souths to fight another day as they go into the preminary final just one win away from the Grand Final.
Womens NRL falling behind Womens AFL
This week we saw the AFL announce a further expansion of their womens gme that will takeir competition to 14 teams. But the NRL continue to fall behind in the womens game as interest drops in their 4 team series with no plans to expand. The womens game continue to stagnate under the current administration.
Preliminary Semi-Final - Stat Attack
Statistically it was a very poor game. Completion dropped to 66% from 72% last week. Errors were steady at 11 again this week. We gave away 4 penalties again this week week. Souths Effective 1st tackle dropped to a very poor level of 40.7m from 37.1m last week. Our missed tackles improved to a poor level of 30 from 37 missed tackles last week. Opposition offloads improved to 9 from 11 last week.
Looking at our left side defence - Doueihi-Roberts-Walker-Sutton (1-2-0-0) improved to 3 from 10 missed tackles last week. On the right side CAllan-Graham-Reynolds-Su'A/Lowe (2-3-3-4) was dropped to 12 from 10 missed tackles last week. Ruck defence GBurgess/Nicholls/TBurgess-Cook-Knight/Tatola-Murray/Nicholls (4-3-4-3) was improved to 14 from 17 missed tackles last week.
Our go forward was dropped to 1402m from 1466m last week. Tom Burgess, George Burgess, Lowe, Doueihi and Reynolds made 10+m per run. Knight, Tom Burgess, Sutton, Johnston and Graham making 100+m in the match. Defensively Cook was our best in the tackling raking up 56 tackles. Sutton and Tatola didn't miss a tackle.