Suaalii and Ilias Signs for 2019-21
12th February 2019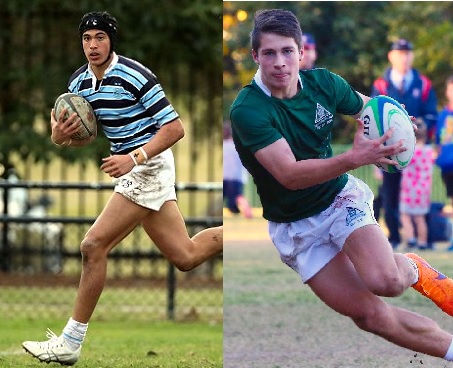 The South Sydney Rabbitohs are excited to announce the signing of two of the country's top young rugby union talents with outside back Joseph Suaalii signing until the end of the 2021 season and utility back Lachlan Ilias signing until the end of the 2020 season.
Suaalii, 15, is currently playing with the South Sydney Harold Matthews Cup under 16s squad, his second season at this level in the South Sydney junior representative system. He has represented at age group level in a number of sports including Rugby League, australian rules, rugby union, basketball and athletics. Suaalii plays 1st XV rugby for The Kings School, something he achieved last year as a 14-year-old. He also played GPS 1st XV rugby in 2018 as well as the Combined States side at the Australian Schools Championships at just 14 years of age. He played for the New South Wales Schoolboys Sevens and Australian under 18s Sevens Rugby teams as a 15-year-old Suaalii has elected to follow his passion for Rugby League by signing with the Rabbitohs for the next three years ahead of other interested parties.
"Joseph has the body shape and skill levels that extend well beyond his years, but most importantly, he has a desire to achieve everything he can in Rugby League through hard work and persistence." Richardson said.


Joseph Suaalii
Date of Birth  - 1 August 2003
Place of Birth - Sydney, NSW

Height: 193cm
Weight:  94kg

Position       - Fullback, 5/8
Junior Club    - Glenmore Park

Rep Honours - RU NSW Schoolboys 7s (2018)
            - RU Australian Schoolboys 7s (2018)

NRL Games  - none


South Sydney have also signed utility back Lachlan Ilias signing until the end of the 2020 season Ilias, 18, was an Australian Schoolboys rugby union representative in 2018 as well as representing Australia in Youth 7s. He also represented New South Wales in Schoolboys and Youth 7s teams Ilias played for the NSW under 16s Rugby League team for two years as well as with the Balmain Tigers junior representative squads, and has now joined the Rabbitohs' Jersey Flegg under 20s team.
"Lachlan has shown he can play just about anywhere in the backline and we can see him developing into an NRL quality player in time through our Pathways system." Richardson said. "It's exciting to see young talent like Lachlan in the red and green, showing the Rabbitohs are the club of choice for young talent in our game and young players from other codes, and I'm sure our Members will also enjoy watching them progress through the years."

Lachlan Ilias
Date of Birth  - 9 May 2000
Place of Birth - Sydney, NSW

Height: 184cm
Weight:  84kg

Position       - Utility Back
Junior Club    - Leichhardt Wanderers

Previous Clubs - Balmain (Juniors 2016-18)

Rep Honours - New South Wales U16s (2016)
            - RU NSW Youth 7s (2017)
            - RU NSW Schoolboys 7s (2018)
            - RU Australian Youth 7s (2018)
            - RU Australian Schoolboys 7s (2017-18)

NRL Games  - none


---
© 2019 SSR Almanac / HOME / RETURN