RLIF 2019 Independent Directors Board Restructure
1st April 2019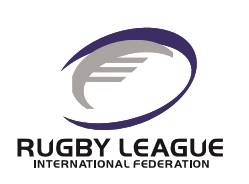 Following a rigorous two-and-a-half-year process involving all member nations, the membership of the RLIF has approved the proposals to reform the governance of the organisation. The resolution received unanimous support from all members who voted. The formal adoption will now allow the board to implement the agreed reforms which includes the appointment of, for the first time ever, independent directors who will take their place alongside the directors appointed by the membership.
Each director will serve a term of three years and will be limited to three terms. Going forward the board will include three independent directors appointed for the experience, skill and expertise in delivering the objectives of the RLIF. One of those independent directors will become the chair.
They will be supported by two directors drawn from the Rugby Football League and the Australian Rugby League Commission; this recognises the importance of the major professional leagues.
The final six directors will be drawn equally from the Rugby League European Federation and the Asia Pacific Rugby League Confederation. One RLEF director must be nominated by the RFL, while one APRLC director must be nominated by ARLC and one from the New Zealand Rugby League, who separately will have a second director for a transitional period of three years.
In further governance changes, a new membership policy, which will be reviewed by the board in April following a consultation with the membership in February, will be adopted later this year to recognise the pathway of membership from Observer, through Affiliate Member to Full Member. That will support a clear policy for the award of funding in the future.
RLIF chair, Graeme Thompson has welcomed the approval saying: "We are a members' organisation and therefore to receive their comprehensive support is very important. It demonstrates the progress the RLIF has made into a more collegiate and dynamic organisation. The board composition will better reflect our global development albeit recognising our geographical strength at the same time. The addition of independent directors is a great opportunity for the game to recruit added value and experience to continue our journey to develop the sport globally. The RLIF has a varied role to play in the development of rugby league globally, having a governance structure which reflects the requirements of modern international sport is essential and these reforms deliver the platform for us to deliver our programmes effectively and with expert scrutiny. I would like to thank the governance working party, the directors and all of our national members who have contributed so collaboratively in moving the international game forward again"
---
© 2019 SSR Almanac / HOME / RETURN