Greg Inglis Retires
15th April 2019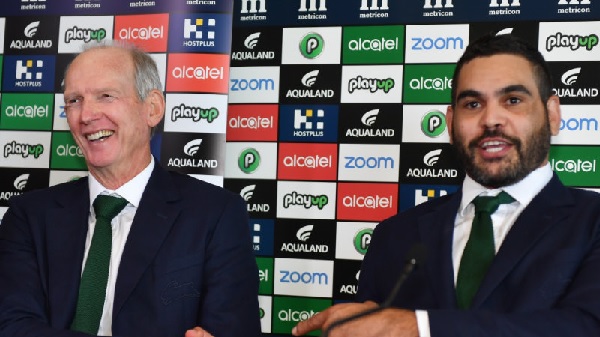 South Sydney Rabbitohs and Queensland captain Greg Inglis has today announced that he will retire from playing NRL football, effective immediately, and will continue his Rugby League journey, commencing the next phase of his career in coaching and community today. Inglis, 32, had previously made the decision to retire at the end of the 2020 season, however, his mind and body have told him that now is the right time to move on to the next chapter of his story in the sport he loves. Inglis will go down in the history books as one of the game's greats.
Greg, Rabbitohs first grade player number 1077, played 263 NRL games over 15 seasons, including 146 NRL games for the South Sydney Rabbitohs and 117 for the Melbourne Storm. He played in five NRL Grand Finals, winning three including the Rabbitohs' drought-breaking 21st premiership in 2014, and was crowned the Clive Churchill Medalist in 2007 as a five-eighth. He is also regarded as one of the best players ever to have played in the centres and at fullback. Greg played 39 Tests for Australia and 32 State of Origin games for Queensland, is currently State of Origin's leading try scorer of all time, and won the Golden Boot award as the world's best player in 2009. He is a five-time Dally M award-winning player across a number of positions, a two-time George Piggins Medalist as the Rabbitohs' best and fairest player in a particular season, and was an inductee in the Indigenous Team of the Century when it was announced in 2008. He is already being discussed in Rugby League circles as a future Hall of Famer and Immortal of the game. Inglis is regarded as a leader both on and off the field, captaining the South Sydney Rabbitohs, Indigenous All Stars, Queensland State of Origin, and the Australian Prime Minister's XIII sides. Greg is also regarded as a leader amongst the Indigenous community right across Australia and dedicates a lot of his time to helping Indigenous charities and communities around the country.
Greg will now move into the next part of his Rugby League career with both the Rabbitohs and the NRL, taking up roles in coaching, community, mentoring and ambassadorships. Inglis will work under Head Coach Wayne Bennett and General Manager of Football Shane Richardson at the Rabbitohs in the role of Development Coach and Indigenous Player Mentor where he will work across all teams within South Sydney's pathways, from the under 16s Harold Matthews Cup team to the NRL squad, to ensure a consistent approach to recruitment, talent identification and skill development. He will also support the implementation and review of a high-quality Education and Wellbeing Program to cater for the educational, career, social, financial and psychological needs of Indigenous players within South Sydney's care.
Greg will also work with the Rabbitohs' charity arm, Souths Cares, under the guidance of Souths Cares General Manager Alisha Parker-Elrez and Rabbitohs CEO Blake Solly, as an Indigenous Ambassador and Mentor. In this role, Greg will work in Souths Cares' programs across the various community and stakeholder groups in areas including education, health, training and employment. Greg will mentor students involved in Souths Cares' programs in schools and community groups across NSW.
Inglis is looking forward to the next stage of his career. "I'm not looking at today's announcement as the end of my career. I'm looking at it as the start of my next one," Inglis said. "I've been very fortunate to have had the playing career I have had, and to have played in some awesome teams with great team mates and under some great coaches. I want to thank them all for everything they have done for me and my family. This isn't a decision I've taken lightly and over the last week, spending time with family and moving out of the spotlight, it has given me some clarity about the way forward for me and my family. People have always told me you'll know when it's time to retire from playing, and I know within myself that that time is now. My mind and body are telling me it's time to move on to the next part of my career in this great sport and I'm really excited about making that transition and working with people like Wayne (Head Coach Wayne Bennett), Richo (General Manager of Football Shane Richardson), Blake (CEO Blake Solly) and Alisha (General Manager of Souths Cares Alisha Parker-Elrez) on making this Club the best it can be. I feel I have something to offer in coaching and I'm very keen to learn more from Wayne and the other coaches, and to work closely with the young players we have coming up through the grades here at the Rabbitohs. I feel that my experiences over the past 15 years will be of value to them and I want to pass those on. I've been meeting and working with Richo on a regular basis for more than two years now, learning the business of the Football Department and how all of that side of the club works. I've been active in Souths Cares and I'm keen to learn more about the community and administration side of the Club, so working with Alisha and Blake is a perfect way to do that. And I'll also have the opportunity to work with Todd's (Greenberg's) team over at the NRL this year in their ambassador program which will be a good way to stay connected with the game as a whole. I want to thank everyone that has helped me throughout my career since I started playing as a kid, right through to representing my State and Country and the success my teams have had in winning premierships. I want to thank my family in particular and I look forward to spending more quality time with my kids. I owe everything to Rugby League and for that I will forever be grateful, and I feel as though I have given everything I've had to the game on the field. Now it's time to give more back off the field. It's been a great ride so far, and starting today, I can't wait to get started on this next part of the journey."
Rabbitohs General Manager of Football, Shane Richardson, said Inglis will be remembered as one of the all-time greats of the sport but his next career starts now. "Greg is without doubt one of the greatest players to have played our game, he will feature in discussions around the Hall of Fame and the Immortals in years to come, and I know the influence he has had on the game on the field will carry over to his new ventures off the field," Mr Richardson said. "Greg has given us all so many wonderful memories of his feats, whether that was playing for the Rabbitohs, Melbourne, the Indigenous All Stars, Queensland or Australia, but for him it's time to pass on that experience and knowledge to the next group of young players; to the next Greg Inglis. It's also time for him to dedicate more time to his family which he will have the opportunity to do by making the decision he has. He wanted to finish his playing career on his terms and at the top of his game, and this decision he has made allows him to do just that. I have no doubt that he will be a success in anything he turns his hand to due to the lessons he's learned in Rugby League over the past 25 years. He will make a wonderful coach, he understands the inner workings of the Football Department through his time working with me over the past two years, he played an integral part in establishing The Rabbitoh Way, he is passionate about helping his community and making a difference in people's lives and his appeal across the whole game will serve him well in his work with the NRL. This is by no means the end of the line for Greg. In fact, it's just the beginning. He is a legend of the game for what he has achieved on the field and he will be a legend of the game for what he will achieve when he moves into this next phase of his life."
Rabbitohs Head Coach, Wayne Bennett, paid tribute to a man who will go down in the history books as a great of the game. "I made no secret of the fact that I wanted to coach Greg one day, and even though it was only brief, I've really enjoyed coaching him since joining South Sydney in December," Coach Bennett said. "He has achieved so much during his playing career and I'm sure his name will be mentioned alongside the greats of the game in our history. What I am looking forward to even more is having him join our coaching team and passing on all of that knowledge and experience he has built over decades of playing the game on to our young players throughout all of our grades. Greg will be celebrated as one of the most talented players to have played our game. I think he can have as great an impact on the next group of players as a coach and I'm looking forward to joining him on that path. What he has done for his clubs, for his people, for Queensland and for Australia over a long period time has been exceptional, and today he starts to walk the next path in his career. I know he will make every post a winner."
Rabbitohs CEO Blake Solly is looking forward to seeing Greg grow as he broadens his view of the Club and the sport. "Greg has always shown a thirst for knowledge across all areas of the Club," Mr Solly said. "His playing career will forever be revered and I congratulate him for everything he has achieved on the field. I'm looking forward to working with him and the team at Souths Cares to increase his involvement in our community programs, knowing the difference he can make to people's lives who are touched by the programs run by Souths Cares. Greg is an icon of the game and a leader within the community and we're excited about the opportunities he will have, and he will create, for people in our community."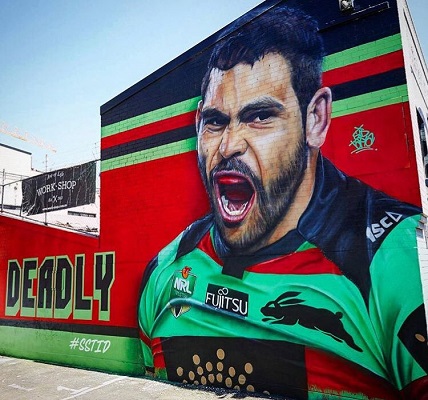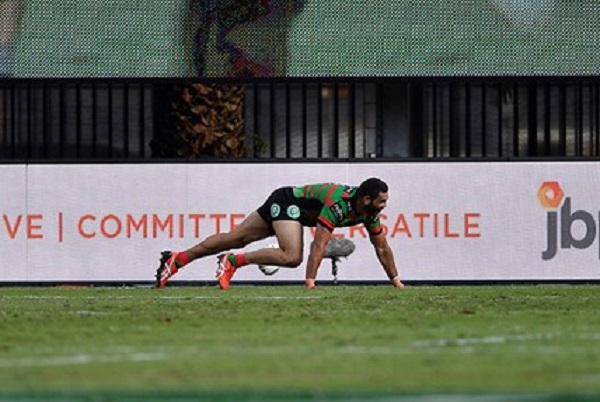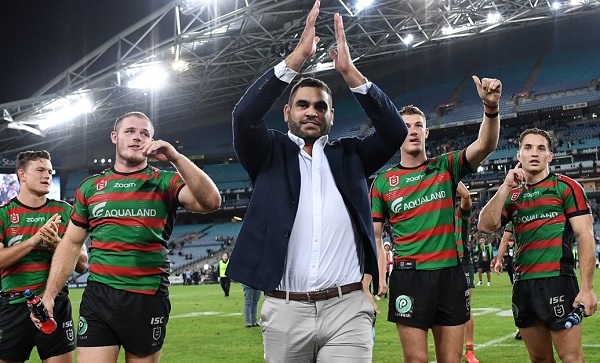 NRL Hands down Inglis Retirement Salary Cap Ruling
15th May 2019
NRL salary cap auditor Richard Gardham held a one-on-one meeting with Inglis to discuss his sudden retirement and future plans before deciding on a policy that would not disadvantage the Rabbitohs but did not create a loophole that clubs could exploit in the future. The Inglis situation is unusual in that he has walked away without being paid the final 18 months of his playing contract, which is believed to be worth about $1 million per season, and will take up off-field employment with Souths. Had he received full payment for his contract or negotiated a settlement from the Rabbitohs that amount would have been included in the salary cap. Instead, the NRL has ruled that the money Inglis earned before his retirement on April 14 – estimated to be about $500,000 – would be included in this season's players salary cap along with all off-field earnings for new coaching, ambassador and community roles with the club for 2019. With nothing being noted against the football operations cap. This would leave about $300,000 for the Rabbitohs to spend before June 30 and the NRL will make a final determination on next year's salary cap later in the year but Souths could have up to $900,000 available for 2020. The amount will depend on how much Inglis is paid in 2020 over and above the expected wage for the roles he will be doing and the NRL has given Souths a preliminary indicative value of $100,000 to be included in next year's salary cap for planning purposes. Gardham said the NRL had decided to treat the Inglis case similar to a medical retirement, whereby the full payment to the player is included in the salary cap for the season in which he is injured but not the following year.
---
© 2019 SSR Almanac / HOME / RETURN