2020 - The Cyber View from the Hill
19th Aug 2020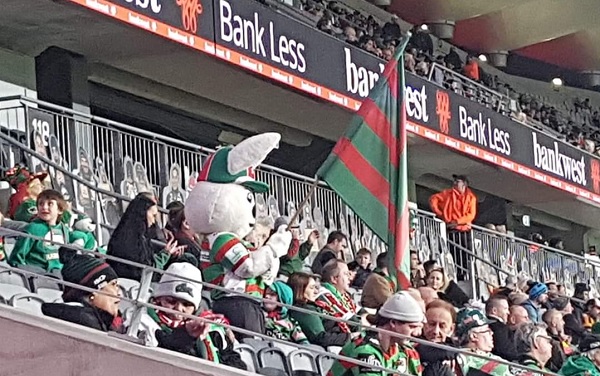 Got out of Gaol
It was a warm humid game up in the new stadium in Townsville. The grass looked like it was still struggling to bind may have contributed to a few ankle injuries this week. This was our last "travel" game, and the last fly in, play and jump on a plane back home style game. A high scoring close game as it typical Cowboys contests and this game lived up to expectations as the teams went tit for tat in the try scoring. A mountain of early possession saw Souths lucky to be within striking distance at halftime. We made things worse for ourselves with very poor second half handling. But credit to the team in how we never gave up and got back into the game and then stole it. But we will need to improve as we start playing higher placed teams over the coming weeks. Still 3 more wins to make the finals. Still 8th but now within 2 points of 4th place.
Reynolds Greatest 3 grade pointscorer
It was a vintage Reynolds game this week with our captain scoring 15 points. First with classic chip and chase try. Then another 5 goals one with 2 minutes to go from long range to draw equal with teh Cowboys but also Eric Simms as our greatest 3 grade career premiership point scorer. It was fitting that it was a fieldgoal, his 20th, that broke the record. He was so cool and calculated in how he landed the matchwinning fieldgoal in the dying seconds of the game.
Ellie Johnston power gam
Ellie Johnston, the Blond Thunderbolt from Wauhope was handed the captaincy after a injury to Emma Dennison. Her powerful display paved the way for a try out wide and resulted in a close strong win, in the shortened game and move the team into 3rd place.
50m Scrum location
In 2020 we saw the introduction of the ability to set the scrum in multiple locations, 10m 20m or 50m. While this was proposed by the SSR Alamanc the original intention was for scrums to be set at 10m or 20m marks when the ball goes into touch, to improve long sweeping backline plays. But when the NRL added the ability to set scrums at the 50m for knock-ons or forward passes rather than using the "mark" it has resulted in a very predictable mid field scrum being set. I think we need to remove the ability to set scrums at the 50m location and return to setting scrums at the location of the infringement. There is confusion on where to set the scrum when being packed quickly to stop the clock.
Round 14 - Stat Attack
Statistically it was mixed bag of a game. Completion dropped to 74% from 89% last week. Errors dropped to 12 from 9 last week. We gave away 5 penalties and 2 6-again calls from 11 last week. Souths Effective 1st tackle was dropped to a the average level of 34.3m from 27.9m last week. Our missed tackles improved to a very good level of 18 from 24 last week. Opposition offloads improved to 5 from 6 last week.
Looking at our left side defence - Johnston-DGagai-Walker-Murray/Sironen (2-2-2-1) was improved to 7 from 10 missed tackles last week. On the right side Paulo-Graham-Reynolds-SuA (0-0-1-2) was steady at 2 missed tackles again this week. Ruck defence Tatola/Koloamatangi/Mago-Cook-Burgess/Nicholls-Knight/Murray/Koloamatangi (2-1-4-0) improved to 7 from 10 missed tackles last week.
Our go forward was dropped to 1520m from 1853m last week. Burgess, Koloamatangi, Murray, Su'A, Nicholls, Mago, Johnston, Gagai and Mitchell made 10+m per run. Tatola, Koloamatangi, Burgess, Knight, Graham and Johnston making 100+m in the match. Defensively Cook was our best in the tackling raking up 41 tackles. Murray, Knight, Mago, Graham and Paulo didn't miss a tackle.