2020 - The Cyber View from the Hill
23rd Sep 2020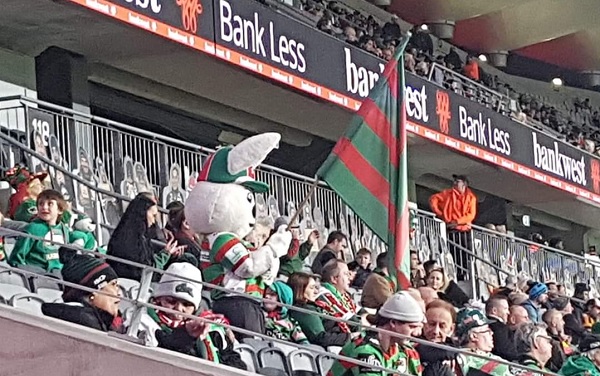 Not Focused
With our finals spot secured, the team lost focus on the game at hand but rather was thinking about the future finals. As such the last placed Canterbury team got off to a good start which was made worse when they scored 12 points while we had a player in the sin bin. The team to their credit did comeback and had opportunities to win the game but basic errors our nemisis of 2020 once again cost us another game. This weeks match against arch rivals Easts will b of interest but once again both teams will have one eye on the finals and are resting players.
Su'A intimidation
Jaydn Su'A has taken it upon himself to be the enforcer in our pack. He had a strong game, lots of good runs and bone crunching defence. But he is treading a fine line and his 10 minutes in the bin hurt us last week. He now has a enforced rest as we lead into the finals.
Allan taking his chance
Corey Allan has stepped in some big shoes over the last few weeks and is making the most of his fullback opportunity. He is a different style of fullback to Mitchell and is very willing to get in and do the hard yards.
Trial Rules
This weekend will see a number of rules being trialed in what the NRL call dead rubber games. But the nRL has got one game wrong where the battle for the wooden spoon should not be considered a dead rubber game.
Round 19 - Stat Attack
Statistically it was a poor game. Completion dropped to 74% from 75% last week. Errors dropped to 13 from 10 last week. We gave away 4 penalties and 4 6-again calls from 6 last week. Souths Effective 1st tackle was dropped to a the poor level of 39.8m from 26.0m last week. Our missed tackles dropped to a good level of 24 from 19 last week. Opposition offloads were steady at 10 again this week.
Looking at our left side defence - Johnston-Marsters/Cartwright-Walker-Sironen (0-1-3-4) dropped to 8 from 5 missed tackles last week. On the right side Paulo-Graham-Reynolds-SuA (0-2-3-0) improved to 5 from 9 missed tackles last week. Ruck defence Knight/Nicholls-Cook-Burgess/Koloamtangi-Murray/Sele (1-2-2-2) dropped to 7 from 5 missed tackles last week.
Our go forward was improved to 1922m from 1851m last week. Nicholls, Cook, Allan, Paulo, Graham, Johnston and Cartwright made 10+m per run. Nicholls, Su'A, Murray, Cook, Allan, Graham, Walker, Johnston, Paulo and Cartwright making 100+m in the match. With Gagain making 200+m for the match. Defensively Cook was our best in the tackling raking up 62 tackles. Su'A, Nicholls, Sele, Koloamatangi, Johnston, Cartwright and Paulo didn't miss a tackle.