2020 - The Cyber View from the Hill
30th Sep 2020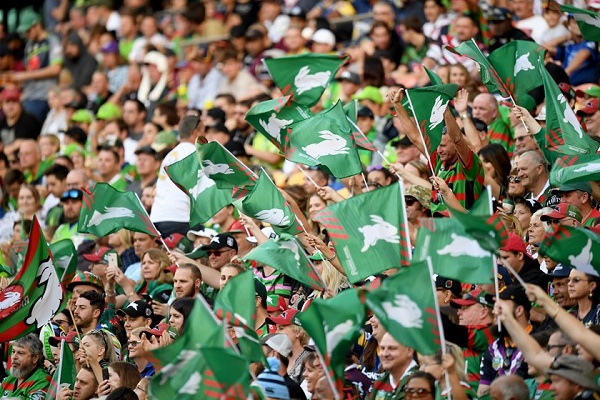 We want 60!
What a game. The first time since 1937 that Souths scored 60 points in a premiership first grade game. And against 2 time reigning prmiers and arch rivals as well. After an early assult, we just tore them apart on both sides of field. The game went from a solid win quickly to a good win to a big win. Many were happy with 30 points, but that quickly turned to 38 with looks of disbeleif from the opposition coaching box. The score went past 40, there was a desire to get to 50. That went and passed but it looked like wmight get 60 when Reynolds missed a hard conversion out wide. But the biggest special moment came 15 seconds from the end when a penalty was blown, we had the score at 58, when the crowd as one said "take the two". Penalty was blown 40m out, 15m in from the sideline, but the referee marched it back 3m from the halfway line. The long range kick was successful and we had 60 and the biggest ever win ever over our arch rivals We have everyone looking over their shoulders, but its now 3 knockout games to the big dance, with Newcastle first up.
Johnston 5 tries
What a night to remember for speester AJ on the wing. He started the night 3 tries short of the NRL leader tally. He combined very well for the first try out wide. Then again to bring up his 100th first grade premiership try. Then came the hatrick, a gift try from Corey Allan after he did some great lead up work and finally a late try try to bring up 5. He ended up on top of the NRL try scorer leader board. Well done AJ who at 103 tries now outright 4th on the South Sydney all time premiership try scorers list passing the great Bob McCarthy and Harold Horder tonight.
Reynolds 2000 points
Adam Reynolds had another great game with the boot notching up 10 goals, the most in his first grade premiership, career in our big win over the weekend. He passed 2000 career premiership points across the 3 grades, and also became the NRL's leading point scorer at the end of 20 rounds. He is now 9 shy of another 200 point premiership season as we enter the finals. The records continue to tumble.
Trial Rules
We got a chance to look at a few rules in experimental mode. Firstly the bunker post try review. Probably the most successful it allowed the crowd and players to celebrate the try while the bunker did the review. But fans will only know its a real try when the conversion kick is taken. They will need something on the screen to highlight its under review. 10m infringments being 6 again, I don't think worked as the penalty is not great enough as better team will use this as a way to hit the runner in a early tackle 20m out to force a error. Referees have struggled all 2020 to enforce the 10 metres, this doesn't help them. Changeover from kicking the ball into touch will remove about 3 to 4 scrums a game but doesn't add a lot of benefit as teams use this sort of play to control the game late in the game. Having the forwards pack into the scrum had no effect.
Round 20 - Stat Attack
Statistically it was a very good game. Completion improved to 84% from 74% last week. Errors improved to 10 from 13 last week. We gave away 1 penalties and 1 6-again calls from 8 last week. Our best all season. Souths Effective 1st tackle was improved to a the very good level of 22.2m from 39.8m last week. Our second best all season. Our missed tackles dropped to a oustanding level of 13 from 24 last week. Our best all season. Opposition offloads dropped to 14 from 10 last week.
Looking at our left side defence - Johnston-Gagai-Walker-Sironen/Cartwright (0-0-0-1) improved to 1 from 8 missed tackles last week. On the right side Paulo-Graham-Reynolds-Murray/Sele (0-4-1-0) was steady at 5 missed tackles again this week. Ruck defence Tatola/Nicholls-Cook/Murray-Burgess/Koloamatangi-Knight/Sele (1-0-4-0) improved to 5 from 7 missed tackles last week.
Our go forward was improved to 2090m from 1922m last week. Knight, Nicholls, Kolomatangi, Sele, Murray, Allan, Graham, Johnston and Walker made 10+m per run. Knight, Nicholls, Koloamatangi, Burgess, Tatola, Murray, Sele, Allan, Graham, Johnston, Walker and Gagai making 100+m in the match. With Gagain making 200+m for the match. Defensively Murray was our best in the tackling raking up 38 tackles. Tatola, Cook, Murray, Sironen, Knight, Sele, Koloamatangi, Gagi, Walker, Paulo and Johnston didn't miss a tackle.