NRL COVID-19 Round Two Closed Stadiums
13th March 2020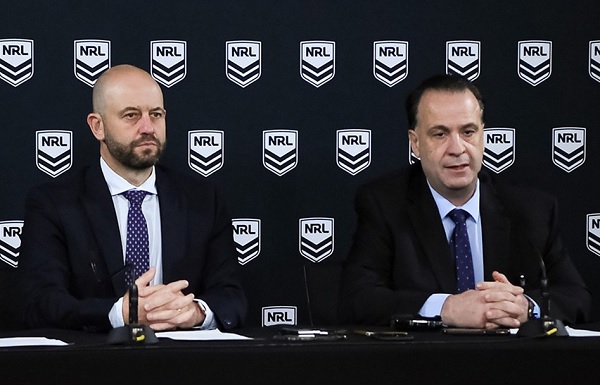 The National Rugby League (NRL) will follow the advice from Federal and State governments effectively banning mass gatherings, effective from Monday. This means from Round Two, all games will be played within closed stadiums and spectators will not be allowed to attend Telstra Premiership games until further notice. Australian Rugby League Commission chair Peter V'landys AM and NRL chief executive officer Todd Greenberg said games will still be played as scheduled, within empty stadiums, with every match broadcast live on TV, radio and streaming services as advertised. Print and digital media will be allowed within venues.
"We know this will be disappointing for fans but we are dealing with uncertain and unprecedented times," Mr V'landys said. "We have always maintained we would follow the advice of health authorities to prevent the further spread of the COVID-19 virus. In doing this, we have been in daily contact with Federal and State agencies and with both Prime Minister Scott Morrison and the NSW Premier Gladys Berejiklian today." All Round One games will proceed as planned this weekend. While fans are encouraged to attend this weekend's matches, anyone who is experiencing any Coronavirus symptoms or feeling unwell are advised to stay away. Mr Greenberg said: "We respect today's decision and our absolute priority is doing everything we can to protect our players and fans and reduce the spread of the virus in the general community. We are acutely aware of the impact this decision will have on clubs, players, fans, and members, and the NRL will continue to work with the Clubs to determine how to best manage this disruption. We are dealing with uncertain and unprecedented times but across the game, we are managing it in a collaborative way." The Australian Rugby League Commission and NRL management will meet tomorrow to discuss its contingency plans for the 2020 season. COVID-19 guidelines, reducing player interaction with the general public outside of game days, released by the NRL yesterday will continue to apply. Along with broadcasters, working media will be permitted to attend games to ensure fans continue to receive widespread coverage of their team's performance and updates. Mr Greenberg said the game would continue to keep fans updated on developments. "Fans are what makes our game so great and we understand their disappointment but public health must come first. I want to remind all fans that every match will still be broadcast live on television, radio and via streaming services and the daily newspapers and television news will still continue to cover the competition for the fans."
South Sydney CEO addresses the members, "As you are aware, the 2020 NRL season has been impacted by the ongoing situation surrounding the plans to reduce the spread of COVID-19 (coronavirus). In accordance with the NRL's directive following medical and biosecurity advice, we will be playing our round two match against the Brisbane Broncos at Suncorp Stadium this Friday night. However this match will not be open to the general public. As a Club we are currently working the NRL and the game's partners on the approach to round two and beyond. However we want to ensure you know that the health and safety of Members, supporters, players and staff is at the forefront of any decisions that we are involved with. This is an ever-changing situation that is moving quickly, but we are committed to providing our valued Members and supporters with updates as information comes to hand, and we decide on our approach to each situation. As we said earlier, the Rabbitohs are committed to ensuring the health and safety of all those involved with the Club. To this end, we have cancelled our Member Signing Session that was scheduled to be held in Brisbane on Saturday 21 March and we will be postponing our annual Member Appreciation Day that was scheduled to be held on Saturday 28 March. In fact, all public appearances with our players are currently on hold until things become clearer around the COVID-19 situation. However, we will be in touch with more information as it becomes available. I can only ask that you are patient with us in this period, as we understand more about the NRL's approach to matches after round two. These are unprecedented and difficult times for our Club and our sport. But we are a resilient sport, and I believe we are Rugby League's most resilient club. That resilience is drawn from you – our Members. Your passion and loyalty is what gives this Club its unique character. And this support is as important now as it ever has been before. We thank you for your understanding as we work through this situation. We ask you to stay passionate and loyal, and remain connected with us as we push forward with our season - starting with Friday's game against the Broncos."
New Zealand Government closes borders due to COVID-19
15th March 2020
Prime Minister Jacinda Ardern said on March 15 everyone arriving in New Zealand will require to self-isolate for 14 days, excluding people from the Pacific Islands. The New Zealand border will be closed to anyone who is not a New Zealand citizen or permanent resident from 11.59pm on Thursday night March 19.
Warriors relocate to Tweed Coast
15th March 2020
The New Zealand Warriors will relocate to Kingscliff for one week while further work is done on the competition. Their home game against the Canberra Raiders will be played on the Gold Coast. The NRL will continue to examine short and long term options to assist our clubs in remaining financially viable during this period. ARL Commission chair Peter V'landys said all options remained on the table regarding the completion of the 2020 season. "All options remain on the table. We will continue to play but we will continue to act on the best and most up to date advice from authorities," Mr V'landys said.
Redfern Oval closed to the public
16th March 2020
Under on-going professional health advice, the South Sydney Rabbitohs will be closing training to the public indefinitely while we aim to reduce the spread of COVID-19 (coronavirus). We ask that you stay patient during this constantly-changing time, as the health and safety of Members, supporters, players and staff are our number one priority.
---
© 2020 SSR Almanac / HOME / RETURN