NRL Season Suspended due to COVID-19 as Interstate Borders Close
23rd March 2020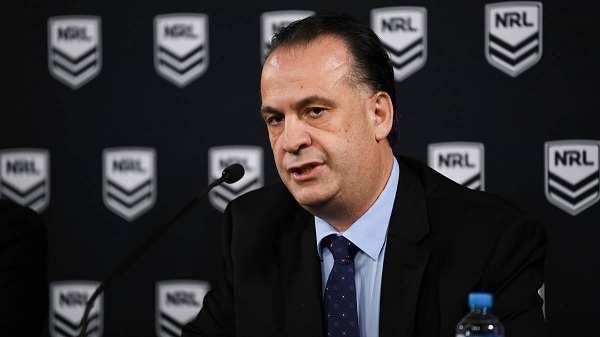 The Australian Rugby League Commission and the National Rugby League has tonight announced it will suspend the 2020 Telstra Premiership Season until further notice. In response to both the revised medical advice from government health officials and biosecurity experts, coupled with the travel bans introduced by the Queensland and New Zealand governments, the NRL said it was unable to continue the competition. The Commission will monitor the situation daily and review the competition next month.
Australian Rugby League Chairman Peter Vílandys said it was a devastating day for rugby league, but in light of the dramatic shift in advice and restrictions, it was the only possible outcome. "This is a dark day in our gameís history," Mr Vílandys said. "But we had to take this unprecedented action as there was simply no other option. We have always said we would continue but only as long it was safe to do so. When the advice tells us, we can no longer guarantee player safety because of the rapid rate at which infection is spreading, we must act accordingly. We will monitor the advice daily and recommence when it is simply safe and prudent to do so. NRL CEO Todd Greenberg said the challenge to the gameís future was enormous but rugby league will endure the challenge, no matter itís length or severity. "Our game has never faced a challenge like this. So, while this is a tough day for our game, we know it is a tough time for everyone across the entire community." Greenberg said. "But we respect that the increasing risk means we must act to protect our players, staff and the community. The impact of this decision on those who work within rugby league will be significant. All we can do as a sport, and a community, is remain united and follow the expert advice to keep ourselves and our families safe. So, while we cannot say with certainty what the future holds, I know the rugby league community as a whole will work through this as a team. We are all in this together and we will get through this together."
Queensland Government closes borders due to COVID-19
23rd March 2020
Queenslandís border closure will take effect at midnight on Wednesday March 25. This follows the closure of Tasmanian and Northern Territory borders on Mar 19, Western Australia and South Australia closing their borders yesterday March 22. All travels now require to isolate for 2 weeks upon arrival.
TV Broadcasters Withold Broadcast Payments
1st April 2020
Australiaís National Rugby League has been plunged into further financial trouble amid the coronavirus pandemic as commercial network Nine and pay-TVís Foxtel, the competitionís broadcast rights partners, have withheld their next quarterly payments worth a combined $100 million to the league every quarter. With the NRL season now suspended, both Nine and Foxtel are seeking to renegotiate their existing deals for 2020, which are worth a combined $400 million per year. The NRL desperately fought to play through the health crisis, with its financial solvency dependent on having its matches broadcast to meet the contractual requirements of its TV deals. It is now understood that Nine is looking to negotiate fresh terms not only for 2020 but for the remainder of the 2020-22 deal, but also wishes to extend its current deal beyond 2022. Without the support of the broadcasters, there are huge financial implications for the NRL if it is unable to stage another game this season. NRL chiefs met with the bosses at Nine and Foxtel this week to discuss the matter.
---
© 2020 SSR Almanac / HOME / RETURN