South Sydney CEO Blake Solly Addresses the members over 2020 Season Suspension
25th March 2020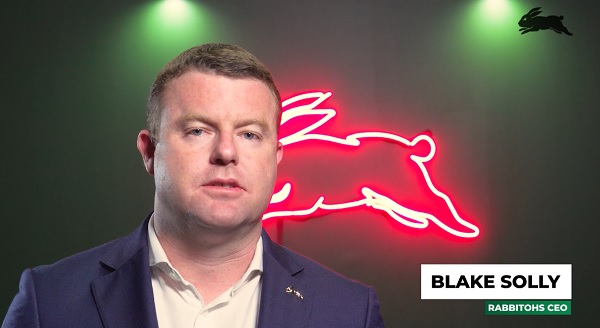 South Sydney Rabbitohs CEO, Blake Solly addressed the Members regarding COVID-19 and the suspension of the competition.
"Dear Rabbitohs Members,
Firstly, thank you for your understanding and patience in this extraordinary period.As you know, the NRL have made the decision to suspend the 2020 NRL season following the advice of medical and pandemic experts in order to reduce the spread of COVID-19 (coronavirus). This is an unprecedented situation in Rugby League, as it is for the entire community, but one that we will overcome together. I want to assure you that just like you, our Members, everyone at the Club is facing the challenges and the pain of this situation. We know how much this Club and the sport means to you and we are doing everything in our power to ensure that when the footy returns, so does your Club. We are working tirelessly to ensure the Rabbitohs remain together during this period. At this point in time, the NRL and Clubs remain committed to working towards delivering a full season and finals series in 2020 if possible. However this remains an ever-changing situation and we will have more information from the NRL over the next week. We do not know with certainty how the remainder of the 2020 season will play out at this stage, but when we do – you, our Members, will be the first to know. We remain committed to providing our valued Members and supporters with updates as soon as information comes to hand. We will communicate with you via our digital channels, and during this period provide you with even more information and content. Please stay in touch with our Club on these channels in this period – hopefully your attachment to the Club can also be a source of comfort and hope in these extremely difficult times. We also remain committed to protecting the health and safety of those involved with the Club. Our players are committed to looking after their health and fitness while the competition is suspended, training in their home environments and making sure they are ready to play when the NRL and the Club calls. Your support as Members and supporters of this great Club is as important now as it has ever been. This challenge is the equal of any we have faced in the past 112 years. But you've always been by our side in every challenge, standing above the rest – wearing the red and green. We have some difficult days ahead, but your support will be the key to how we face them. Please stay as passionate and as loyal as you have always been - we will meet this challenge together."
Rabbitohs Staff and Operations Update
25th March 2020
Unfortunately due to the COVID-19 pandemic and subsequent suspension of the 2020 NRL season, we have been forced to temporarily suspend much of our operations until at least Monday 1st June, or until such time as more information regarding the resumption of the 2020 NRL season is available. This will have an affect on our ability to respond to your emails & phone calls in relation to Memberships, Ticketing, Merchandise & general enquiries.
---
© 2020 SSR Almanac / HOME / RETURN