Rabbitohs 2020 Football Management Restructure
4th May 2020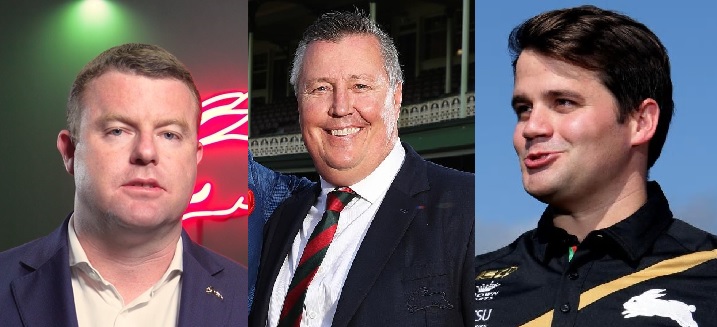 The South Sydney Rabbitohs have finalised the new senior Football Management structure at the Club following a restructure of the department. CEO Blake Solly will oversee the Football Department, as well as the commercial and administrative functions of the Club. Mark Ellison will step up into the Head of Football position, working alongside Brock Schaefer who becomes the Club's Chief Operating Officer, and Head Coach Wayne Bennett. Mr Ellison is responsible for all on-field requirements of the Club including coaching, recruitment, retention, player development, pathways and NRL team management. Mr Ellison is continuing his 40-year connection with the South Sydney Football Club as a player, coach and administrator. Mr Schaefer is responsible for the operational aspects of the Club including football and administrative operations, facility and infrastructure, player and staff wellbeing and professional development, mental performance and leadership programs and projects such as the Community and High Performance Centre at Heffron Park in Maroubra. Mr Schaefer has previously worked as the Club's Head of Football Operations and General Manager of Souths Cares since joining the Club in 2015.
The football team will continue to be led by Head Coach Wayne Bennett, Assistant Coach Jason Demetriou and Head of High Performance Jarrod Wade.
Mr Solly said this new structure will see the Club continue in its pursuit of premiership success. "It is our goal to be a top four team every year, which in turn gives you the best opportunity to win the competition and we believe this is the best structure and people to lead our Club in that pursuit," Mr Solly said. "Mark has a wealth of experience at the top levels of the sport as a player, coach and administrator and he epitomises what South Sydney means. Brock is one of, if not the best young administrators in the game and we're looking forward to him stepping up into his new role to support the team and the business. As everyone recognises, Wayne is one of the greatest coaches of all time and is the perfect man to lead our team during this unusual season and next, before our succession plan moves into its next phase with Jason taking over as Head Coach. We're looking forward to the players returning to training and playing. During the suspension of the competition we have worked to ensure the Football Department remains in good hands with this group at the helm, working towards winning premiership number 22 for our Members."
---
© 2020 SSR Almanac / HOME / RETURN