The Round 7 Telstra Premiership match between the Melbourne Storm and the New Zealand Warriors on Friday night will be relocated from AAMI Park in Melbourne to Netstrata Jubilee Stadium in Sydney. The Apollo team made the determination today to ensure the health and safety of the players, staff and wider community given the recent spike in COVID-19 cases in Victoria. The Storm will fly to Sydney later this week to complete preparations. All Storm players and football staff will undergo COVID-19 tests to ensure no risk to the competition prior to Friday night's game. NRL Acting CEO Andrew Abdo thanked the Storm club, players and staff for the sacrifice they will make over this period. "I want to thank the Melbourne Storm players for putting the game ahead of their personal circumstances. What I'm most proud about this year is that every obstacle we have faced the game has banded together to reach an outcome in the best interests of the overall competition," he said. It was important to take decisive action not only in the best interest of our players and staff, but the broader community. We have shown that if there is even the slightest risk of infection we won't hesitate to reschedule or relocate games."
Health Minister Jenny Mikakos announced a state of Victoria had returned to Stage 2 restrictions. Victoria's case numbers are the highest they have been in more than two months. "We've had more than 100 new cases in the past seven days and the main cause for this increase has been through cases in families," Victoria's Chief Health Officer Professor Brett Sutton said.
COVID 19 Second Wave - Storm Relocate to Sunshine Coast
27th June 2020
Melbourne Storm's NRL squad will set up a home away from home on the Sunshine Coast today ahead of their round 8 NRL clash with the Sydney Roosters which has been switched from AAMI Park to Suncorp Stadium in Brisbane. Under the NRL's Project Apollo protocols, a total of 55 players and staff will be involved in the camp which will be based at the Twin Waters Resort with the club to use the first-class training facilities on offer at Sunshine Coast Stadium. The Queensland Government has granted the club an exemption which allows the players and staff, who have been following strict COVID-19 protocols, to relocate to Queensland. Storm CEO Dave Donaghy said the initial Sunshine Coast camp would be for a two-week period, with the ultimate goal of bringing the squad back to Melbourne when it is safe to do so. "Sunshine Coast is the best option available to us in the circumstances we face at the moment and we would like to thank the Queensland Government for its assistance in making this relocation possible," Donaghy said. "We have strong links with Queensland and especially on the Sunshine Coast with our successful Lightning Super Netball team and our partnership with the Sunshine Coast Falcons. While in Queensland, Storm will comply with the requirements set by the NRL and State Government to minimise the risks to our football bubble and the wider community. Twin Waters Resort has allocated exclusive areas for Storm's use to minimise the health risks and family members of players and staff will also be allowed to stay at the resort with restrictions in place.
COVID 19 Second Wave - Victorian Border Closes
6th July 2020
NSW will temporarily shut its border with Victoria to contain the spread of COVID-19 and to protect the health and jobs of NSW citizens. The closure will be effective from 12.01am Wednesday, 8 July and follows the concerning spread of COVID-19 in Melbourne. Premier Gladys Berejiklian said the decision was made after consulting with the NSW Chief Health Officer and discussions with the Prime Minister and Victorian Premier Dan Andrews. "The people of NSW have done an incredible job to help stop the spread of COVID-19, allowing us to open up our economy," Ms Berejiklian said. "The outbreak of cases we are seeing in Victoria is putting these gains at risk. "I do not take this step lightly, but have always said we will do what we must to protect the health and jobs of NSW residents." Ms Berejiklian stressed the border closure is a temporary measure. "As I have said before, it is in our national interest for borders to be open," Ms Berejiklian said. Health Minister Brad Hazzard said the swift action is necessary to protect NSW residents and to assist Victoria in their attempts to bring the outbreak under control. "We must remain flexible throughout this ongoing pandemic and adjust our strategies as the threat grows and recedes," Mr Hazzard said. "This is not the first spike and it is unlikely to be the last."
COVID 19 Second Wave - NRL Reverts to Original Bio-Security Protocols in NSW
14th July 2020
On Monday July 13 a cluster outbreak had been reported in Casula in south-west Sydney, from a truck driver who had departed Victoria a few days before the border closed. While in Victoria cases continue to surge to new heights.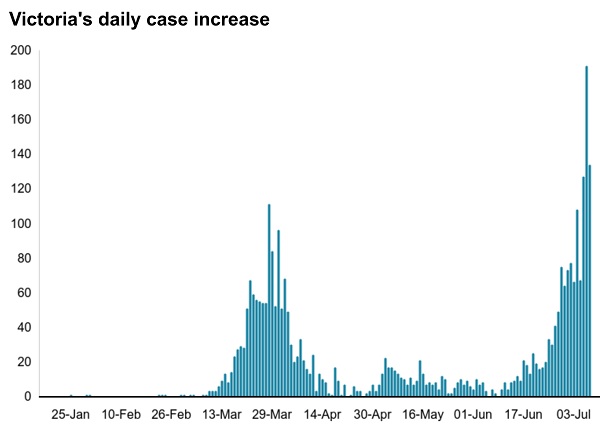 The Australian Rugby League Commission (ARLC) today met and agreed all clubs operating outside of Queensland must revert to original Apollo biosecurity protocols. Players and staff within team bubbles will not be allowed to attend venues including cafes, restaurants, pubs, beaches and golf courses to avoid community contact during the current spike in COVID-19 cases. Restrictions on home visitors will also return. Clubs based in Queensland will remain under current protocols. ARLC Chairman Peter V'landys AM said the Commission had taken decisive action due to the rapidly changing COVID-19 landscape. "We won't take any risks with our players and the community. All our decisions are based on the data and we've said from the start, if the data changes then we will be proactive and take the necessary action required," he said. "We are enforcing the original protocols to ensure our players are not mixing with the general community. We are doing everything we can to keep the playing group healthy during this period. Our experts are continuing to monitor the data. We don't make decisions based on emotion, we make them based on data. We hope it's only a short spike in the infection rate, but the Commission has shown we will be agile and make the appropriate changes." Mr V'landys thanked the players and the clubs for their adherence to biosecurity protocols. "I want to congratulate our players, staff and clubs who have been brilliant throughout the process. The players have done the right thing and when there has been a mistake clubs have been very quick to report any breach. That's exactly how we wanted the process to work."
COVID 19 Second Wave - Queensland closes border to Greater Sydney
29th July 2020
The Queensland Government has already banned visitors from Liverpool, Fairfield and Campbelltown in New South Wales, along with all of Victoria. As of 1:00am Saturday August 1, that list of COVID-19 hotspots will further expand to include another 31 local government areas in and around the state capital (Greater Sydney, Central Coast, Picton region and the Blue Mountains) after the stead increase in cases within Sydney. The NRL's travel exemptions into Queensland will stand despite Premier Annastacia Palaszczuk declaring Greater Sydney a COVID-19 hotspot and closing state borders to Sydney residents from Saturday. The NRL has been given assurance that the Palaszczuk government's allowances for players and Sydney-based teams will stand after the ARL Commission secured travel exemptions when borders were closed earlier this year. ARL Commission chairman Peter V'landys was happy that teams will still be able to travel back and forth between Sydney and Queensland given players are again observing strict COVID-19 protocols that were first installed to secure the original exemptions. "We have the same rigorous biosecurity protocols we had when first granted the exemption and the Queensland border was totally closed," V'landys said. "So logically nothing has changed."
---
© 2020 SSR Almanac / HOME / RETURN