Dillon and Dargan were trimmed 24 hours before the game. Mago and Marsters were 18th men.
Fijian rookie Semi Valemei's first try in the Telstra Premiership proved the difference, as the Raiders gamely rallied for an 18-12 victory over South Sydney in wet conditions at GIO Stadium on Saturday night. Nick Cotric delivered an acrobatic effort to open the scoring for the home side when he finished off a George Williams cross-kick. Cotric's effort on the right edge was matched by Raiders skipper Croker seven minutes later with a miraculous pick up of a grubber kick in slippery conditions extending the Raiders' lead to 10. The Rabbitohs lost Alex Johnston to a head knock early in the first half, opening the door for Jack Johns to make his NRL debut much earlier than anticipated – his famous father Matt and mother Trish in the stands watching on. In a backline reschuffle Corey Allan moved to fullback, Gagai to the wing and Sironen into the centres. Johns got through 35 minutes before he was brought from the field for a HIA of his own after some friendly fire from Rabbitohs teammate Mark Nicholls. The Bunnies strung together two tries in four minutes to take the lead midway through the first half in similar vein to last week's roll on against the Knights. Dane Gagai continued his recent strong try-scoring form to cross in the corner before Jaydn Su'A sent Adam Reynolds over with an inside pass on the right edge. Then with the conversion he kicked his 1501st premiership point. Raiders back-rower Elliott Whitehead was denied a try before half-time after some obstruction ruled by the NRL Bunker in the lead-up. Souths went into the break leading 12-10. A penalty goal after the break via Croker levelled the scores and set up a grinding second half as the rain began to fall on GIO Stadium. A richochet from a short-side grubber from Elliott Whitehead enabled Canberra to regain the lead in the 56th minute through Valemei. The injury to Nicoll-Klokstad sent Jordan Rapana to fullback for the remainder of the game until he too left the field for a HIA and didn't return. South Sydney stormed home in similar fashion to last week's effort but the greasy conditions wreaked havoc on their completion rate late in the match. Thomas Burgess had an eventful five minutes, losing the ball as he reached for the try line before a barnstorming run gave the visitors a chance to tie the game.
NSWRL Womens Premiership - Round 2
v Central Coast, Morry Breen Oval, Kanwal, Sat Jul 25 1:30pm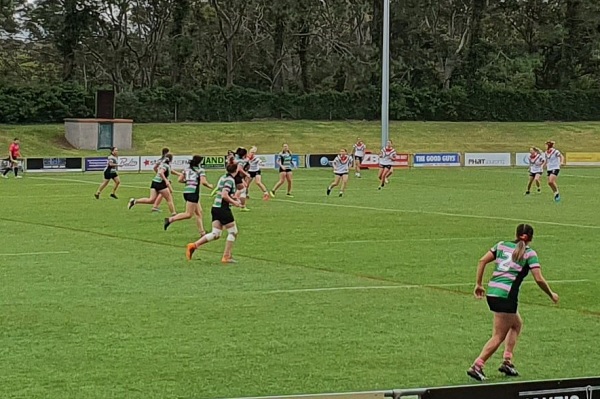 LOSS 8-32
Match has been relocated from Darren Kennedy Oval Toukley on Sunday back to Morry Breen Oval Kanwal after Central Coast senior competition was fully cancelled last weekend after the recent plan to restart post Covid as planned.
Late Changes - The Rabbitohs go down to the Central Coast Roosters 32-8 at Morry Breen Oval in round two of the Harvey Norman Women's Premiership. Prior to the game, Tarsha Gale was there to present the Rabbitohs with their jerseys before they took the field. The conditions were greasy in the Central Coast with ball handling proving difficult for both sides. Central Coast had the perfect start, crossing in the second minute through Olivia Higgins with the try converted by halfback, Melanie Howard. They managed to build more pressure and capitalised on Rabbitohs' mistakes 10 minutes later. A beautiful cut-out pass found winger, Brydie Parker who crossed in the corner but the conversion attempt was waved away from the touch line. South Sydney clawed back possession just after the quarter break and second-rower, Ellie Johnston proved a handful on the edge. On multiple occasions she dragged three or four Roosters on her back and continued to press forward with post-contact metres. Despite getting themselves back into the arm wrestle, a long-ranged try against the run-of-play by Roosters' centre Jayme Fressard extended their lead and another try moments later, took the score to 22-0 at half time. This did not discourage South Sydney and they improved drastically in the second half. They were first to score upon resumption through new recruit and NSW under 18s representative, Janaya Bent, which closed the gap to just three converted tries. The Rabbitohs went back-to-back through Taleena Simon after brilliant hands from Captain Emma Dennison, found her winger in space. The Central Coast had the final say however, scoring two more tries to close out the game 32-8. Despite the scoreline there were plenty of positives for the Rabbitohs who had a new-look side, with combinations still to gel. Ellie Johnston was instrumental with and without the ball, pulling off big shots and matching it with the Roosters' pack. Jillaroo, Shaylee Bent also had a solid first game in the Red and Green; making a break straight upfield to get South Sydney in great field position while Cousin, Taleena Simon was ever-reliable coming up with that try and also a crucial trysaver.
Katie Brown has shared the special moment she made her Rugby League debut at age 28 in the Harvey Norman NSW Women's Premiership, only eight months after her first training session. Just like that, I made my rugby league debut for the South Sydney Rabbitohs and it was AWESOME! (Except when I dropped the ball after my first hit up but we'll get to that) I didn't know what to expect in November when I asked newly appointed Rabbitohs coach Dean Widders if I could join in pre-season. I also didn't know how the players would feel about a NRL.com reporter rocking up to training. I certainly told myself I didn't belong and how stupid it was that a 28-year-old journalist thought she could play Rugby League. However, my biggest fear was failing. And failing in front of other people. But here I am, eight months later breathing a sigh of relief. I did it. I achieved my goal, one I never thought I'd never accomplish. July 25 is a day I'll never forget, filled with so many special memories including being presented my Rabbitohs jersey by two legends of the game – Tarsha Gale and Dean Widders. Funnily enough, I met the pair in 2018 when NRL.com started the network's first female panel show, Wednesday's Our Way. They were my two co-hosts. Who would have thought two years later they'd be watching me play in the pink and green for the oldest, proudest and loudest club. I was given jersey number 17. As I put it on over my shoulder pads, I felt two things. Bulletproof and gratitude. Now it was time to play my first ever real game of rugby league in the Harvey Norman NSW Women's Premiership. Just before halftime Dean told me to warm up, I remember feeling butterflies swoop into my stomach. It was happening. I started going over all the things I wanted to remember on the field - tackle hard, run hard, fast feet, talk to the girls, don't get too excited, run good lines. As I ran out onto the field, I could hear Tarsha yelling words of encouragement. I turned to Dean and asked what side I was playing and he replied, 'No you're in the middle, go have fun and defend." I was thrown off - sorry, middle? No, surely not. I'm not a big front rower. Or am I? I have put on 9 kilos since Christmas which I guess does make me a whole solid 74kg So, there I was, jumping side to side under the sticks at Morry Breen Oval warming up the legs. The whistle blows, Roosters kick off. I'm on the run and catching a short ball off my Souths teammate Arabella McKenzie for the first hit up of the second half. Boom! Down, but not out. I thought to myself in that split second, 'Wow'. Until I got up and felt the ball roll out of my hand. Damn it. Dropped the ball in my first hit-up. That was disappointing and I felt so bad for my poor teammates. But the girls were all so good to me and got behind me to get in there and get it back. The rest of the match was kind of a blur, I had another few hit-ups, made some tackles in which I copped a corked thigh. I was running off pure adrenaline. I caught myself smiling at one point, the inner child in me just loving life on the footy field. A 25-minute performance in the middle for my first match, I felt like we'd won. Even though we lost to a slick Roosters outfit 32-8. The most popular question I've had from people is - why did I want to play? Well firstly, I proved to myself that if I put in the work, I really am capable of achieving a goal. Ultimately, I have always loved pushing myself outside my comfort zone and I love playing sport so when I saw the women playing in the first NRLW competition, that's when I started thinking about having a go. I was Athletics Sportswoman of the Year at my High School, McAuley Catholic College; I played representative netball; I actually captained the Queensland Country side; and I'd had a taste of contact sport in 2017 when I played Aussie Rules for the Broadbeach Cats where we were the undefeated premiers. So, was rugby league what I expected? Yes. It really was. To everyone who helped me get here – thank you. I loved every minute of my debut for the South Sydney Rabbitohs and now that I got a taste, I can't wait to play again.

 1 min  0-6
10 min  0-10
QT      0-10
26 min  0-16
29 min  0-22
HT      0-22
37 min  4-22 J.Bent try McKenzie miss
42 min  4-28
QT      4-28
56 min  8-28
60 min  8-32 Simon try McKenzie miss

J.Bent, Simon tries 
McKenzie 0 from 2 goals

Scrums     6-6 (1H  2-3 )
Penalties  3-2 (1H  2-1 )

Final Line Up -
                                   M  T  G/A  FG

Flbk -  1 - Hunter, Tahlia        60  -  -     -
RWng -  2 - Lamb, Rikkia          60  -  -     -     
RCnt -  3 - Gillogly, Emma        60  -  -     - (c) (Dennison)    
LCnt -  5 - Bell, Nellie          35  -  -     -     [0-25,50-60]
LWng - 10 - Simon, Taleena        60  1  -     -
5/8  -  6 - Davis-Welsh, Nakia    60  -  -     -
Half -  7 + McKenzie, Arabella    60  -  -/2   -     
Prop -  8 - Overton, Crystal      20  -  -     -     [0-20]
Hook -  9 - Woodman, Sharnita     25  -  -     -     [0-25]
Prop - 16 - Uluiburotu, Grace     28  -  -     -     [0-17,49-60]
SRow - 12 + Bent, Shaylee         60  -  -     -
SRow - 11 - Johnston, Ellie       60  -  -     -            (#18 in 2H)
Lock - 13 + Pauli, Christine      60  -  -     -     [0-29]

Int  - 17 + Brown, Katie          32  -  -     -     [17-49]
Int  - 15 + Donovan, Monique      40  -  -     -     [20-60]
Int  - 19 + Bent, Janaya          35  1  -     -     [25-60]
Int  -  4 - Gordon, Kyle          21  -  -     -     [29-50]

                                      2  -/2   -

Other Womens NSW Premiership Matches

18-10 CSHS Cronulla   b Norths
14-4  Ring Canterbury b Wntwrthvll
BYE        Wests-Tig

               W D  L B Diff PT
CENTRAL COAST  2 -  - -  +46  4
CRONULLA       2 -  - -  +22  4
WESTS-TIGERS   - 1  - 1    -  3
CANTERBURY     1 -  1 -  -12  2
Souths         - -  1 1  -24  2
Norths         - 1  1 -   -8  1
Wentworthville - -  2 -  -24  -


---
© 2020 SSR Almanac / HOME / RETURN