2021 - The Cyber View from the Hill
24th March 2021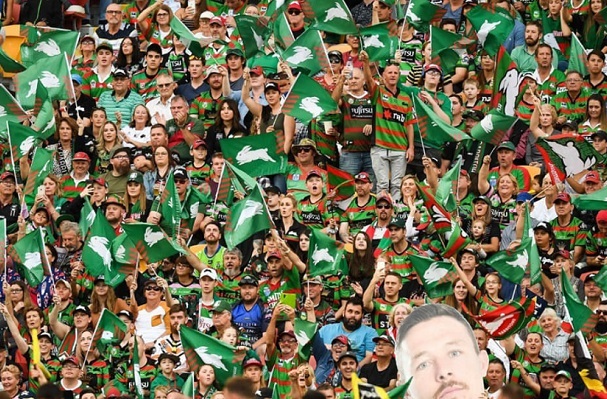 Tough Win in the Wet
It was a weekend where it just rained and rained and rained, with Sydney's west and the rivers of the NSW coast going underwater. Lower grade games were cancelled across Sydney. Such was the day at Brookvale, which was already with a reduced capacity due to the northern end being under contruction. It was a game played at times in heavy rain, that evened out the teams and resulted in a tough hit. Some nice plays setup a try with a 40-20 by Reynolds setting up another try. But with Reynolds going off it took the team a little while to resettle before locking away the win with a few late tries. Souths now run into a red hot Roosters outfit on the lookout for revenge from out 60-8 victory in the last round.
Benji Flick Pass
With Reynolds failing a HIA, utility moved into half. He produced one of his majic flick passes after breaking the line to put Nicholls into a linebreak that saw the prop stop just short of the line. With Dmien Cook capitalising off the next tackle to score. He is proving a versitile player who can be brought in to cover a injury. A nice insurance policy to have on the bench.
Dive, Dive, Dive
I am not sure what can be done about the new trend in players taking a dive, but DCE won a academy award for his post contact run and then dive when he was never going to get to the ball. It resulted in Mitchell being sin binned. He tried it again in the play the ball and was penalised. It is becoming more and more of a issue in the game, as we evolve to a soccer style of diving by players trying to force the referee to make a decision.
Round 2 - Stat Attack
Statistically it was a average game. Completion improved to 73% from 63% last week. Errors improved to 13 from 16 last week. We gave away 5 penalties and 3 6-again calls from 5 last week. Souths Effective 1st tackle was improved to a the average level of 33.8m from 37.1m last week. Our missed tackles improved to a very good level of 17 from 22 last week. Opposition offloads dropped to 12 from 4 last week.
Looking at our left side defence - Johnston-DGagai/Murray-Walker-Koloamatangi (1-0-2-0) improved to 3 from 10 missed tackles last week. On the right side Paulo/D.Gagai-Graham-Reynolds/Marshall-SuA (0-1-1-3) improved to 5 from 6 missed tackles last week. Ruck defence Tatola/Nicholls-DCook-Burgess/Arrow/Mago-Murray/Arrow (3-1-3-1) dropped to 8 from 6 missed tackles last week.
Our go forward improved to 1533m from 1330m last week. Nicholls, DCook and Mitchell made 10+m per run. Murray, Nicholls, Arrow, Burgess, Koloamatangi, DGagai, Mitchell and Graham making 100+m in the match. Defensively DCook was our best in the tackling raking up 56 tackles. Koloamatangi, Murray, Arrow, Mago, Marshall, DGagai and Paulo didn't miss a tackle.
Rabbitohs Radio - Weekly Segment
Boys chat to the Jed Cartwright, remember Paul McNicholas and preview the Roosters game.