2021 - The Cyber View from the Hill
31st March 2021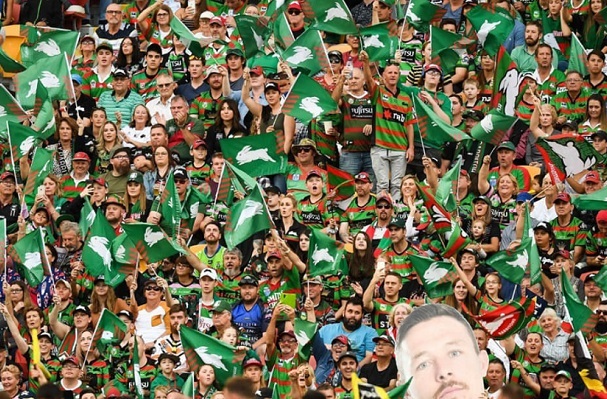 Battle of the Books
The match was billed as the battle of the books. The Easts cheque book versus the Russell's book of fueds. Souths came out full of confidence and hit the Roosters in a strong 60 minute performance to lead 24 nil. Souths dominated the match with power up the middle and skill out wide. Before some sloppy play let the Roosters get some late points. All in all , it was also great to be back at the game after such a long break. Now for our annual Good Friday clash with the new look Bulldogs.
Mitchell-Walker Magic
3 weeks in and the magic continues of the Mitchell & Walker show. The try Mitchell setup for Walker on the blind side was pure magic. 2021 will be a season for the highlight reals.
Welcome Hasson
A surprise inclusion last week has been James Hasson, the Irish international prop who has come for a taste of the tougher Aussie rugby league in the lead up to 2021 Rugby League World Cup. I will watch his progress over the coming weeks as he shakes off the English and Covid cobwebs.
Robinson Benji Flick
If you haven't seen it just watch the great break by Chase Robinson for 60m before then executes a great Benji flick pass to lay on a try in the corner. It was the try of the season so far. Robinson will make a name for himself over the coming years and will be a star in The Greel RLWC team.
SG Ball Cruise to Victory
our SG Ball cemeted their place in the U19 finals series with another big win. This time over the Victorian Thunderbolts. The way the team plays all across the park is causing headaches for opposition teams, with wingers Manning and Kaho bagging another double each.
Covid is Back
Just when NSW was moving back to a pre-covid state, a Brisbane-Byron Bay outbreak hasthrown the NRL back into STage 2 lockdown. The Broncos were quickly relocated, and games on the Sunshine Coast and Gold Coast relocated to Sydney. After the Christmas lockdown of the northern beaches, it shows how quickly a situation can change with a overseas traveller outbreak.
Round 3 - Stat Attack
Statistically it was a average game, after a good first half. Completion improved to 76% from 73% last week. Errors improved to 11 from 13 last week. We gave away 1 penalties and 2 6-again calls from 8 last week. Souths Effective 1st tackle was improved to a the average level of 32.6m from 33.8m last week. Our missed tackles dropped to a good level of 20 from 17 last week. Opposition offloads improved to 11 from 12 last week.
Looking at our left side defence - Johnston-DGagai-Walker-Koloamatangi (1-6-0-0) dropped to 7 from 3 missed tackles last week. On the right side Mansour-Graham-Reynolds/Marshall-SuA (2-3-2-1) dropped to 8 from 5 missed tackles last week. Ruck defence Tatola/Nicholls-DCook-Burgess/Arrow/Mago-Murray/Arrow (3-0-0-2) improved to 5 from 8 missed tackles last week.
Our go forward improved to 1596m from 1533m last week. Mago and Mitchell made 10+m per run. Burgess, Nicholls, Tatola, Arrow, Murray, Koloamatangi, Mitchell and Gagai making 100+m in the match. Defensively Damien Cook and Murray was our best in the tackling raking up 38 tackles. Burgess, Damien Cook, Koloamatangi, Arrow, Mago, Marshall, Walker and Mitchell didn't miss a tackle.
Rabbitohs Radio - Weekly Segment
Boys chat to the Patrick Mago, remember Dennis Lee and preview the Bulldogs game.