2021 - The Cyber View from the Hill
7th April 2021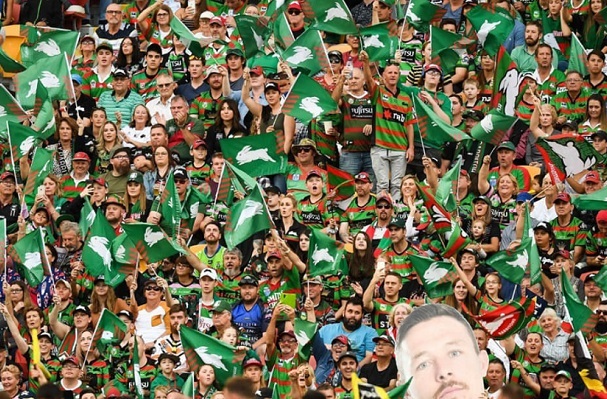 Dogs Shutout
Good Friday games are always tough games, and this year was no exception. The Dogs forwards took it to our pack with a tough close first half. With the Dogs shutting down our left side attack, it openned up space up the middle. Damien Cook took full advantage making two breaks that led to tries. In the end it ended up being a record winning marging over the hapless Dogs as we did not allow a point to be scored which was the most pleasing aspect of the game. We have now moved into the Top 4 with.
Marshall Chance
Benji is loving his time at Souths, and slotted in as the utility role we need early in the session before the development players can step into first grade. He has played at times, hooker, lock, second row and halfback. This week withe the Walker suspension he steps in his preferred role as fieve-eighth. He is a very similar player to Walker so it will be interesting to see how he gels with the team. His combination last week with Mitchell was class.
James T Strong Running
As the reserve grade players get their match fitness back and get the Post-Covid cobwebs out of their system, we saw a very strong performance from U20s Grand Final fullback come RG winger James Tautaiolefua. Two of his long range runs setup tries which allowed us to take the lead to win the game. He clocked up 215m for the game in a great performance. Like each player in reserve grade he is improving as each week goes by.
Ilias steals the game
Down 12-24 as we head into final 10 minutes, Souths needed something. Ilias had kept them in the game after halftime with a solo try. But it was his 40-20 that led to Pete scoring that got the team back into the game. A second try to Fepuleai and ILias goalkicking leveled the game, before a great fieldgoal in the final minute stole the game. With performances like this it won't be long before gets his change at higher grades.
10m 6 Again rule impact
The new 10m 6 again is having a effect on the game, more than people had expected. The lower placed teams are struggling with fitness, covid impact on their lower tier players and the 10m 6 again rule change is making their issues bigger by removing the small breaks from scrums and penalties. On top of this teams are now willing to give away a 10m 6again on the first tackle so they can set their defensive patterns and they are doing this in the 10-20m zone as the penalty now is only 10m compared to 30-40m if it was proper penalty. While fitness is still the bigger contributer, these rule adjustments are making the game in standard of the teams even bigger.
Round 4 - Stat Attack
Statistically it was another average game. Completion were steady at 76% again this week. Errors dropped to 13 from 11 last week. We gave away 2 penalties and 6 6-again calls from 3 last week. Souths Effective 1st tackle was improved to a the average level of 31.7m from 32.6m last week. Our missed tackles improved to a very good level of 17 from 20 last week. Opposition offloads improved to 6 from 11 last week.
Looking at our left side defence - Johnston-DGagai-Walker-Koloamatangi (0-0-2-2) improved to 4 from 7 missed tackles last week. On the right side Mansour-Graham-Reynolds-SuA (2-2-1-0) improved to 5 from 8 missed tackles last week. Ruck defence Tatola/Nicholls-DCook-Burgess/Arrow/Mago-Murray/Marshall (0-1-4-3) dropped to 8 from 5 missed tackles last week.
Our go forward improved to 1975m from 1596m last week. Burgess, Damien Cook, Nicholls, MAgo, Mitchell, Walker and Reynolds made 10+m per run. Burgess, Arrow, Tatola, Murray, Nicholls, Su'A, Koloamatangi, Reynolds, Mansour, Mitchell, Dane Gagai and Walker making 100+m in the match. Defensively Damien Cook was our best in the tackling raking up 47 tackles. Tatola, Nicholls, Dane Gagai, Marshall, Mitchell and Johnston didn't miss a tackle.