2021 - The Cyber View from the Hill
5th May 2021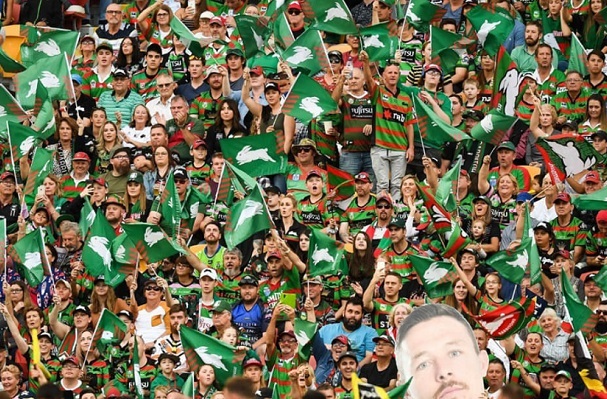 Injury Crisis
It was almost the same equation this week as we played a game of two halves against Canberra. Controlling the second half to storm home over the top of the Raiders. But that is not the main story from the game when it was revealed that we lost Reynolds(hand), Murray(ankle), Graham(arm) and Paulo(shoulder) to injury. This really hurts as the team is about play 3 premiership heavy weights over the next 4 weeks. It is good we have points in the bank at this stage of the season. We need 8 more wins to make the semi's. in what has become a 5 team race for the Top 4. Now for a match against our bogey team Melbourne who are near full strength.
Johnston bags a double
Our left edge continues to be the most leathal in the competition, with 3 more tries down that side with AJ scoring another double to take his personal tally to 8 tries. He is developing a very good combination with Marshall, who is showing everyone the benefit of the simple play of supporting the ball carrier results in tries. He is currently 3rd on the South Sydney all-time premiership try scorers list as he chases Benny Wearing and Nathan Merritt.
Marsters Scores another double
With the return of reserve grade this year after the disrupted Covid season, Marsters is one of the player benefiting from being able to play again. He has been moving between Right Centre and Left Wing during the season and is developing combinations. This week he scored another double and this is on top of the two tries he also scored last week. With a number of injuries he has been rewarded with a call up into first grade.
Davvy Moale strong game
Davvy Moale is still finding his feet in U21's but he aleady has the one of the best go forwards in the team. In only his second game he again has showed his value with a dominate display up the middle. LAst week he setup a try to show his versitality. We continue to watch his progress every week.
6 Again rule getting exploited
The 6 again rule is fast turning into one of the blights on the game in 2021. Teams are now pushing the referees limits, and now almost everyone is giving away a 6 again set on the first tackle after a kick while they get the defences set. Then we had the ludicurs situation where the bias occurred the other way when Souths had every 6 again call called out as "milking". This was clearly one referees interpretation of the rules, and consistancy on its application is becoming a issue and will continue to get worse as we get further into the season. It is going to decide the outcome of bigger games.
Round 8 - Stat Attack
Statistically another good game on the back of a strong second half. Completion dropped to 79% from 92% last week. Errors dropped to 9 from 4 last week. We gave away 1 penalties and 7 6-again calls from 8 last week. Souths Effective 1st tackle dropped but still in a good level of 28.0m from 26.6m last week. Our missed tackles improved to a outstanding level of 12 from 46 last week. Opposition offloads improved to 10 from 12 last week.
Looking at our left side defence - Johnston-DGagai-Marshall-Koloamatangi/Host (1-2-2-1) improved to 6 from 9 missed tackles last week. On the right side Paulo-Graham-Reynolds-SuA (0-2-0-1) improved to 3 from 15 missed tackles last week. Ruck defence Arrow/Knight/Koloamatangi-DCook-Burgess/Nicholls-Murray/Mago/Arrow (2-0-1-0) was improved to 3 from 17 missed tackles again last week.
Our go forward improved to 1724m from 1676m last week. Su'A, Nicholls, Host and Burgess made 10+m per run. Su'A, Koloamatangi, Knight, Nicholls, Arrow, Walker, Graham, Paulo, Johnston and Dane Gagai making 100+m in the match. Defensively Damien Cook was our best in the tackling raking up 43 tackles. Burgess, Cook, Arrow, Murray, Host, Mago, Reynolds, Walker and Paulo didn't miss a tackle.