2021 - The Cyber View from the Hill
16th June 2021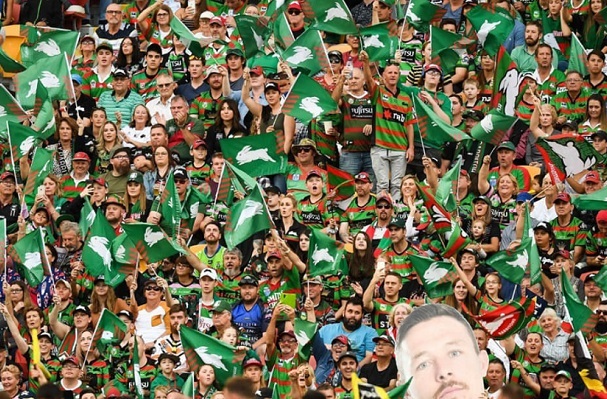 Strong Defence
After a tight first half, Souths put in a controlled defensive effort in the second half to keep the opposition scoreless. It ws the first time all year we put in such a effort, and is very important change in focus as we head into the second half of the season. We sit equal 3rd and need 5 more wins to make the semi's. Now for a match against the dropping Newcastle team with Origin stars backing up.
AJ Another Hatrick
Alex Johnston continues to race up the try scorers list with another hatrick of tries this week. He now has 15 for the season from 13 games with a overall tally of 121 tries.
Gale Returns
After a long time out with a shoulder injury, Lachlan Gale made his long awaited return in the U20s team this week. He will bolster our prop junior stocks, over the coming weeks.
Akira Kelly dominating
Akira Kelly is having a wonderful season. She is finding feet after a year off and after the recent Australian Championships has returned to form. She scored a try and 5 goals to guide the team to victory, and looks better a bit wider at five-eighth.
Dots on a Map NRLW Expansion
Well the NRL announced it will expand its competition back to it original 6 teams. It was a slap on the face to Souths and Cronulla who had pushed so hard for Women RL to ignored once again, as the NRL again went with a dots on the map expansion policy. Everyone really feels sad for our girls as they are forced to play in other clubs, and we have relegated into being a feeder club for Easts, who are sourcing almost all of their players from the Central Coast as players opt to play elsewhere. To counter this the NRLW are bring in a a points based system
Round 14 - Stat Attack
Statistically it was a poor game. Completion dropped to 67% from 76% last week. Errors dropped to 16 from 10 last week. We gave away 4 penalties and 5 6-again calls from 6 last week. Souths Effective 1st tackle dropped to a poor level of 36.5m from 28.5m last week. Our missed tackles improved to a very good level of 16 from 24 last week. Opposition offloads improved to 6 from 13 last week.
Looking at our left side defence - Johnston-Burns-Walker-Host (0-0-1-7) dropped to 8 from 6 missed tackles last week. On the right side Milne-Graham-Reynolds-Koloamatangi/SuA (0-2-0-1) improved to 3 from 8 missed tackles last week. Ruck defence Nicholls/Burgess-Marshall/Mamouzelos-Tatola/Knight-Sele/Koloamtangi (1-3-1-0) improved to 5 from 6 missed tackles last week.
Our go forward dropped to 1516m from 1698m last week. Mamouzelos, Mitchell and Johnston made 10+m per run. Koloamtangi, Mitchell, Johnston, Burns, Graham and Milne made 100+m in the match. Defensively Nicolls was our best in the tackling raking up 38 tackles. Nicholls, Koloamatangi, Sele, Knight, Burns, Reynolds, Milne and Mitchell didn't miss a tackle.
Rabbitohs Radio - Weekly Segment
Boys chat to Lote Tiquri, remember Tim Brasher and preview the Broncos game.