2021 - The Cyber View from the Hill
23rd June 2021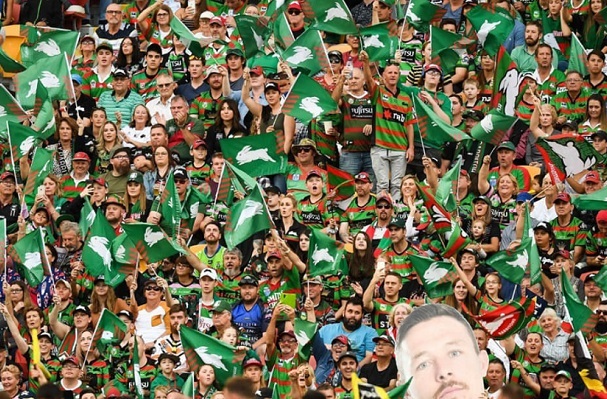 Biggest Ever Win over the Broncos
It was dominant display by Souths on the weekend, as our backline ran rampant. After dominating on left edge, we decided to focus on our right edge attacke. Which resulted in 3 strong tries. The win was our biggest ever win against the Broncos. What was most impressive was how we kept them scoreless. We have done this now for three halves on the trot as we rebuild our defensive patterns. We sit equal 3rd and need 4 more wins to make the semi's. Now for the Benny Hill rematch against the Tigers.
Reynolds 800 goals
Reynolds scored 6 more goals on the weekend to clock up his 800th premiership place kick goal and finish the game with 801 premiership goals. He just behind Eric Simms who finish with 802 goals. Its a great achievement and he is well on track to become our greatest ever points scorer.
Alex Johnston NRL Top Tryscorer
Another 2 tries this week to Alex Johnston to take his tally to 8 from 3 games and race to the top of the NRL try scorer leader board with 17 tries so far this season. He has a good chance to get plenty more on the end of leathal left edge.
Girls bow out with a final win
It was tough season but our girls ended the season on a high winning their final 3 games to miss reduced 6 team finals series coming in 8th. Top try scorer for the year was rampaging second rower Ellie Johnston and Top Point Scorer was Akira Kelly 44 points from 3 tries and 16 goals.
Covid Lockdown is back
It didn't take long for the Bondi Covid outbreak to quickly spread across Sydney and once again throwing the city into Covid lockdown. The NRL acted quickly putting all NSW teams into Level 4 protocols, and having matches this weekend played behind closed doors. Up in Queensland we have seen Brisbane and Townsville also locked down, while in Melbourne there was a step back towards normality. With vaccines not having a effect on the new delta variant, which is much more contagious, the NRL is up for a difficult period for the rest of the season. Already we have 2 rounds of NSWRL competitions abandoned and talk of SOO III being relocated.
Round 15 - Stat Attack
Statistically it was a good game. Completion improved to 69% from 67% last week. Errors improved to 14 from 16 last week. We gave away 1 penalties and 3 6-again calls from 9 last week. Souths Effective 1st tackle improved to a very good level of 23.7m from 36.5m last week. Our missed tackles dropped to a poor level of 30 from 16 last week. Opposition offloads dropped to 14 from 6 last week.
Looking at our left side defence - Johnston-Gagai-Walker-Arrow/Host (0-0-3-3) improved to 6 from 8 missed tackles last week. On the right side Milne-Graham-Reynolds/Host-Koloamatangi (1-3-3-4) dropped to 11 from 3 missed tackles last week. Ruck defence Nicholls/Burgess-Cook-Tatola/Sele/Arrow-Murray (3-5-4-1) dropped to 13 from 5 missed tackles last week.
Our go forward improved to 2412m from 1516m last week. Our best all season. Koloamatangi, Nicolls, Sele, Host, Gagai and Johnston made 10+m per run. Murray, Burgess, Sele, Arrow, Koloamtangi, Host, Nicholls, Gagai, Johnston, Graham, Milne and Walker made 100+m in the match. With Murray and Gagai making more than 200+m. Defensively Cook and Murray was our best in the tackling raking up 37 tackles. Gagai, Johnston, Mitchell and Taaffe didn't miss a tackle.
Rabbitohs Radio - Weekly Segment
Boys chat to Tarsha Gale, remember Gary Hambly and preview the Tigers game.