2021 - The Cyber View from the Hill
4th August 2021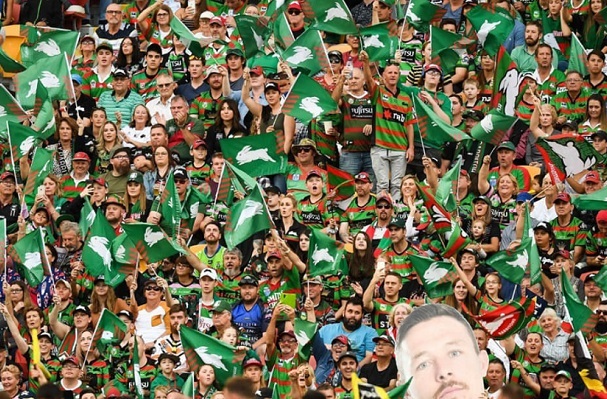 Rabbitohs most points since 1910
It was a crazy lead up to this game as SE Queensland went into a snap lockdown. Souths were stranded in Rockhampton ready for a game without any opposition. The extra 6 hours of travel the day before the game and a extra 2 hour bus trip on the following day for the game tested the team and the team. So it was not a suprise that we were sluggish for part of the game. But a credit to the team that they were able to regroup and then go on to thump the merged entity in our biggest win for 100 years against either the Dragons or the Steelers. The 5 tries in the final 15 minutes meant that SOuths had scored 110 points in two games. The most by a South Sydney team since 1910. We are still outright 3rd with a chance to cement our Top 4 position this weekedn as we head into tough month of football.
Walker leads try assists
Cody Walker continues to set up and score tries. He now leads the NRL with 24 try assists and has also scored 12 tries. He is a big reason why this team is on fire. His maic out wide is a delight to watch as he bamboozles defences.
Davvy Moale gets his chance
Congratulations to young gun Davvy Moale who made his debut off the bench this week. As the engine room led by Nicholls and Burgess lead they way, Bennett is giving our young brigade exposure in readiness for the business end of the season.
Queensland Lockdown impacts NRL island
It was a snap lockdown as the Queensland Government played tough with all sports over the latest Covid outbreak of the Delta Variant in Western Brisbane. By ordering a snap lockdown at 11am on Saturday it send all sport into damage control. The NRL had no plan B. So the threat to move the GRand Final to Melbourne was leaked to media, as the NRL entered into negotiations. The Queensland Government backed down but we had the ludicrious situation of players walking onto the fields wearing face masks. But what it has meant is that we are in a volitile situation with the new Delta Variant having government officials spooked. The transmission, which is more like the normal flu and is air born, means all of the old 2020 rules need to be rewritten. We are heading for a locked down final few rounds and finals series.
Round 20 - Stat Attack
Statistically it was a average game. Completion dropped to 76% from 81% last week. Errors dropped to 10 from 8 last week. We gave away 5 penalties and 3 6-again calls from 5 last week. Souths Effective 1st tackle dropped but still in a good level of 24.4m from 22.5m last week. With the second half being our best half all year at 14.6m. Our missed tackles improved to a outstanding level of 14 from 25 last week. Opposition offloads improved to 3 from 9 last week.
Looking at our left side defence - Mansour-Gagai/Mitchell-Walker-Koloamatangi/Host (0-2-1-2) improved to 5 from 11 missed tackles last week. On the right side Paulo-Milne-Reynolds-SuA/Koloamatangi (0-1-2-1) improved to 4 from 11 missed tackles last week. Ruck defence Nicholls/Koloamatangi-DCook-Burgess/Mago-Arrow/Moale (1-0-1-2) improved to 4 from 6 missed tackles last week.
Our go forward dropped to 2056m from 2355m last week. Burgess, Su'A, Host, Mago, Moale, Mitchell, Paulo and Gagai made 10+m per run. Nicholls, Burgess, Koloamatangi, Arrow, Su'A, Paulo, Mitchell, Mansour and Gagai made 100+m in the match. With Nicholls and Burgess making 200+m for the game. Defensively Damien Cook was our best in the tackling raking up 43 tackles. Nicholls, Mago, Mitchell, Paulo, Mansour and Taaffe didn't miss a tackle.
Rabbitohs Radio - Weekly Segment
Boys chat to Jan Earl from Souths Cares, remember Arthur Oxford and preview the Eels game.