2021 - The Cyber View from the Hill
15th September 2021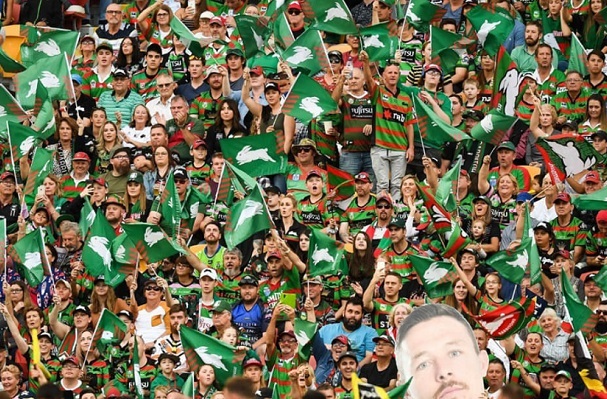 Rabbitohs Turns Finals Upside Down
Rabbitohs players and fans had been waiting for this match since Round 10, with tactics starting over three weeks agao in the Round 21 clash. The 3 tough games before the finals were a perfect prepration as a lead into the finals. It was a tough defensive effort by the team, where the team show character to not let the usual error or contriversal penalty stop their momentum. It was a credit to their defence in how they kept the opposition scoreless in the second half with some great defense from out right side. Firstly led by Graham and then in end Paulo and Taaffe shutting down a late desperate play. The win our 21st for the season has now propelled us into the Preliminary Final, and more importantly put the Top 2 teams on the opposite side of the draw. We now get a week off and a birth in the grand final is our for the taking.
Taaffe handles the pressure
There were some early nerves but Blake Taaffe stood tall by the end of the game. After a early dropped ball, Taaffe caught every ball kicked to him. And with his speed ad positional play helped Souths maintain field position on the kick returns. One attacking kick was all class in how how he defused an attacking try scoring kick. Add this to his try assist and great defensive effort and we have seen a new star emerge.
Burgess Power
Tom Burgess had a wow of game off the bench. His powerful running helped Souths turn prior poor go forward against the bigger Penrith pack. This week he rand a whopping 212m and set the platform that allowed the backs to do their job.
Streaming Wars
With the rollout of higher speed internet across the world, the promise of internet video or Streaming has become a reality. But with it comes a new media turf war for viewers. In New Zealand we saw startup company Sports Flick try and buy into the market via the RL World Cup. A few years ago we saw Optus move back into the market when it bought the rights to the EPL soccer and now the A-League. We saw covid reduce the revenues in Rugby League and Channel 9 used the opportunity invest in Rugby Union on its Stan platform. While we have seen movie streaming services battle for viewers over the last 5 years, as proved 20 years ago its Sport that will be the success of a platform. And this is no different today. But what it will mean hard core sports fans will choose their platform and no longer casually watch other sports. So make sure your setup and the new way of watching sport and TV is here, and will continue to grow at a cost.
Preliminary Semi-Final - Stat Attack
Statistically it was a strong defensive game. Completion dropped to 84% from 91% last week. Errors dropped to 9 from at 7 last week. We gave away 5 penalties and 2 6-again calls from 3 last week. Souths Effective 1st tackle dropped to a average level of 32.4m from 29.2m last week. Our missed tackles improved to a good level of 21 from 24 last week. Opposition offloads dropped to 8 from 4 last week.
Looking at our left side defence - Johnston-Gagai-Walker-Koloamatangi/Host (1-4-0-1) improved to 6 from 8 missed tackles last week. On the right side Paulo-Graham-Reynolds-SuA/Koloamatangi (0-2-2-2) dropped to 6 from 4 missed tackles this week. Ruck defence Nicholls/Burgess-DCook-Tatola/Arrow-Murray/Marshall (2-1-4-2) improved to 9 from 10 missed tackles last week.
Our go forward dropped to 1638m from 1970m last week. But it was a significang improvemnt from our last two Penrith outtings. Burgess made 10+m per run. Burgess, Tatola, Murray, Nicholls, Graham and Taaffe made 100+m in the match. With Burgess making 200+m in the match. Defensively Koloamatangi was our best in the tackling raking up 41 tackles. Koloamatangi, Burgess, Walker, Marshall, Paulo and Taaffe didn't miss a tackle.
Rabbitohs Radio - Weekly Segment
Game recap with JD, remembering George Piggins and preview the Preliminary Final game.