2021 - The Cyber View from the Hill
29th September 2021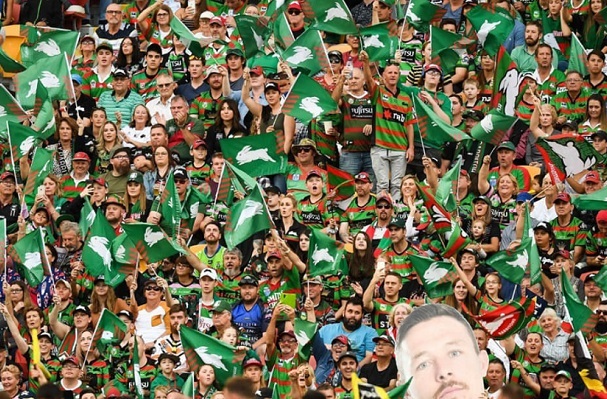 Grand Final here we come!
South Sydney put on a dominate effort in their 4th Preminary Final in a row to finally break through and gain a birth in the Grand Final. Des Hasler tried another big game delaying tactic when his bus was running late causing kickoff delay. Something nt seen since the 2014 decider. But nothing will stop this team, who raced to a 4 try lead at half-time on the back of strong go forward and some great backline plays. The team will need to improve for their return to the Grand Final against a Penrith team that has taken a bruising path to the Grand Final after playing two very tough games.
Walker Steps Up
A scare ran through the camp when Adam Reynolds hurt his groin and did not do any kicking early in the game and handed his goalkicking duties over to Taaffe. In the void Walker stepped in to take a early control of the game and guide the team. In the process he came up with two first half tries. The try off a Reynolds bomb and Cook infield kick was pure class as he got up off the ground anticpating better that everyone for the infield grubber kick for a great try.
Johnston Equals Record
It took 20 minutes and a great cutout pass from Taaffe setup a try for Johnston to score his first for the game. But his second in the last minute of the game set a record 29 tries in the NRL era and equalled the Les Brennan 1954 record. His strike rate this year is better than a try a game as he races toward taking over Nathan Merritt as the greatest Rabbitoh try scorer sometime next year.
All Sydney Grand Final without Fans
Covid has given us a situation no-one could have imagined. An all Sydney Grand Final in Brisbane. Fans are decorating their home across Sydney while fans across Queensland are coming out of the woodwork and getting tickets for a once in a lifetime event. But with no live sites in Sydney all fans will be at home enjoying the big game with family across Redfern and Penrith.
Preliminary Final - Stat Attack
Statistically it was a very good game. Completion dropped to 77% from 84% last week. Errors dropped to 11 from at 9 last week. We gave away 1 penalty and 4 6-again calls from 7 last week. Souths Effective 1st tackle dropped to a very good level of 24.6m from 32.4m last week. Our missed tackles dropped to a poor level of 34 from 21 last week. Opposition offloads improved to 5 from 8 last week.
Looking at our left side defence - Johnston-Gagai-Walker-Koloamatangi/Host (1-3-4-3) dropped to 11 from 6 missed tackles last week. On the right side Paulo-Graham-Reynolds/Marshall-SuA (2-4-3-3) dropped to 12 from 6 missed tackles this week. Ruck defence Nicholls/Burgess-DCook-Tatola/Arrow-Murray/Marshall (3-2-1-2) improved to 8 from 9 missed tackles last week.
Our go forward improved to 1897m from 1638m last week. Damien Cook and Taaffe made 10+m per run. Murray, Koloamatangi, Burgess, Arrow, Su'A, Nicholls, Tatola, Cook, Gagai, Taaffe, Johnston, Paulo and Walker made 100+m in the match. Defensively Damien Cook was our best in the tackling raking up 41 tackles. Tatola and Murray didn't miss a tackle.
The Rabbitoh - 2021 Grand Final Edition
Rabbitohs Radio - Weekly Segment
Chat with Terry Hill, remembering Alan Scott and preview the Grand Final.